Optavia Dining Out Guide: Restaurants and Menu Options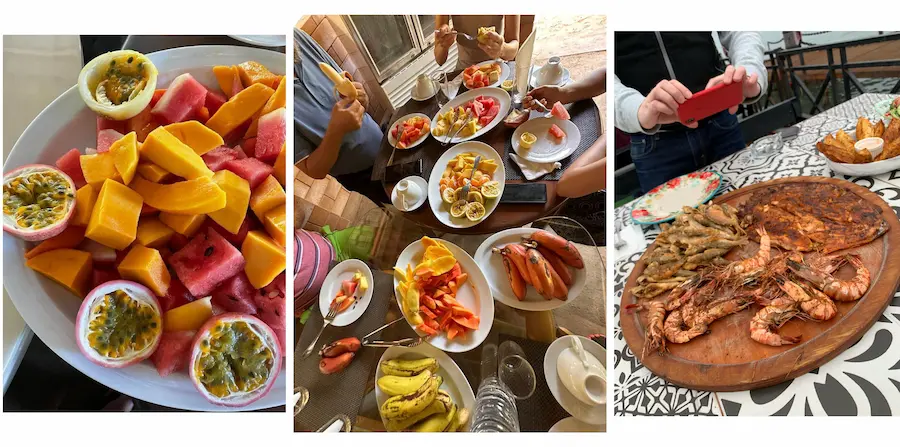 The Optavia dining out guide, also known as the Optavia restaurant guide, refers to the resource that provides a list of 27 sit-down restaurants (and 33 fast food restaurants) with evaluated menu options for Lean and Green meals and beverages for individuals following the Optimal Weight 5 and 1 plan.
A 2012 study entitled "Association between eating out of home and body weight," published in Nutrition Reviews Journal found a positive association between eating out and higher body weight.
Optavia eating out guide can help individuals make healthier choices when eating out and manage their weight by providing information on the nutritional content of menu items and guiding them toward options that align with Optimal Weight 5 and 1 guidelines.
Whenever you're doing Optavia with a coach or solo, the Optavia restaurant guide helps to support healthy weight loss becasue it only includes restaurant menu choices that meet precise nutritional guidelines for Lean and Green meals. The meals in the Optavia restaurant out guide aim to have fewer than 400 calories and contain a minimum of 25 grams of protein, 15-20 grams of carbohydrates, and 10-20 grams of fats, as illustrated below.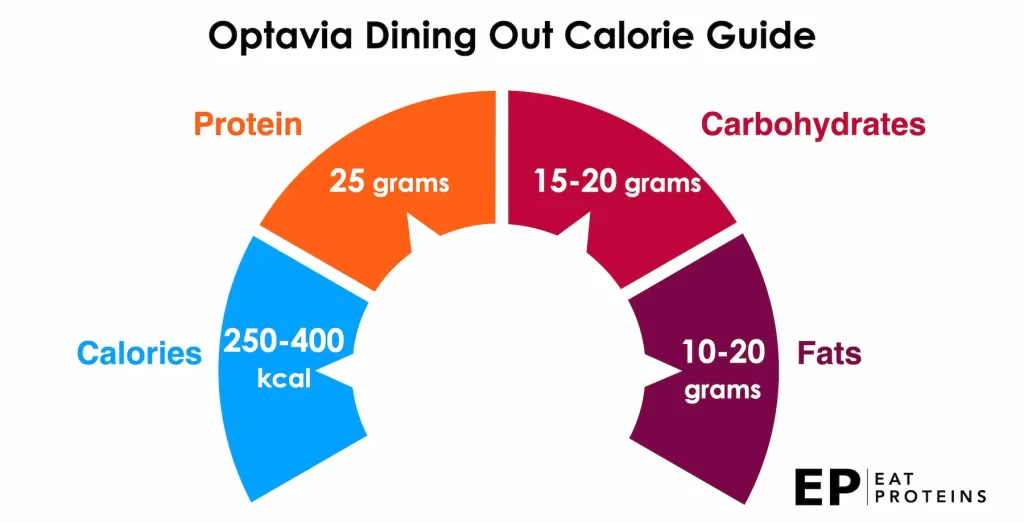 Matt, a member of the Optavia Nutrition Support Team, advises that while following the Optavia program, it is encouraged to dine out occasionally. However, to ensure healthy weight loss is maintained, there is a restriction of up to two meals per week for eating out.
When asked what restaurants can you eat at on the Optavia diet, the dining out guide includes over 60 tips for eating out in seafood restaurants, Italian restaurants, French restaurants, Mexican restaurants, Chinese restaurants, Thai restaurants, and Japanese restaurants. It also includes popular fast food restaurants like Panera, Chipotle, and Chick-fil-A.
What is Optavia Dining Out Guide?
The Optavia Dining Out Guide is a comprehensive handbook specifically designed for individuals following the Optimal Weight 5 and 1 plan. This guide provides a selection of meals from popular restaurants that meet the specific requirements for lean and green meals, including calorie counts, protein content, carbohydrate amounts, and fat levels. This guide helps to simplify the often challenging task of dining out while maintaining a calorie deficit.
Using an Optavia dining out guide during weight loss is important because eating out contributes to the obesity epidemic, as highlighted in a 2015 study published in the British Journal of Nutrition by Androniki Naska from the University of Athens.
The study, titled "Eating out is different from eating at home among individuals who occasionally eat out," collected data from 8849 men and 14,277 women aged 35-64 years in eleven European countries and revealed that certain food groups, such as beverages, sugar, desserts, and bakery products, were consumed more when eating out compared to eating at home.
Dr. Naska also found that substantial eating out was more common among men, younger individuals, and those with higher education levels.
What is the Updated Optavia Dining Out Guide?
The updated Optavia Dining Out Guide provides information on restaurants, menu items, and serving sizes, as well as tips and strategies for making healthier choices while eating out, as shown in this graph.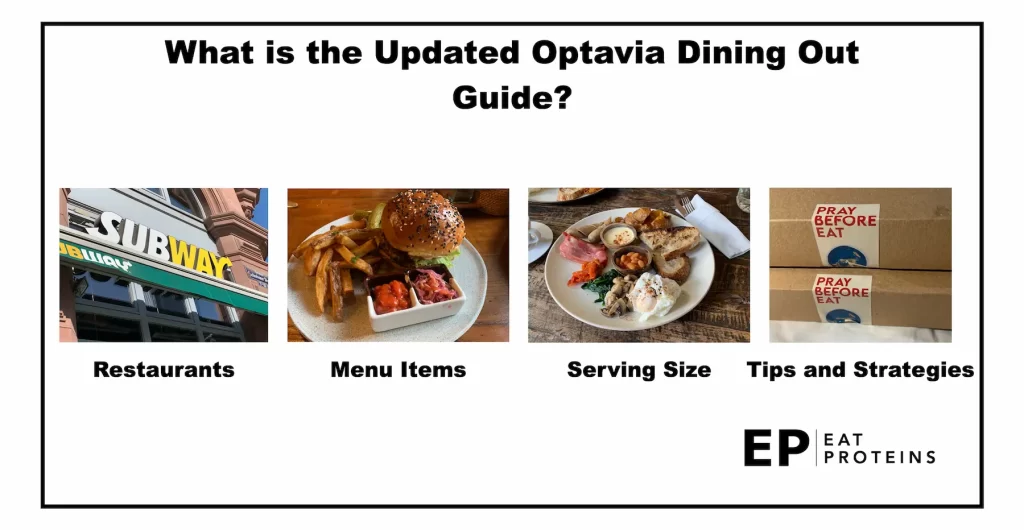 The updated Optavia Dining Out Guide includes revised recommendations for Optavia-compliant options at various dining establishments, helping individuals adhere to their dietary goals and make informed decisions when dining outside of their home environment.
The guide offers guidance on portion control, ingredient selection, and suggested modifications to meals to align with the Optavia program.
What Restaurants Can You Eat at On Optavia Diet?
The Optavia Diet allows dining at a range of restaurants. The Optavia dining out guide includes 27 sit-down establishments, such as Applebee's, Bonefish Grill, Bubba's 33, Cheddar's Scratch Kitchen, The Cheesecake Factory, Olive Garden, Outback Steakhouse, and Texas Roadhouse.
The serving size for each item is either regular or half and excludes any additional condiments that contain caloires, such as sauces and salad dressings.
Among Optavia-friendly restaurants, Glory Days Grill offers the largest selection of lean and green meals with six choices.
Mission BBQ, On the Border, Perkins, Red Robin, and The Greene Turtle also provide a variety of options, each with five choices. On the other hand, Islands Restaurants, The Cheesecake Factory, Johnny Rockets, Red Lobster, and Outback Steakhouse have the fewest available choices for lean and green meals.
When asked, what are the Optavia fast food options, the restaurant guide also includes menu items from places like Chipotle, Chick-fil-A, Panera, Taco Bell, Subway, and Wendy's.
This table shows menu choices from Optavia-approved restaurants, together with corresponding serving sizes.
Restaurant
Lean & Green Meal
Serving Size
Applebee's
Grilled Chicken Caesar Salad with Caesar Dressing
Grilled Chicken Salad with Lemon Olive Oil Vinaigrette
Half
Half
Bonefish Grill
Bonefish House Salad with Wood Grilled Chicken
Bonefish House Salad with Wood-Grilled Salmon
Caesar Salad with Grilled Chicken
Atlantic Salmon with Steamed Asparagus
Half
Half
Half
Small
Bubba's 33
Grilled Chicken Salad
Salmon Salad
The Big Salad
Half
Half
Regular
Cheddar's Scratch Kitchen
Grilled Chicken Pecan Salad
6 oz. Top Sirloin Steak with House Salad
Half
The Cheesecake Factory
Tossed Green Salad with Grilled Chicken, Shrimp, Salmon or Chargrilled Steak
Regular
Eat'n Park
Veggie Omelet
Classic Eat'n Park Salad with Grilled Chicken
Regular
Regular
Glory Days Grill
8 Grilled Boneless Chicken Wings with Celery Sticks
Cedar Plank Salmon
Glory Days Cobb Salad
Grilled Buffalo Chicken Salad
Grilled Chicken Salad
Grilled Chicken Caesar Salad with Caesar dressing
Reg
Half
Half
Half
Half
Half
Islands Restaurants
Jungle Caesar Salad with Caesar Dressing
Half
Johnny Rockets
Grilled Chicken Club Salad
Regular
Longhorn Steakhouse
Longhorn Caesar Salad with Chicken or Salmon
7-Pepper Sirloin Salad with a Side of Fresh Steamed Broccoli
Farm Fresh Field Greens with Salmon and a Side of Fresh Steamed Broccoli
Half
Half
Half
Mimi's Cafe
Mimi's Chopped Cobb Salad
Egg White & Veggie Omelet
Petite Caesar Salad with Caesar Dressing and Shrimp Skewer
Regular
Regular
Regular
Mission BBQ
Meat Market: Pulled Pork with Entrée Salad
Meat Market: Lean Brisket with Entrée Salad
Meat Market: Pulled Chicken with Entrée Salad
Meat Market: Turkey with Entrée Salad
Smokehouse Signature: Salmon with Entrée Salad
Smokehouse Signature: Chicken with Entrée Salad
Half
Half
Half
Regular
Half
Half
Olive Garden
Chicken Margherita
Half
On the Border
Fajita Salad with Chicken
Chicken Fajitas (no rice, beans, or sauces)
Monterey Ranch Chicken Fajitas (no rice, beans, or sauces)
Border's Best Lunch Fajitas: Chicken (no rice, beans, or sauces)
Border's Best Lunch Fajitas: Steak (no rice, beans, or sauces)
Regular
Regular
Half
Regular
Regular
Outback Steakhouse
Brisbane Caesar Salad with Grilled Chicken
Half
Perkins
The Everything Omelet
Southwest Avocado Salad
Grilled Garlic Tilapia & Shrimp
Grilled Chicken with Mushrooms & Asparagus
Regular
Regular
Regular
Regular
P.F. Chang's
Asian Caesar Salad with Chicken or Salmon
Beef with Broccoli
Miso Glazed Salmon
Half
Regular
Regular
Red Hot & Blue
Smokehouse Salad
Caesar Salad with Grilled Chicken
Half
Half
Red Lobster
6 oz. Filet Mignon with Side House Salad
Regular
Red Robin
Avo-Cobb-O Salad
Simply Grilled Chicken Salad
The Wedgie Burger
Turkey Patty with Lettuce Wrap, Tomato & Cucumber Slices, and House Salad
Ensenada Chicken Platter (one Chicken Breast) with Side Salad
Half
Regular
Half
Regular
Regular
Romano's Macaroni Grill
Rosa's Signature Caesar Salad with Chicken and Caesar Dressing
Bibb & Bleu Salad with Chicken and Buttermilk Ranch
Pollo Caprese with Side of Grilled Asparagus
Half
Half
Regular
Texas Roadhouse
Grilled Chicken, Salmon, or Shrimp Salad
Caesar Salad
6 oz. Sirloin with Green Beans
Half
Half
Regular
The Greene Turtle
Chicken Caesar Salad
Ty Cobb Salad
Nola Chicken
Black & Bleu Shrimp Salad
Gluten-sensitive Chicken Caesar Salad
Half
Half
Half
Half
Regular
Yard House
Kale and Romaine Caesar Salad
Cobb Salad
Half
Half
Zaxby's
Grilled House Zalad
Grilled Caesar Zalad
Blackened Blue Zalad
Grilled Cobb Zalad
Half
Half
Half
Half
What Restaurants Are Not Included in The Optavia Dining Out Guide?
The Optavia dining out guide does not include the following restaurants: TGI Fridays, Cracker Barrel, Ruby Tuesday, Denny's, Chili's Grill & Bar, Golden Corral, and Old Country Buffet. These establishments, including All You Can Eat Buffets, do not offer meals that align with the Optimal Weight 5 and 1 plan.
What Are The Optavia Dining Out Guide Meal Components?
The Optavia Dining Out Guide meal components are listed below.
Lean Proteins
Green Vegetables
Healthy Fats
Condiments
Beverages
1. Lean Proteins
In the Optavia dining out guide, Lean Protein refers to protein sources that are low in fat and provide a substantial amount of amino acids per serving. Lean protein on Optavia such as seafood, poultry, or red meat is typically served in portion sizes of 5-7 ounces, delivering approximately 25 grams of protein per serving. In the case of meatless options, alternatives such as low-fat dairy, eggs, egg whites, tofu, or other vegetarian options can be consumed in portion sizes of 8-12 ounces.
In the study "The role of protein in weight loss and maintenance" conducted by Leidy Heather J from the University of Missouri in 2015, it was found that consuming lean protein during weight loss offers several key benefits. These benefits include supporting appetite control, enhancing body weight management, and improving cardiometabolic risk factors.
The study demonstrated that higher-protein diets lead to greater weight loss, reduced fat mass, and preservation of lean mass compared to diets lower in protein. Moreover, higher protein intake was associated with reductions in triglycerides, blood pressure, and waist circumference.
2. Green Vegetables
Green Vegetables on the Optavia dining out guide refers to a selection of low-carb vegetables approved from the green list. This includes broccoli, red cabbage, chayote squash, collard or mustard greens, green beans, and kabocha squash. The recommended serving size for Green Vegetables on Optavia is three servings of 0.5 cups each. This serving size provides up to 25 calories, 5 grams of carbs, 5 grams of fats, and up to 200 milligrams of sodium.
According to a 2018 study by Monica Nour from The University of Sydney published in the Nutrients Journal, increasing vegetable intake has been found to reduce the risk of weight gain and overweight or obesity. Additionally, each additional vegetable serving per day resulted in a small but significant weight loss of 0.09-0.1 kg over four years.
The six reviewed studies consistently demonstrated a favorable relationship between increasing vegetable intake and weight-related outcomes outside of controlled study environments. Notably, three of the largest studies used overlapping cohorts from surveys conducted with health professionals, providing good quality evidence on the benefits of vegetable consumption.
3. Healthy Fats
Healthy Fats on Optavia restaurant guide include monounsaturated fats, polyunsaturated fats, and saturated fats that are allowed in lean and green meals. You can have up to two servings of Optavia healthy fats, ideally choosing monounsaturated and polyunsaturated options such as avocados, olive oil, olives, almonds, and walnuts.
The number of healthy fats in your lean and green meals at restaurants will depend on the type of Lean you choose from the Optavia protein list, where "leanest" equals two healthy fat servings, "leaner" equals one healthy fat serving, and "lean" means no healthy fats are allowed.
A 2017 study published in Nutrition Journal by Ann G. Liu, a freelance medical writer from the Los Angeles Metropolitan Area, and Nikki A. Ford, Director of Nutrition in the Avocado Nutrition Center has found that replacing saturated fats with polyunsaturated fats or carbohydrates reduces the risk of cardiovascular disease (CVD).
Observational studies and randomized clinical trials have demonstrated that consuming plant and marine sources of unsaturated fats, such as those found in Optavia healthy fats, can provide unique health benefits such as improved lipid profile, anti-inflammatory effects, and enhanced nutrient absorption. The study emphasizes that the types of fat and carbohydrates, as well as the food sources supplying these nutrients, are more significant than the total amounts consumed.
4. Condiments
Condiments on the Optavia dining out guide refer to low-calorie additions to your meals that should have no more than 30 calories per serving and no more than 1 gram of carbohydrates. They include salad dressings, sauces, syrups, and spices. And while there are few Optavia-friendly restaurant chains, most of the items on their menu do not meet these basic criteria.
A study published in 2023 in the Journal of Human Nutrition and Dietetics by Megan Whatnall, a researcher from The University of Newcastle in Australia, found that condiments play a minor role in providing energy and nutrients, accounting for approximately 3.8% of total energy, 5.3% of fat, 2.3% of carbohydrates, and 0.2% of protein intake.
However, despite their relatively low contribution, condiments have a significant effect on specific nutrient intakes, such as vitamin E and sodium, and greatly enhance the taste and satisfaction derived from meals.
5. Beverages
Beverages on Optavia primarily consist of calorie-free drinks and sodas, excluding alcoholic beverages. The main benefit of drinking calorie-free beverages during weight loss, according to a study published in JAMA Network Open Journal in 2022 by Néma D. McGlynn from the University of Toronto, is the potential for small improvements in body weight and cardiometabolic risk factors.
The study found that substituting sugar-sweetened beverages for low- or no-calorie sweetened beverages was associated with reduced body weight, body mass index, percentage of body fat, and intrahepatocellular lipid.
What Are The Portion Sizes Indicated in The Optavia Dining Out Guide?
In the Optavia dining out guide, the portion sizes for each lean and green meal include one serving of lean proteins, three servings of green vegetables or salad, a maximum of two servings of healthy fats, a maximum of three servings of condiments, and one calorie-free beverage, as illustrated below.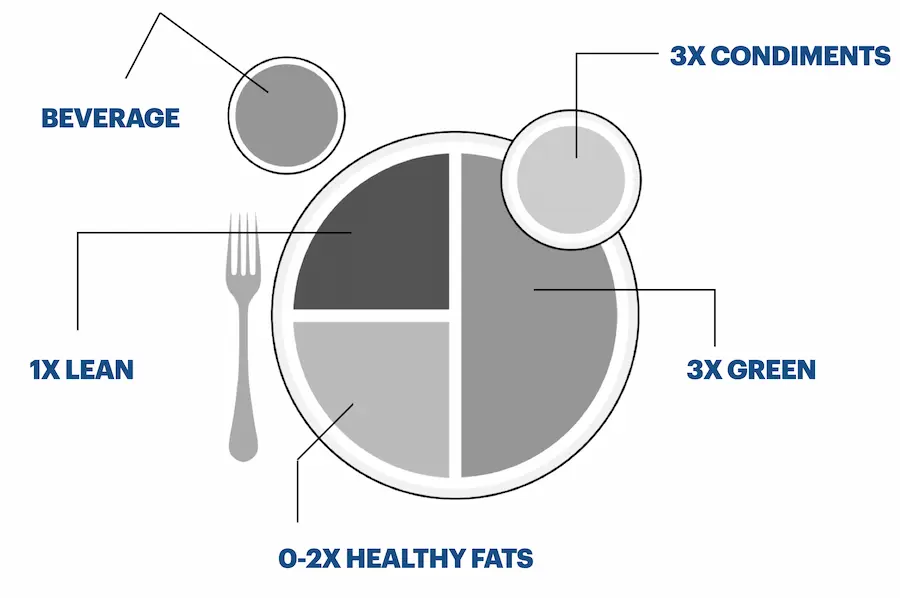 What Are The Eating Out Strategies in The Optavia Dining Out Guide?
The Optavia dining out guide provides several helpful strategies for dining out while following the program, which can be divided into two categories, before a meal, and during the meal.
Before Meal
Before dining out, it's recommended that you check the menu online or call the restaurant to inquire about healthier options available. Eating a small snack high in protein and fiber before going to the restaurant can help you stay semi-full and avoid overeating.
Stay hydrated by drinking plenty of water throughout the day to prevent overeating. Wear comfortable clothes and make a reservation in advance to contribute to a relaxed and stress-free dining experience.
Bringing a supportive friend or family member with you can provide accountability and encouragement during the meal, which can be beneficial. Take a few deep breaths before entering the restaurant to cultivate a calm and mindful mindset.
During meal
During dining out, opt for a smaller plate or bowl to control your portion sizes and prevent overeating. Begin your meal with a salad or broth-based soup to feel fuller and consume fewer calories overall.
Request dressings, sauces, and toppings on the side so that you can control the amount of condiments you use. Choose grilled or baked options instead of fried or battered foods, as they are generally healthier and lower in calories.
Substitute high-calorie sides like fries with healthier alternatives such as vegetables or a side salad. Eat at a slower pace, put your fork down between bites, set a timer for 15-20 minutes, and chew your food thoroughly. This will help you listen to your body and stop eating when you feel satisfied, even if there is food left on your plate.
When it comes to bread, it is advisable for you to either avoid the bread basket entirely or limit yourself to a small piece.
What Tips Are Included in The Optavia Dining Out Guide?
The Optavia dining out guide offers valuable tips for making healthier choices when eating out at various international cuisines and restaurants. In addition to providing information on portion sizes and calorie estimations, the guide covers a range of cuisines, including American, Chinese, French, Greek, Indian, Italian, Japanese, Mexican, and Thai.
These tips are designed to help individuals navigate different dining experiences while still maintaining a healthy eating plan.
American: Choose lean protein like chicken, fish, seafood, venison, buffalo, or lean beef that is grilled, broiled, or blackened. Opt for non-starchy vegetables such as broccoli, green beans, or cauliflower that are grilled, steamed, or roasted. Avoid fried, crispy foods, creamy sauces, high-calorie condiments, and sugary beverages.
Chinese: Select lean protein like chicken, shrimp, scallops, lean beef, or tofu with steamed, grilled, baked, or roasted non-starchy vegetables. Choose broth-based soups and ask for sauce on the side. Avoid deep-fried foods, fried egg rolls, lo mein, and high-fat meats.
French: Opt for roasted, poached, grilled, broiled, or braised lean protein like fish and shellfish. Fill up on non-starchy vegetables such as steamed asparagus or fresh salad greens. Avoid cheese, creamy soups, rich sauces, and high-fat meats.
Greek: Choose roasted or baked lean cuts of meat, lamb, and fish. Replace rice or pasta with a small salad or extra vegetables. Limit nuts and feta cheese and avoid dishes with ghee, cream, fried foods, and fried breads.
Indian: Choose lean protein like chicken, seafood, and lamb that is braised, steamed, baked, or grilled. Fill up on non-starchy vegetables like eggplant, cauliflower, and spinach. Avoid foods with ghee, malai, fried appetizers, and fried bread.
Italian: Choose lean protein like chicken, shrimp, calamari, or octopus that is baked, broiled, or grilled. Have lighter appetizers and whole wheat pasta if available. Avoid bread baskets, creamy sauces, cheesy dishes, and fried foods.
Japanese: Choose a lean protein that is steamed, sautéed, grilled, or served in broth. Fill up on non-starchy vegetables and select broth-based soups. Avoid battered and fried foods, creamy sauces, and high portions of white rice.
Mexican: Choose lean protein like grilled chicken or fish. Select soups like gazpacho or black bean soup. Avoid sour cream, cheese, refried beans, and fried foods.
Thai: Choose lean protein like chicken or tofu that is stir-fried, sautéed, or steamed. Fill up on non-starchy vegetables and select lighter soups. Enjoy fresh salads or vegetables.
What Are The Benefits of Dining Out On Optavia?
The benefits of eating out on Optavia are listed below.
Eases the workload for my wife: By taking my wife out for dinner, helps lighten her cooking responsibilities at home.
Convenient option: Dining out is incredibly convenient, particularly when I have a busy work schedule or limited time. I can simply show up at the restaurant, order my meal, and enjoy the evening without worrying about cooking or cleaning up.
Expands culinary options: Dining out on Optavia allows me to explore a wide range of cuisines and dishes that restaurants have to offer. As food enthusiasts, my wife and I enjoy discovering new flavors and trying unique dishes that we wouldn't be able to replicate at home.
Enhanced dining experience: Occasionally treating ourselves to a nice meal at a premier restaurant adds an element of luxury to our dining experience. We appreciate the attentive waitstaff, knowledgeable sommeliers, and skilled chefs who contribute to making our meals memorable, particularly during special occasions like birthdays, anniversaries, or holidays.
What Are The Drawbacks of Eating Out on Optavia?
The disadvantages of eating out on Optavia are listed below.
Cost: Dining at upscale restaurants can be expensive, which can make it challenging to stick to a budget while following the Optavia 5 and 1 lifestyle. The average cost of a meal for two people in a mid-range restaurant with a three-course meal can range from $45 to $120. While there are cheaper fast-food options available, it's important to note that most of these options are not approved by Optavia, except for a few items like apple slices and side salads.
Health goals: Maintaining a healthy diet can be a significant challenge when eating out on Optavia. Many restaurant meals are high in calories, fat, and salt, with large portion sizes. Although FDA menu labeling requirements mandate the disclosure of calorie information, it is uncommon to find details about carbohydrates, proteins, and fats in each dish. Requesting such information can feel awkward and may not always be readily available.
Limited control: Having specific dietary restrictions or preferences can make dining out difficult. Unless you're at a restaurant that allows customization, you have limited control over how the food is prepared. While you can opt for vegetarian or dairy-free options, you may not know the type of oil used for cooking or the exact ingredients used. This lack of control over meal preparation can be frustrating.
Can I Eat Out On Optavia?
Yes, you can eat out on the Optavia diet, whether you're following the 5 and 1 plan with a coach or doing it on your own. The program allows you to dine out up to two meals per week at approved restaurants that offer healthy choices on their menu.
When eating out, it is important to follow the program's guidelines, which include consuming a meal that contains 250-400 calories, at least 25 grams of protein, 15-20 grams of carbs, and 10-20 grams of fats.
The Lean & Green dining out guidelines is similar to the regular 5 and 1 plan. The Optavia dining out guide serves as a helpful resource that simplifies the task of dining out while following the Optavia diet.
Can the Dining Out Guide be Used While Doing Optavia Solo?
Yes, the Dining Out Guide can be used while doing Optavia solo. When following Optavia on your own, the Dining Out Guide becomes even more essential. It helps you stay mindful of your choices, encourages you to use a food journal to track your meals, and reminds you to eat every 3-4 hours.
Additionally, the guide provides valuable tips on how to choose healthier options, make informed decisions at restaurants, and stick to your Optavia plan even when dining out.
Things that I've learned from Optavia dining out guide
After following the Optavia dining out guide, I learned various hacks and strategies on how to choose a restaurant, customize meals, and what to do if the restaurant menu doesn't have Optavia-friendly options.
However, do you know what I found to be the most valuable lesson?
Hosting my own dinners at home.
I realized that hosting a dinner party at home is a great alternative for eating out, especially if you're on a 5 and 1 plan.
For example, bite-sized dinner parties, Mexican dinner parties, and homemade sushi parties.
Not only saves me money but also allows me to have complete control over the menu and cater to my dietary needs and preferences.
I can buy ingredients in bulk and prepare dishes myself, which is more cost-effective than dining out and paying for service charges and tips.
I can also extend the evening as long as I like without feeling rushed or pressured to leave.
I can choose the ambiance, music, and decor to suit my taste and style, creating a warm and welcoming atmosphere that encourages conversation and bonding.
Hosting dinners at home also gives me the flexibility to plan the event at my convenience, without worrying about restaurant hours.
Overall, hosting dinners at home is a fantastic substitute for dining out to bring people together, foster social connections, and enjoy Optavia-friendly meals in the comfort of my own home.