5 Optavia Taco Bell Options that are actually approved
I get it. You want to stick to the Optavia plan, but you can't imagine a life without Taco Bell.
We know how tough it can be to maintain a healthy eating routine while trying to lose weight.
That's why we're excited to share these tasty Optavia Taco Bell options that fit your 5 and 1 guidelines.
We also have tips on how to customize your orders, resist temptation, and indulge in dessert options without sabotaging your progress.
Let's dive in.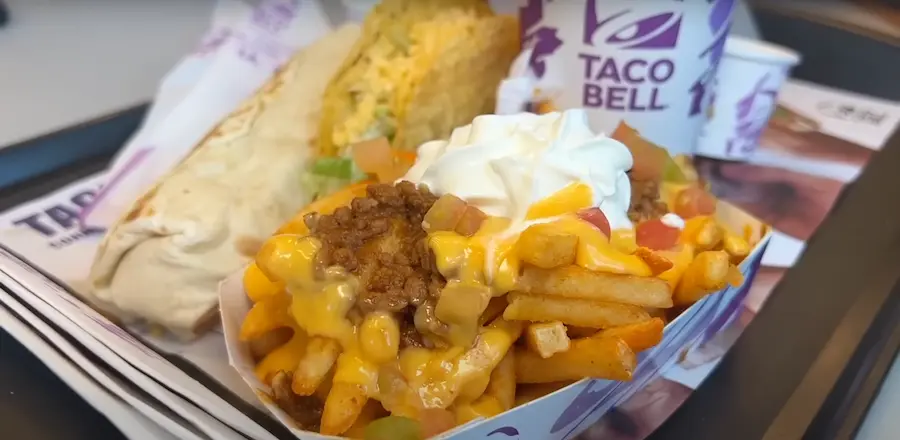 First, let's talk about Taco Bell and weight loss
You see, on the one hand, most fast food restaurants got a bad reputation for selling meals with high calories and fat.
According to the article published in the Public Health Nutrition Journal, "overall offerings of popular fast-food restaurants are not good when compared to dietary guidance."
The researchers used the Healthy Eating Index (HEI) as the scoring system to evaluate the quality of food.
"Each restaurant's full menu scored fewer than 50 points on the HEI-2005 relative to a maximum of 100 points, which would indicate perfect alignment with dietary guidance."
Although the discordance between fast-food offerings and dietary guidance is not a surprise, the study pinpoints aspects for which fast-food menus are particularly poor.
So how did Taco bell performed?
Not so great.
The graph below displays data obtained from the aforementioned study that illustrates how Taco Bell compares to other fast food chains on the HEI scoring system, which ranges from 0 to 100.
As you can see, Taco Bell scored 49.4 out of 100, which is considered quite poor.
On the other hand, this data is derived from the stuady that's been done in 2005…
Taco Bell has changed their menu many times since 2007.
They do this to give customers more food choices, to attract people with different diets, and to compete with other restaurants.
Missy Schaaphok, the registered dietitian and Manager of Global Nutrition and Sustainability for Taco Bell, says that customers can tailor any menu item to suit their preferences.
Taco Bell's website highlights that they have many menu options that are under 500 calories, making up 75% of the menu items available.
Do you want to reduce calories even more? No problem.
"You can order your favorites fresco style, which replaces high-fat dairy products with fresh pico de Gallo," says Schaaphok.
This makes me believe that it's possible to eat at Taco Bell and still lose weight while doing the Optavia plan.
You just need to make smart choices, as I've described in our Optavia dining out guide.
What can I eat at Taco Bell on Optavia?
While most of the Taco Bell menu items can be high in calories, fat, and sodium, there are a few Optavia approved options that are lower in calories and higher in protein.
1. Fresco Chicken Burrito Supreme
Calories: 350
Fats: 8 grams
Proteins: 19 grams
Sodium: 1220 mg
I must confess – Taco Bell Fresco Burrito Supreme is my favorite option.
Although I prefer beef, the chicken version has more proteins and fewer calories.
Despite its higher sodium content compared to some other menu items, this option provides 340 calories, 9 grams of fiber, and 16 grams of protein.
Just to clarify, I don't order from here frequently.
While the Fresco Burrito Supreme can be a decent choice, it's crucial to maintain a well-balanced diet and not solely rely on fast food to meet your nutritional requirements.
2. Fresco Crunchy Taco
Calories: 140
Fats: 8 grams
Proteins: 6 grams
Sodium: 290 mg
I really enjoy the Fresco Crunchy Taco from Taco Bell. It's my go-to option when I need a quick Optavia fueling alternative that can fuel me up.
While it's not typically what I'd consider a "lean and green" meal, I can customize it with additional chicken to up the protein content.
What I love about the Fresco Crunchy Taco is that it's a healthier choice, with only 140 calories, 8 grams of fat, and 6 grams of protein.
The sodium content is also relatively low at 290 mg, making it a great option for those watching their salt intake.
If I need something more substantial, I can easily add some extra meat to the taco to boost the protein content.
3. Fresco Bean Burrito
Calories: 330
Fats: 7 grams
Proteins: 11 grams
Sodium: 990 mg
I know that the Fresco Bean Burrito from Taco Bell may not be the best option on the menu, but it can still be enjoyed in moderation.
I would not eat it too often.
Basically, no more than once every two weeks. 
Or, make it your post-workout meal.
And while it's unlikely to be approved by Optavia customer support, the Fresco Bean Burrito is still a lower-calorie alternative to the original bean burrito.
With 330 calories, it's a decent choice compared to some of the other items available.
4. Fresco Soft Taco
Calories: 160
Fats: 6 grams
Proteins: 8 grams
Sodium: 480 mg
While Taco Bell may not have a ton of super low-calorie options, the Fresco Soft Taco can certainly be enjoyed as part of an Optavia 5 and 1 plan.
In fact, it was even featured on CNN's list of top picks for waistline watchers.
While it may not be a filling meal, it can be a satisfying snack or a lighter option if you're feeling just a little bit hungry.
Additionally, the Fresco Soft Taco is also a good option for those who are looking to cut back on their sodium intake, as it contains less sodium compared to previously mentioned items.
It's also worth noting that the Fresco Soft Taco can be customized to your liking, so if you want to add more protein, you can ask for extra chicken or beef.
5. Power Menu Bowl
Calories: 470
Fats: 19 grams
Proteins: 26 grams
Sodium: 1,200 mg
In case you're not familiar with this option, a Power Bowl is essentially a complete meal in a bowl that's both flavorful and nutritious.
Although the key components of a Power Menu Bowl are grains, greens, or veggies, you can customize it by adding or removing specific ingredients to suit your preferences.
While customization may sometimes lead to additional charges, the end result is a satisfying and low-calorie meal that can easily fit into a dietary plan like Optavia.
How to customize your Taco Bell order for Optavia?
Struggling to find Optavia approved options at Taco Bell? No problem.
Here are some creative solutions for crafting your favorite orders with a healthier twist.
Pro tip: Don't be afraid to ask for modifications. Most Taco Bell locations will accommodate requests such as extra lettuce instead of rice or a different type of tortilla shell.
Choose fresco style
Do you wanna know my favorite Optavia taco bell hack?
You can make any Taco Bell food healthier by ordering it fresco-style.
As mentioned earlier, cheese is high in fat and calories.
Ordering your tacos "fresco style" replaces the cheese with fresh pico de gallo, which is a flavorful and low-calorie topping.
Just ask for your tacos to be made "fresco style" and they will know what to do.
Choose grilled options
I think it's better to choose grilled protein options like chicken or steak instead of fried options like the Crunchy Taco or the Nachos.
Grilled proteins are typically lower in fat and calories than fried options.
Skip high-fat toppings
To shave a few calories, I recommend avoiding high-fat toppings like cheese and sour cream and opting for fresh toppings like pico de gallo, lettuce, and tomatoes.
Cheese and sour cream are high in fat and calories. I try to use them sparingly.
Try grain-free options
When customizing your Taco Bell orders, swap out carb-heavy items like rice and beans for extra veggies like peppers and onions.
For example, you could order a Burrito Bowl with extra peppers and onions instead of rice and beans.
Choose dips instead of side orders
Rather than getting extra sides like fries or other unhealthy options, I now opt for healthier choices like guacamole.
(This green thingy, made from avocados.)
So simple, right?
It's actually a great alternative to chips, which, let's not forget, are often high in carbs and calories. 
Instead, I can use the guacamole as a dip for veggies, which by the way is a delicious way to enjoy my taco.