Optavia Eating Schedule – Why It's Beneficial and How to Start
If you're trying to lose weight, you may be wondering how often you should eat. What's the best Optavia eating schedule to enhance fat burning state?
The answer, however, is not as simple as you might think.
While it's important to fuel your body throughout the day, the frequency and timing of your meals can have a big impact on your weight-loss efforts.
In this article, we'll share a few tips for creating an easy-to-follow eating plan that helps you shed pounds.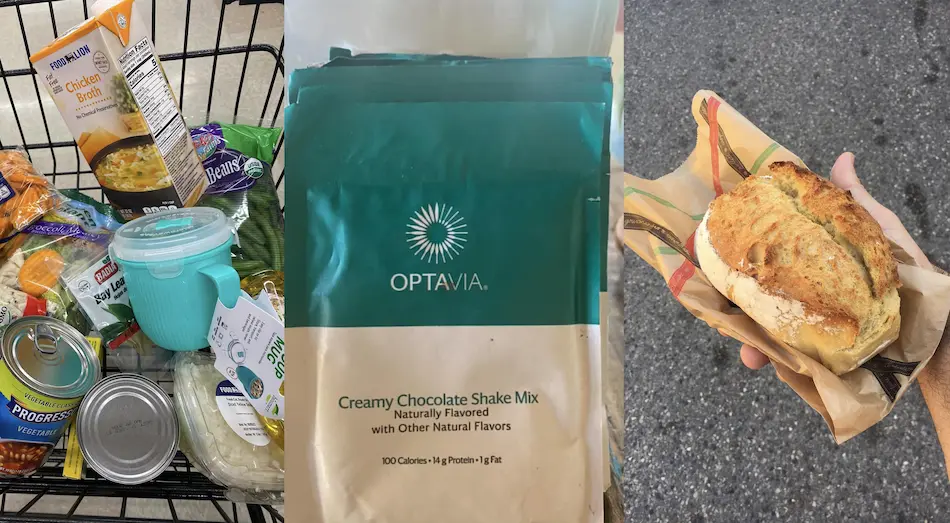 What is the best daily eating schedule?
Are you wondering how often to eat on Optavia?
According to the cohort study published in the British Journal of Nutrition, "Eating more than six meals per day reduces the risk of obesity compared to less than three meals daily."
"People who are overweight or obese have different eating habits than people who are a normal weight," states the journal.
"They may not eat in the morning, eat more during the afternoon and evening, and eat more often throughout the day."
The results of the study showed that people who eat more often (several times a day) tend to have healthier lifestyles overall, including being more active in their free time.
I must confess – I wasn't eating this way.
Although my coach encourages me to snack on fuelings every few hours, before I started Optavia, my meals were all over the place.
Back in the day, my eating schedule usually looked like this – a large cup of coffee, followed by a bit more coffee.
Then, I had 1-2 snacks at 12 pm and finish off with my biggest meal of the day somewhere around 6 pm.
Are there any drawbacks?
One of the drawbacks I've experienced from eating six small meals a day is that I wasn't always hungry enough to eat that many meals.
If you're not used to eating that often, you may find yourself feeling full before you've even finished your third meal.
According to the article published in Physiology and Behavior Journal, "when people eat even though they're already full, it means they're really responsive to food."
"This could make them eat too much and get more calories than they need," states the journal.
It can get expensive
Another potential drawback of following the Optavia eating schedule and consuming six small meals a day is that it can be expensive.
With 5 fuelings per day and 1 Lean & Green meal, I end up spending more money than I would if I were eating three meals a day.
Additionally, if you're eating out for all six of your meals, the cost can really add up.
It may be difficult to find time
If you have a busy lifestyle, you may not have time to prepare and eat six meals a day.
Plus, it's impossible for me to find time to sit down and eat six times a day.
To save time, you can either create an Optavia meal prep ritual or find a reliable food delivery service that cooks your meals based on your calorie needs.
My eating schedule on the Optavia diet
One of the lessons I learned from living the Optavia lifestyle for over a year was to schedule when I eat.
To enhance fat burning state, the Optavia eating plan recommends that you should eat every 3 hours to help control your hunger and prevent overeating.
This means you should eat all 5 Fuelings, without skipping.
According to their guidelines, eating at consistent intervals throughout the day can be beneficial for both your blood sugar and digestion.
Here's what my Optavia eating plan looks like right now.
My first snack starts around 7 am
I start the day with energizing Optavia Strawberry shake, usually within one hour of waking up.
I often mix it with a protein shake or high-protein sugar-free yogurt.
Here's a photo of my Oikos triple zero blended high-protein greek yogurt.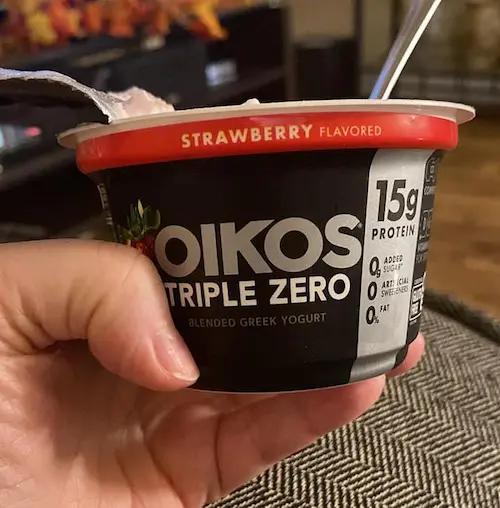 This particular yogurt has 15 grams of proteins with only 100 calories per container.
Hacking my shakes makes them taste better and provides long-lasting energy without crashing mid-morning.
Although this is a shake, I like to spend at least 15 minutes – slowly sipping, instead of drinking it all at once.
I learned that waiting a little longer helps me to feel fuller for longer.
If I run out of fuelings, I often do homemade shakes or I buy protein shake that is similar to Optavia shakes.
I have my second snack around 10 am
I'm usually not very hungry around 10 am, but I know from experience that if I skip my fueling, I will be starving later.
For my second fueling, I usually try to pick up something that's easy to eat at my desk (since I'm usually working at the time).
I don't make shakes or mixes at work.
I often choose Optavia bars because they don't require any cooking or storing in the refrigerator.
Here's the photo of my favorite 10 am fueling – Optavia cranberry honey nut granola bar.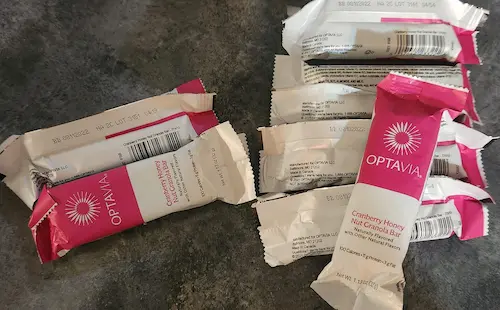 Instead of taking my bars to work one by one, I keep the full box in my office.
If I run out of bars, I always ensure to have a few bars that are comparable to Optavia.
Here's the photo of my alternative 10 am snack – Huel complete protein bar.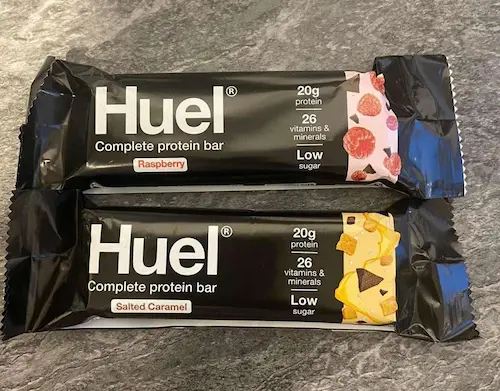 Huel complete protein bar has more calories than Optavia, but I like the fact it has 20 grams of protein per serving.
This helps to keep me satisfied with no desire to eat another meal until lunch.
Workout time
12 pm is when I hit the gym.
I notice a small energy drop by this time of day, but it's never enough to deter me from my workout.
In fact, I find that working out gives me the extra boost of energy I need to power through the rest of the day.
Here's a photo of my workout at my local gym in Coral Gabels.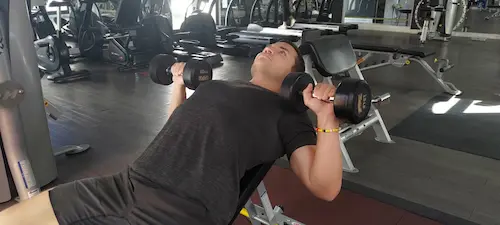 I like to combine workouts with the Optavia diet becasue it helps with my energy and lowers my hunger.
I make sure to eat my biggest meal of the day (often packed with carbohydrates) after I train.
According to the article published in the International Journal of Sports Medicine, "your body is better able to handle carbohydrates after you exercise, so it's a good idea to eat them at that time."
I eat my main meal around 1 pm
I'm all about keeping my body energized, so after my workout session, I usually have my main Lean & Green meal.
I give it a big boost at noon with plenty of lean proteins like beef, chicken, or fish.
To make sure the energy continues rocking on through dinner time, I pair them up with complex carbs plus healthy fats and fiber.
Here's a photo of my post-workout lean and green meal that I order from my local restaurant.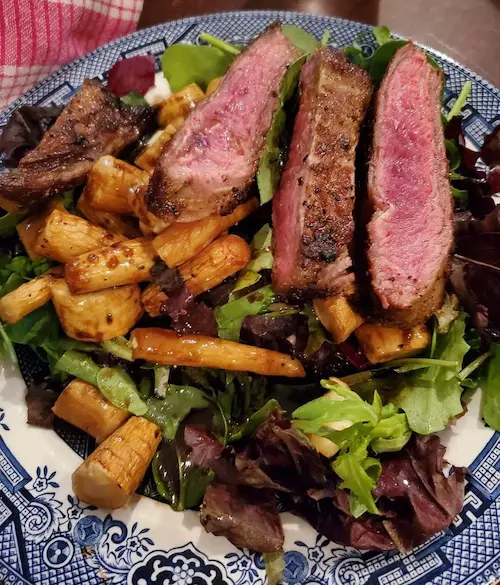 It has 6 oz of beef steak, 7 oz of parsnips, a dash of olive oil, and plenty of leafy green vegetables.
Although this is my main meal of the day, I like to order smaller portions.
Instead of being completely full, I stop eating when I feel I'm no longer hungry.
To ensure I don't overeat, I follow my Optavia dining out checklist, which has 16 practical tips to help me listen to my body cues.
My last fueling at work – before going home
Around 4 pm I may start to feel a little hungry. Although I feel like I could eat something, the feeling isn't overwhelming.
If I start to feel that afternoon pesky post-lunch hunger pangs kicking in, I know my lunch wasn't big enough.
If I'm not hungry at all, this means I likely had too much food at my previous meal.
I wait until my hunger reaches around 7 or 8 out of 10 (where 10 is the hungriest I've ever been). Then again, I grab one of the Optavia low-calorie bars.
My evening 7 pm snack
I usually eat 1 to 2 Optavia fuelings in the evening around 7 to 8 pm.
(Not because I'm hungry.)
It helps me avoid those late-night cravings for unhealthy junk food and satisfy my sweet tooth.
This is when I have more time and can experiment with creating my own Optavia shakes or cookies.
Plus, all of them have around 100 calories, so even when I eat two fuelings at once, I don't feel guilty.
Optavia fueling before bed
Somedays I may have one additional fueling right before going to bed, depending on how hungry I feel.
Does it matter how late you eat on Optavia?
It depends.
There are pros and cons to eating Optavia fuelings before bed.
On the one hand, it helps me sleep better. On the other hand, it often leaves me hungry for more.
Ultimately, there's no right or wrong answer when it comes to whether or not you should have a small snack before bed.
It's simply a matter of listening to your body and making a decision based on what feels right for you.
What to do if you're not hungry?
According to Optavia guidelines, "you need to eat all of the fuelings on your weight loss plan plus one extra healthy meal. If you don't, you won't get all the nutrients you need to make the plan work well."
But what happens if I'm not hungry? Can I skip the last fueling on Optavia?
If you're not hungry and don't feel like eating, here are some ways to make yourself want food.
Make sure you choose fuelings that you enjoy. If you're struggling to get excited about eating, try preparing them with herbs and spices to add more flavor. This way, you'll be looking forward to eating.
Make your fuelings taste better. I like to transform my shakes into a delicious frappe, or tasty Waffles. This way I may even eat when I don't feel so hungry.
Set a reminder. It can be easy to forget to eat when we are busy. Set a reminder on your phone to go off every few hours. This will remind you that it is time to have a snack or a meal.
Get active. Exercising may make me less hungry at the moment, but ultimately it makes me want to eat more food.
Create your own Optavia meal plan. If you haven't yet, I recommend following a decent meal plan that shows you which meals to prepare in advance.
Lessons learned
It's been a year since I started eating according to the Optavia schedule, and there are a couple of lessons that I've learned along the way.
Firstly, I don't think I would stick to 6 small meals a day without doing Optavia.
Although I understand fuelings are highly processed, I don't think I would find time to shop, prepare, cook, and eat 6 meals a day on my own.
(No freaking way.)
Second, your times to eat on Optavia are individual.
You should be eating fuelings based on your personal preferences, not based on other people's opinions.
If you want to have extra fueling, go get it. I eat 2 Optavia Fuelings at once and have zero regrets.