Optavia Flavors Of Home Review: Benefits and Drawbacks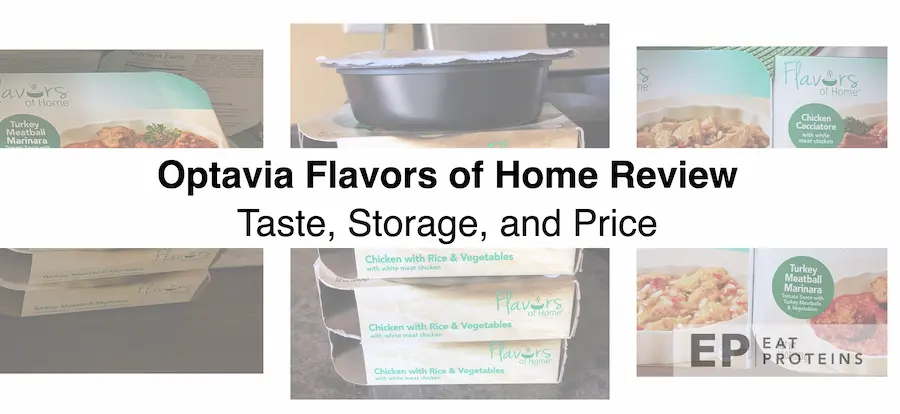 Optavia Flavors of Home is a range of pre-prepared meals provided by Medifast, Inc. as a component of their Optimal Weight 5 and 1 weight loss program. These meals offer convenience by serving as Lean and Green meal alternatives, eliminating the need for home-cooked meals.
Flavors of Home Optavia are non-vegetarian dishes cooked from chicken, beef, and turkey, with six options available, including Turkey Meatball Marinara, Chicken Cacciatore, and Beef Stew, among others.
Flavors of Home Optavia promise to make healthy lean and green meals with the same amount of calories, protein, carbs, and fats, while also incorporating a variety of flavors and spices to keep your taste buds happy.
However, can Optavia Flavors of Home deliver on its claims? In this review, we will examine the Flavors of Home Lean and Green meals, analyzing their ingredients, taste, storage, pricing, availability, and alternatives.
What Are Flavors Of Home Optavia?
Optavia Flavors Of Home refers to the done-for-you lean and green meals offered as part of the Optavia diet plan.
Each meal provides approximately 290 calories per serving, which contain 25 grams of protein, 14 grams of fat, 15 grams of carbohydrates, and 3 grams of dietary fiber, ensuring a balanced nutritional profile.
While these ready-to-eat meals offer convenience for those who prefer not to cook at home, some considerations should be noted. The portion sizes are relatively small, resembling typical TV dinners.
Here's a photo of my Optavia Flavors of Home.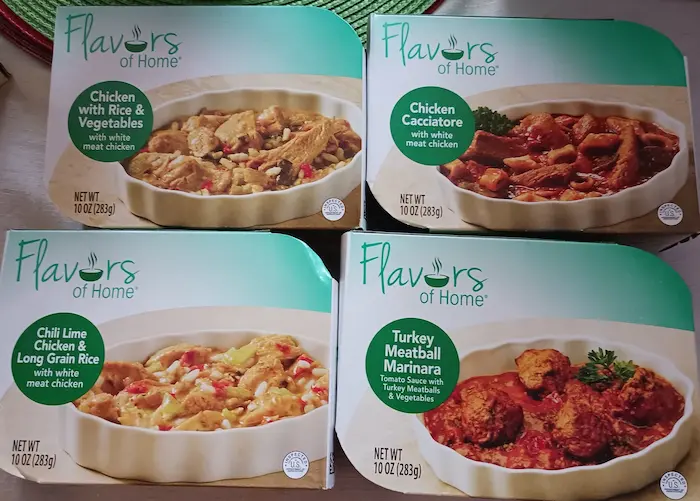 How Does Optavia Flavors Of Home Taste?
The taste of Optavia Flavors Of Home is not particularly outstanding, though it can vary from person to person. While I appreciate the convenience of portion-sized meals, I found Optavia Flavors of Home to be lacking in terms of satiety. Despite the seemingly generous protein content, I did not feel adequately full.
Having 1-2 Optavia Flavors of Home meals available can be useful in situations where you run out of food, miss grocery shopping, need a healthier alternative to take out or have limited time for cooking a full meal.
However, I would not recommend relying on them as a daily staple. The taste may not be exceptional, and the portion sizes may leave you wanting more.
On the positive side, these meals are made with real ingredients and real meat. On the downside, the presence of preservatives in the ingredient list is something to be aware of.
What Are The Ingredients Used in Flavors Of Home Optavia?
The ingredients of Flavors Of Home Optavia vary depending on the option you choose. However, most of the meals within this range include cooked vegetables such as potatoes, carrots, celery, mushrooms, and peas.
Additionally, they typically feature cooked meats like chicken and beef. To enhance the texture and consistency, some of these meals incorporate thickening agents such as modified food starch or xanthan gum.
This table shows all the most common Optavia Flavors Of Home ingredients.
| Category | Ingredients |
| --- | --- |
| Protein | Cooked beef (beef, salt), Cooked white chicken strips (white chicken meat, water, isolated soy protein, salt, spice) |
| Vegetables | Potatoes, Carrots, Celery, Mushrooms, Peas, Green bell peppers, Red bell peppers, Onions, Water chestnuts, Celery, Mushrooms, Tomatoes in juice, Carrots, Red bell peppers, Celery, Mushrooms, Green bell peppers |
| Carbohydrates | Cooked enriched rice (long grain rice, iron phosphate, niacin, thiamine mononitrate, folic acid), |
| Fat | Canola oil, Chicken fat |
| Flavor Enhancers | Beef stock concentrate, Tomato paste, Yeast extract, Tomato paste, Yeast extract, Chicken broth, Yeast extract, Lemon juice |
| Thickening Agents | Modified food starch, Xanthan gum |
| Flavorings/Seasonings | Onion powder, Garlic powder, Spice, Garlic powder, Sea salt, Oleoresin paprika (color), Garlic powder, Spice, Annatto (color) |
| Water | Water |
It's important to acknowledge a notable contradiction within the Optavia 5 and 1 plan. Despite the program's restriction on consuming rice, pasta, or potatoes, these very ingredients can be found in the Flavors of Home lean and green meals.
Are Optavia Flavors Of Home Made With Organic Ingredients?
No, the ingredients in Optavia Flavors of Home are not organic.
There are no certifications, logos, or additional claims on the boxes indicating organic status. Without specific information provided by the brand or a visible organic certification, it is unlikely that the ingredients used in Optavia Flavors of Home are organic.
Are Optavia Flavors Of Home Made With Gluten-Free Ingredients?
Optavia Flavors of Home Meals do not have a gluten-free logo or certification, unlike some of the gluten-free Optavia Fuelings. Therefore, it is advisable to exercise caution if you are following a gluten-free diet and consider checking the specific ingredients.
Are Optavia Flavors Of Home Meals Made With Fresh Ingredients?
While some of the Optavia Flavors Of Home meals ingredients are fresh like red bell peppers, celery, and mushrooms, it also contains processed and pre-cooked ingredients such as cooked white chicken strips and cooked enriched rice. Please note that the Optavia Flavors of Home meal boxes are not frozen and can be conveniently placed at room temperature for easy storage.
What Are The Flavors Of Home Storage Recommendations?
Optavia Flavors of Home meals are designed to be stored at room temperature, eliminating the need for refrigeration or freezing.
This feature makes these meals highly beneficial in situations where access to a refrigerator is limited or unavailable. For example, they are ideal for road trips, flights, train journeys, and outdoor activities like backpacking or hiking.
However, when asking if Flavors of Home meals need to be refrigerated or not, I choose to store them in the fridge to extend their shelf life.
As per the US Food and Drug Administration's guidelines on food storage safety, it is crucial to ensure that your refrigerator temperature remains at or below 40°F (4°C) to prevent foodborne illnesses caused by bacterial growth.
This temperature range helps to preserve the quality and safety of ready-to-eat foods like Optavia Flavors Of Home meals. Additionally, consuming these meals promptly after purchase further contributes to maintaining their freshness and overall safety.
How Many Optavia Flavors Of Home Meals Are There?
There are a total of 6 Optavia Flavors of Home meals available.
Chicken with Rice & Vegetables
Chili Lime Chicken
Ginger Lemongrass Chicken
Chicken Cacciatore
Beef Stew
Turkey Meatball Marinara
I particularly enjoy the Turkey Meatball Marinara meal as it doesn't contain any soy, and its delightful tomato sauce brings to mind the flavors of an authentic Italian-style dish.
Here's the photo of Optavia Flavors Of Home Turkey Meatball Marinara.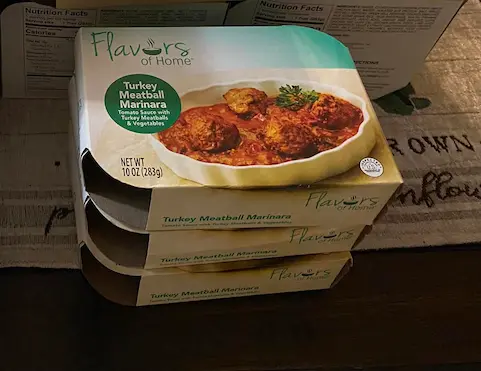 The taste of this meal is quite pleasing, making it my personal favorite among the Optavia Flavors of Home options.
How Many Optavia Flavors Of Home Meals Are In The Box?
A box of Optavia Flavors of Home contains 6 meals, however, you also have the option to purchase the meals individually. It's worth noting that there is a $1.20 discount offered when you buy the entire box of meals instead of purchasing them individually.
How Much Are Optavia Flavors Of Home Meals?
The cost of Optavia Flavors of Home meals is $5.45 per meal when purchased individually. Each meal weighs under 300 grams. If you choose to buy a box of 6 meals, the price is $31.50, which averages to $5.25 per meal.
That this price is approximately $2.00 higher compared to other popular ready-to-eat meals from brands such as Healthy Choice, Lean Cuisine, or Veggies Made Great frozen meals. Despite being mostly frozen, these alternative meals provide comparable nutritional content while being more cost-effective per container.
Where Can You Buy Optavia Flavors of Home Meals?
You can purchase Optavia Flavors of Home meals exclusively through the official Optavia website. However, to make a purchase you need to be assigned a coach through the Optavia program. This means you cannot directly buy the meals from a physical store or the Optavia website without going through the onboarding process.
If you are unable to access Optavia meals through the official channels, there may be third-party websites like eBay, Poshmark, or Facebook Groups where individuals may sell Optavia products.
However, when purchasing from these sources, it's essential to exercise caution. Ensure that the products are not expired, check the seller's credibility, and be aware that you may not receive the same guarantees or support as when purchasing directly through the official Optavia website with an assigned coach.