10 Optavia Popcorn Substitutes: Calories, Macros, and Price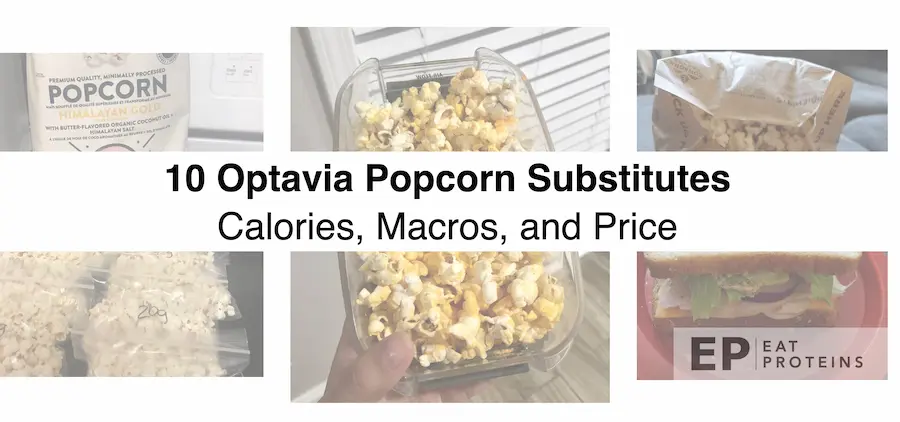 Optavia popcorn is a snack option provided by Optavia, a company known for its Optimal Weight 5 and 2 and Optimal Health 3 and 3 plans. This popcorn is not classified as a Fueling but rather as a 70-calorie snack. Each serving contains approximately 4.5 grams of fat, 6 grams of carbohydrates, and 1 gram of protein.
Optavia popcorn substitute refers to other popcorn brands that are cheaper and offer similar (or higher) nutritional value to Optavia snacks. While Optavia popcorn is one of the tastiest snacks, I'm not ready to spend $11.75 per box. There are other options available if you want to mix things up.
This article covers topics regarding Popcorn On Optavia Diet, eating popcorn as Optavia fueling alternative, How Much Popcorn Can You Have On Optavia, and
This article provides information about the role of popcorn in the Optavia diet, including whether it can be used as an alternative to Optavia fuelings. It also addresses the question of how much popcorn you can have while following the Optimal Weight 5 and 1 plan and gives an overview of the Optavia popcorn substitutes, which include the following brands.
SkinnyPop
Angie's Boomchickapop
Popcorners
Lesser Evil
Quinn Snacks
Jackson's Honest
Pipcorn
Boulder Canyon
Off The Cob
479° Popcorn
1. SkinnyPop
SkinnyPop Popcorn is a popular brand loved by many for its healthy qualities. What sets it apart is that it's non-GMO, gluten-free, and free from preservatives, which is fantastic if you have specific dietary needs. The best part?
SkinnyPop Popcorn offers a large 14 oz bag for $5.99, which is approximately $0.43 per ounce. Additionally, the box of 28 small bags is priced at $12.99, which comes to around $0.46 per ounce.
In contrast, Optavia popcorn costs approximately $3.94 per ounce.
Here's a photo of my favorite SkinnyPop Popcorn flavor – Original.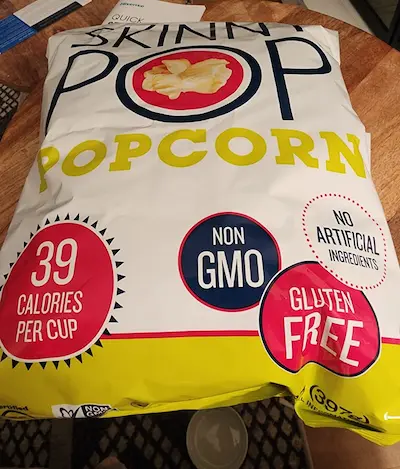 While the large bag might not be completely filled to the brim, the quantity you get is still a steal. When it comes to nutrition facts, SkinnyPop Popcorn won't leave you feeling guilty.
It's only 39 calories per cup, making it a low-calorie snack option. Plus, it's free of any questionable ingredients or preservatives, which is perfect if you're following Optavia diets or just trying to eat cleaner.
2. Angie's Boomchickapop
I have to say, I absolutely loved Angie's Boomchickapop! Compared to Optavia popcorn, it does have slightly more calories (140 per serving) and more carbs (19 grams), but it also offers more protein. The best part is that it's all-natural, delicious, and incredibly yummy. In my opinion, you won't find better pre-popped corn in a bag!
And let's not forget about the price—$2.33 per bag is a steal! It's hard to find a better deal for such a fantastic snack.
When comparing the prices per ounce, Angie's Boomchickapop clearly comes out as the more affordable option. It costs approximately $0.48 per ounce, while Optavia popcorn is significantly higher at around $3.94 per ounce.
What I appreciate about Angie's Boomchickapop is that it strikes the perfect balance. It's not overly salty or drenched in butter. It's just right. Plus, it's gluten-free and GMO-free, which is fantastic for those with dietary restrictions or preferences. You can order one without any hassle. No need for Optavia coaches.
3. Popcorners
PopCorners is a brand of snacks that have been around for a few years now, and they offer a range of delicious flavors.
Some of the flavors they have include Sea Salt, Cinnamon Crunch, White Cheddar, Kettle Corn, Spicy Queso, Sweet Chili, and Sour Cream & Onion.
One of the things that set PopCorners apart is that they are not fried, making them a healthier alternative to Optavia popcorn. They are made with simple ingredients like yellow corn, sunflower oil, whey, reduced lactose whey, and natural flavors. Plus, they don't contain any artificial flavors or colors, which is a big plus for me.
I particularly enjoyed the White Cheddar flavor of PopCorners. They have a unique taste that reminds me of a cross between rice cakes, popcorn, and chips, with a bit more emphasis on the rice cake and popcorn flavors.
I don't find these chips overly salty. They have a slightly healthier feel compared to other chips on the market. Each serving contains 140 calories, 6g of total fat, 0.5g of saturated fat, and 160mg of sodium.
The ingredients include cheddar cheese, salt, citric acid, and lactic acid. When comparing them to something like Simply Organic Doritos, PopCorners definitely come across as a relatively healthier option.
4. Lesser Evil
Lesser Evil is a brand that specializes in organic snacks, and its popcorn offerings are no exception. Their Himalayan Pink Salt popcorn is my favorite Optavia popcorn substitute. However, I must admit that it can be a bit difficult to find as it tends to fly off the shelves.
Here's the photo of one of my best Popcorners popcorn flavors – Himalayan Gold.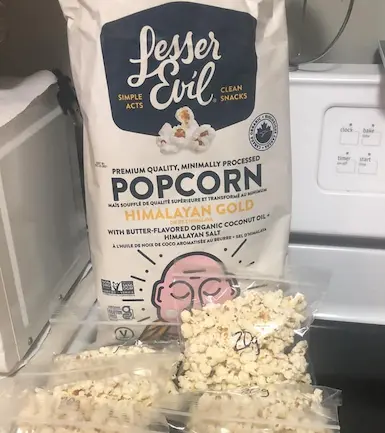 Each serving contains 120 calories and 6 grams of fat, offering a satisfying snack without going overboard on the calorie count. When considering the price, it is approximately $1.58 per ounce (almost half of the price for Optavia popcorn), making it a reasonable choice for high-quality organic popcorn.
The popcorn has just the right balance of buttery flavor and saltiness, creating a truly enjoyable snacking experience.
What sets it apart is the quality of ingredients used, making it a healthier option that doesn't leave you feeling guilty or weighed down after indulging.
Lesser Evil also offers other flavors and snacks, such as paleo puffs, expanding their range of tasty options. In my experience, I found Lesser Evil popcorn to be absolutely delicious.
5. Quinn Popcorn
Quinn Popcorn offers a fantastic option for those seeking a healthier alternative to Optavia popcorn. Priced at approximately $1.35 per ounce, it may seem a bit higher in cost, but trust me, it's worth it.
The first thing that caught my attention was its low sodium content, making it a suitable choice for those watching their salt intake. Each serving of Quinn Popcorn contains 170 calories, 11 grams of fat, 17 grams of carbs, and 3 grams of protein, providing a satisfying snack option.
What sets Quinn Popcorn apart is its commitment to using only the very best, high-quality, real ingredients. The popcorn kernels used are gluten-free, non-GMO, and organically grown in the USA, ensuring you're consuming a wholesome snack.
The package includes 12 individual bags, each weighing 3.5 ounces, along with 12 flavor packets. This allows for versatility and customization, as you can add the flavoring of your choice to suit your preferences.
6. Jackson's Honest
When searching for a snack that could replace Optavia popcorn, I stumbled upon Jackson's Honest Chips, and I'm so glad I did. These potato and tortilla chips are fried in coconut oil, which sets them apart from traditional snacks.
What I love about Jackson's Honest Chips is their simplicity. They are made with just three ingredients: organic coconut oil, non-GMO potatoes, and salt. This minimalist approach results in chips with a lightly colored, super crunchy texture and a delightful underlying sweetness that perfectly balances the tanginess of the salt and vinegar flavor.
If you're interested in trying Jackson's Honest Chips as an Optavia popcorn alternative, you can find them online for around $3.49. This snack offers a refreshing change of pace and provides a wholesome option that satisfies your cravings.
7. Pipcorn Popcorn
Pipcorn Mini Heirloom Popcorn Sea Salt is a delicious and healthy snack option that is perfect for people who are on the go and cannot have Optavia fuelings due to soy allergies.
This popcorn is made from mini heirloom kernels that are smaller and more tender than regular popcorn kernels. They are also Non-GMO, gluten-free, and soy-free, making them a great choice for people with dietary restrictions.
At only 120 calories per serving, this popcorn is an excellent low-calorie snack option that will help you stay on track with your weight loss goals. It is also low in fat, with only 6 grams per serving, and has 19 grams of carbs, making it a great source of energy.
The sea salt flavor is the perfect combination of salty and savory, making it a crowd-pleaser for everyone. It is also incredibly affordable, with a price tag of only $0.89 per ounce, making it a great option for people who are on a budget.
8. Boulder Canyon
Boulder Canyon Sea Salt Avocado Oil Canyon Cut Kettle Cooked Potato Chips are a mouth-watering snack that is perfect for those who are health-conscious but still want to indulge in a crunchy and flavorful treat.
If you're looking for a tasty Optavia popcorn alternative, these chips are a great option. At just $2.92 for a bag, they are an affordable snack that won't break the bank. Plus, with a bigger serving size of 42.5g, you'll get more chips per serving than other snacks.
These chips come in six different flavors, allowing you to enjoy a variety of tastes that will satisfy your cravings. They are also kettle-cooked, giving them a satisfying crunch that will leave you feeling satisfied.
In terms of nutrition, these chips are a great option for those who are watching their calorie intake. The whole bag contains just 140 calories, 7 grams of fat, 17 grams of carbs, and 2 grams of protein. This makes them a healthier and more satisfying option than other snacks that are high in calories and sugar.
9. Off The Cob
Off the Cob Popcorn is a unique brand of popcorn that offers a healthier and tastier alternative to Optavia popcorn. Made with non-GMO sweet corn kernels, this popcorn is air-popped, which means it's not cooked in oil, making it a healthier snack option.
The popcorn is then seasoned with natural ingredients like olive oil and sea salt, giving it a delicious flavor that's hard to resist.
One of Off the Cob's most popular flavors is the Dill Pickle wicked flavor. This flavor is perfect for those who love the tangy taste of pickles and want a healthy snack that's still packed with flavor. The Dill Pickle flavor is made with all-natural ingredients and is free from artificial flavors and preservatives.
One of the best things about Off the Cob Popcorn is that it's high in fiber, with 3 grams per serving. Fiber is essential for maintaining a healthy digestive system and can help you feel full for longer. This makes Off the Cob Popcorn a great snack option for those who are trying to lose weight or maintain a healthy diet.
10. 479° Popcorn
If you're looking for a healthier substitute to Optavia popcorn, you might want to try 479° Popcorn. This brand is known for its unique flavors, which are inspired by global cuisine. For example, the Madras Curry flavor is a spicy blend of Indian spices, while the Black Truffle & White Cheddar flavor is a savory combination of cheese and truffle oil.
One of the best things about 479° Popcorn is that it's made with non-GMO popcorn and natural ingredients. Unlike Optavia popcorn, it doesn't contain artificial flavors or preservatives. Instead, it's seasoned with ingredients like coconut oil and sea salt, which are healthier alternatives to butter and salt.
What Are Other Snacks That Are Similar To Optavia Popcorn?
Snacks that are similar to Optavia popcorn are listed below.
Mini Babybel Light. This tasty Optavia popcorn snack alternative provides 50 calories, 3g total fat, and 6g protein. Pair it with watermelon, apples, or strawberries for a satisfying snack.
Hard-Boiled Egg Whites. Egg whites offer 51 calories and 10.5g of protein. Top them with Dijon or salsa for extra flavor.
StarKist Hot Buffalo Style Tuna Creations. This snack has 70 calories and 15g of protein. Pair it with diced carrots and celery for a crunchy and nutritious snack.
Pacific Organic Soup Starters Tortilla Soup Base. This soup base contains only 15 calories per 1/2 cup. Add veggies for a more filling snack.
Annie Chun's Roasted Seaweed Snacks. These snacks have 25-30 calories per 10 sheets. Try the Brown Sugar & Sea Salt flavor for a sweet and salty treat.
Jennie-O All Natural Turkey Breast Sticks. Two turkey sticks provide 50 calories and come in four flavors. Make a snack salad with chopped turkey, romaine, cherry/grape tomatoes, and balsamic vinegar.
How Much Popcorn Can You Have On Optavia?
On the Optavia 4 and 2 plan, you can enjoy a healthy snack of 35 grams of popcorn. This is equivalent to approximately 1.23 ounces or 0.15 cups of popcorn. It's important to note that on the Optavia 5 and 1 plan, popcorn is not allowed as it is not part of the designated meal plan.
The 5 and 1 plan involves consuming five Optavia meals and one lean and green meal per day. Therefore, if you're following the 5 and 1 plan, it's best to refrain from including popcorn as a snack option.
On the Optimal Health 3 and 3 plan, you have three Optavia meals and three lean and green meals per day. Popcorn can be included as a part of your lean and green meal, as long as you measure it out to fit within the guidelines of the plan.
How Much Popcorn Can You Have as an Alternative To Optavia Fuelings?
Popcorn cannot be considered an alternative to Optavia Fuelings as none of the popcorn options mentioned above meet the requirements of the Optimal Weight 5 and 1 plan.
Optavia Fuelings typically contain around 100-110 calories, 15 grams of carbohydrates, and 10-14 grams of protein. Unfortunately, none of the popcorn varieties mentioned fulfill these specific criteria. Popcorn can only be enjoyed on Optavia as a snack, rather than a substitute for the designated fuelings.