Optavia Health Assessment Guide: Everything you need to know
Starting with Optavia means that you have to complete the Optavia health assessment, a mandatory first step.
This evaluation is designed to help you (and your coach) choose the most appropriate Optavia plan based on your specific health needs.
Unlike medical health assessment, the Optavia health assessment does not check how healthy you are by conducting any physical examination, laboratory tests, or diagnostic imaging tests, such as X-rays or CT scans.
It's more like a lifestyle assessment designed to evaluate your current nutrition, sleep, stress, and exercise habits and behaviors.
Let's take a closer look at the Optavia health assessment and explore what it involves, how it can benefit you, and how you can get started.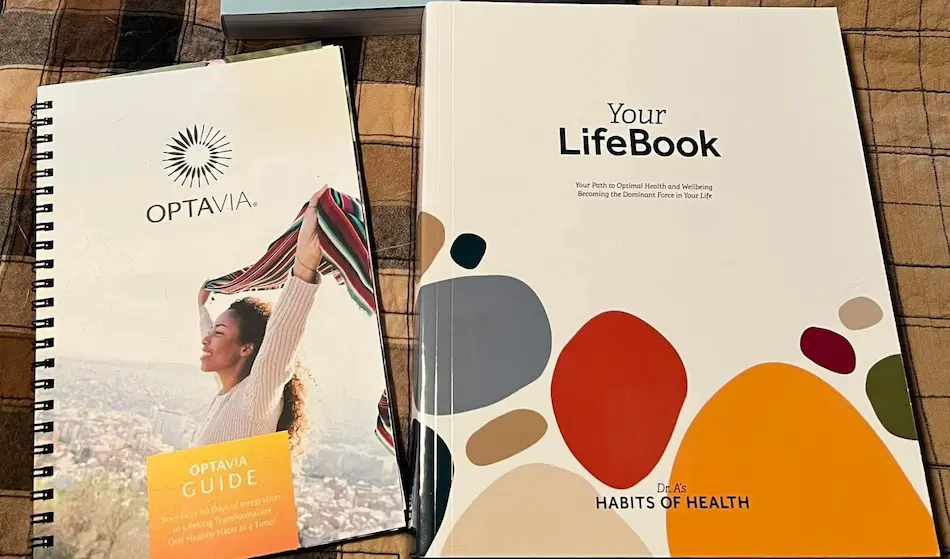 Conducting the Optavia Health Assessment
Although I've heard that some people did their checkups online via Skype or Zoom, mine was done face-to-face.
We meet up with my Optavia coach in my local coffee shop – ALL DAY in downtown Miami.
For sure being surrounded by pastries, bagels, croquettes, and the smell of full English breakfasts is not the best place to conduct a health assessment.
Fortunately, we weren't there for long as all the evaluation was done in under 40 minutes.
I didn't have to bring any additional equipment or materials with me. Everything was provided by the coach.
Starting the Optavia Health Assessment
My experience with Optavia Health Assessment was straightforward.
It began with the first step, called "Awaken," in which I was asked about my motivations for making changes to my health.
According to my Optavia coach:
By knowing your motivation for wanting to make changes, I can better understand your goals and identify potential barriers that might be standing in your way. This can help me to come up with a plan that is tailored to your needs.
The questions you will see in the Optavia health assessment include:
What are your health goals?
What is your main motivation?
Tell me about a time when you felt healthy. What has changed since then?
Here's the photo of part one of the Optavia health assessment.

(This assessment is available online in the form of a PDF.)
These types of questions are strikingly similar to the concept called Motivational Interviewing, which is a way of talking to people to help them think about making changes to their behaviors.
Gallus Bischof, Ph.D., is a psychologist and senior researcher from the University of Luebeck who specializes in the field of addiction research since 1998.
According to Dr. Bischof's article published in the Deutsches Ärzteblatt International Journal, "motivational interviewing has been found helpful for making people want to change their behavior and for helping people stick to their treatment plan."
Below you can see the first session of a three-part training course on Motivational Interviewing (MI) presented by Igor Koutsenok, Ph.D., a Professor of Psychiatry at the University of California San Diego.
The session covers the principles of MI, including empathy, change talk, and resistance, as well as the importance of building a therapeutic relationship.
It also discusses the integration of MI with other treatment modalities and covers concepts such as ambivalence, stages of change, and the four processes of MI.
The session was recorded on June 4, 2020, and has a duration of 1 hour.
Medical History and Allergies
The next part of the Optavia Health Assessment was about my medical history and any allergies (or medical conditions) I may have.
Here's the photo of the questionnaire.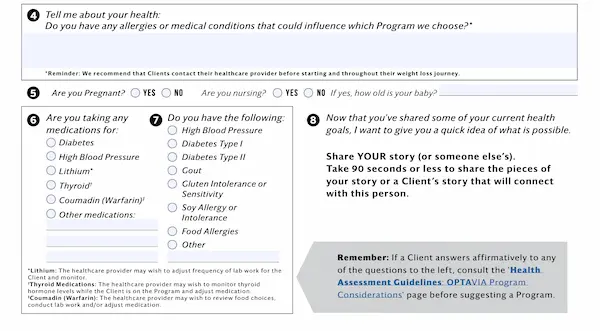 According to the Optavia coach, this was necessary to personalize my plan.
You see, some of the Optavia fuelings may contain ingredients that some individuals may have sensitivities or intolerances to, such as soy, wheat, gluten, milk, or peanuts.
So knowing about any potential allergies or medical conditions can help to ensure you are safely participating in the Optavia program, without experiencing any potential negative reactions.
What's more, you will be asked about any medications that you currently taking.
According to the Optavia coach, this will help to establish which of the following plans is more suitable for you:
Optimal Weight 5 & 1 Plan
Optimal Weight 4 & 2 & 1 Plan
Optimal Weight 5 & 2 & 2 Plan
Optimal Health 3 & 3 Plan
Optavia for Diabetes
Optavia for Gout
Optavia for Seniors
According to Optavia, people who have type 1 diabetes may be more suitable for the Optimal Weight 5 & 2 & 2 Plan. They also suggest you should contact your healthcare provider.
According to the Optavia:
We recommend that Clients contact their healthcare provider before starting and throughout their weight loss journey.
Below I've embedded a youtube video where a weight loss journey using the Optavia program is discussed, including the importance of Optavia Health Assessment.
The discussion was held on December 8, 2021.
The lifestyle assessment
The second step in Optavia's health assessment is called Daily Routine and Habits.
This part I enjoyed the most as we just had a genuine conversation about my lifestyle.
I must confess – my current work schedule was so hectic, so listening to and evaluating some of these questions made me think a lot.
The coach asked me about my:
sleep patterns
energy levels throughout the day
fitness and activity level
fulfillment from work
eating habits
hydration habits
It made me think a lot about my current health, where it is now, and where I want it to be in the future.
My coach also suggested that I should follow the 5 and 2 and 2 plan as a physically active person.
However, at that time, for me and my wife weight loss was our number one priority, so both agreed to try the 5 and 1 plan.
Results
There is no one way to interpret the results of the Optavia Health Assessment.
Again, this evaluation is not your typical medical examination. The Optimal weight is more about behavior change.
As a part of this assessment, I was also encouraged to take "before" pictures and write down my body girth measurements, such as chest, waist, upper arms, and thighs.
Later, during our weekly calls, I noticed my coach would use these notes and results as a gentle reminder about my goals and the progress we made so far.
Sharing results with my healthcare provider
One of the first suggestions we got from my coach was to reach out and share our Optavia health examination with my healthcare provider.
According to the Optavia coach, it is generally recommended to involve a healthcare provider in any significant changes to your diet or exercise routine.
For example, if I am taking any medications, they may interact with certain foods or may be affected by changes in calorie intake or eating schedule.
Or, certain conditions I may have may also require special dietary considerations.
Plus, a healthcare practitioner may be able to help me set realistic and achievable goals, provide advice, and monitor my progress to ensure that I am taking a safe and healthy approach to weight loss.
Benefits
Taking an Optavia health assessment was really a first step toward educating myself about my health.
It helped me to identify areas of my lifestyle that, I would say, needed improvement.
What's more, by identifying these areas, I could set goals for improving my sleep hygiene, managing my stress better, and learning how to get comfortable with being hungry.
Another part was the process. By re-taking the assessment, body measurements, and pictures periodically, I could see how my body was changing.
(That had the most profound effect.)
Are there any limitations?
Although Optavia's health assessment is (I would imagine) designed by professionals, there are a few limitations and caveats that should be taken into account.
Lack of expertise
It is important to note that the Optavia Health Assessment is provided by coaches who are affiliated with the Optavia program.
These coaches are not healthcare professionals, and may not have the skills or background required to conduct a thorough health assessment or provide recommendations.
The assessment is scripted
The Optavia Health Assessment may be scripted. This means it follows a predetermined format, similar to a sales call or consultation.
The questions and recommendations provided during the assessment may be predetermined and may not be tailored to an individual's unique health needs or concerns.
The bottom line
The Optavia Health Assessment is a tool that helps your coach understand which program may be the most suitable for you.
While it is not a substitute for medical advice, diagnosis, or treatment from a qualified healthcare professional, it can provide insights into your general lifestyle habits.
It is important to consult with a healthcare practitioner before starting any new health program to ensure that it is safe and appropriate for your individual needs and circumstances.