11 Optavia Sweet Potato Hacks You Should Try
Are you tired of the same old Optavia sweet potatoes hack? Look no further!
Below you will find our step-by-step instructions to take your fuelings to the next level.
I've got some seriously drool-worthy recipes that are sure to impress.
I will help to transform your boring Optavia honey sweet potato fuelings into mouthwatering pancakes, waffles, muffins, and shakes.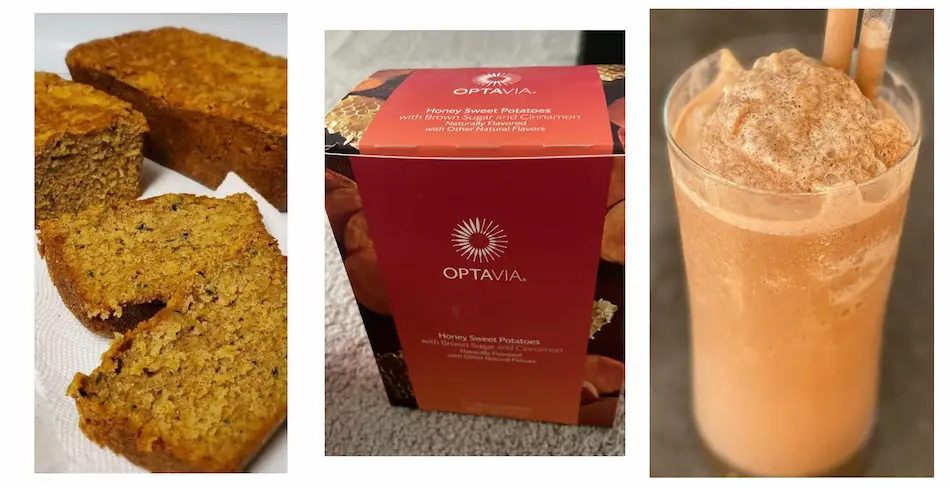 My Optavia Sweet Potato Hacks
I and my wife started to hack our fuelings simply becasue we love to switch things up in our kitchen, and we hate to eat the same foods all the time.
For over a year, I have been exploring new angles with my meals and snacks by changing the texture, adding different flavors, or making food taste better without compromising on calories.
And the best part? You don't need to spend hours in the kitchen to try out these hacks.
Many of them can be prepared quickly and easily with just a few staple ingredients that you probably already have in your pantry.
Let's take a quick look at the list below.
1. Optavia Sweet Potato Waffle Hacks
The first item on the list is, of course, waffles.
In my opinion, they are the tastiest and can be combined with various syrups, spices, light cheese, or yogurt.
Here's what the Optavia sweet potato waffle hack looks like.

The waffle on your left comes straight from the waffle maker.
Although you can use any low-calorie syrup, I added one tablespoon of my favorite Walden Farms pancake syrup with zero calories per serving.
For the waffle in the middle, we added 1/2 wedge of Laughing Cow Spicy cream cheese.
The third waffle has cream cheese, plus we sprinkle it with bagel seasoning and sesame seeds.
How to prepare
Preheat your waffle iron.
Here are two variations of waffle base, where – one more easy, and the second with some pumpkin pie spice (for both recipes mix together in a small bowl):

1 packet of sweet potato fuelings and 3.5 Tbsp of water until a smooth, thick batter is formed
1 pack honey sweet potato, 1 egg white or 2 Tbsp of liquid egg white substitute, 1/4 tsp pumpkin pie spice, 1/8 tsp baking powder

Spray the waffle iron with cooking spray to prevent the waffles from sticking
Pour the batter into the waffle iron, careful not to overfill it. If you are using a mini waffle iron, you may need to do this in two batches.
Close the waffle iron and allow the waffles to cook until the steam has almost dissipated and the waffles are golden brown. Do not open the waffle iron prematurely, as this can cause the waffles to stick or break apart.
Carefully remove the waffles from the waffle iron and transfer them to a plate.
My wife took Optavia Sweet Potato hacking to the completely whole level by adding eggs and avocado.
Here's the photo.

In the first photo, you can see her breakfast sandwich with boiled white egg and avocado slices. The picture in the middle has 1 oz of avocado and 1 oz of grilled chicken.
The picture on your right (and my favorite) is 1/2 oz avocado, 1 oz shrimp, a little tiny pinch of salt, pepper, chili flakes, and lettuce (chili and lettuce are optional).
Some of these hacks may have more calories than regular fuelings so subtract the number of healthy fats, leans, and veggies from your lean and green meals.
2. Optavia Sweet Potato Mug Cake Hack
Craving something sweet and indulgent? This mug cake is just what you need!
Made from one sachet of Optavia Honey Sweet Potato mix and a dash of Flavor God Pumpkin Pie seasoning, it's packed with flavor and is sure to satisfy your sweet tooth.
And the best part? It's super quick and easy to make in the microwave.
Here's the photo.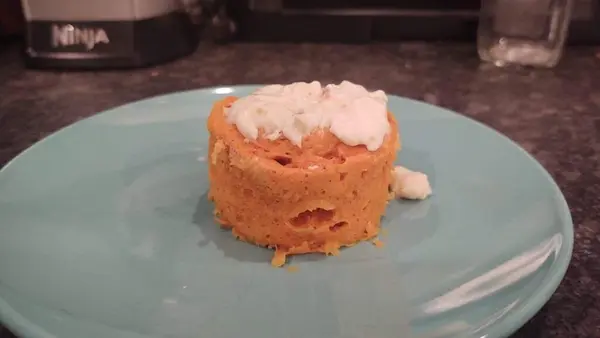 For this hack, I used one sachet of honey sweet potato together with two tablespoons of water and one tablespoon of egg white. I also added a pinch of baking powder.
How to prepare
In a small bowl, mix together the Honey Sweet Potato mix, Flavor God Pumpkin Pie seasoning, water, egg white, and baking powder. The Honey Sweet Potato mix adds a unique and sweet flavor to the mug cake, while the Pumpkin Pie seasoning adds a hint of fall spices.
Spray a microwave-safe mug with coconut oil. Pour the mixture into the mug.
Microwave the mug cake for 1 minute 15 seconds. The mug cake is super quick and easy to make in the microwave, which is perfect for when you're in a rush or have a sudden craving for something sweet.
While the mug cake is cooking, combine the cream cheese and stevia in another microwave-safe mug or bowl. The cream cheese and stevia add a creamy and slightly tangy topping that pairs perfectly with the sweetness of the mug cake.
When the mug cake is done, remove it from the microwave and top it with the cream cheese mixture.
Microwave the cream cheese mixture for 20 seconds, or until it's hot and melted.
That's it. Now enjoy your delicious mug cake!
3. Optavia Honey Sweet Potato Pie Shake Hack
This Optavia sweet potato hack combines many favors, such as delightful sweetness from the caramel pecan syrup, savory, and creamy – all in one shake.
Here's the photo.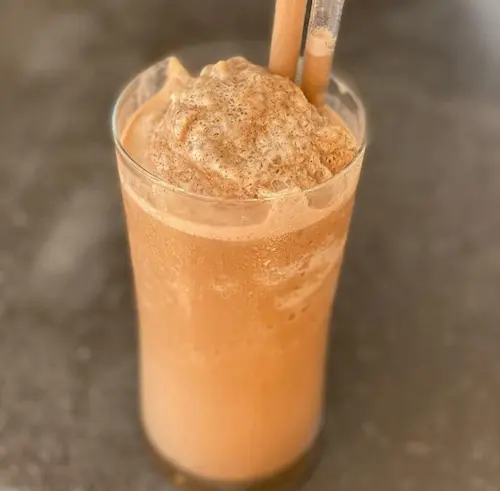 As you can see, I like to make my shakes fancy.
This shake is rounded off with a subtle hint of almond milk, a dash of nutty flavor from the pecans, and a bit of warmth from the cinnamon.
How to prepare
To prepare this delicious shake, combine the following ingredients in a blender:
1 honey sweet potato fueling
3/4 cup very cold water
1/4 cup unsweetened almond milk
1 tablespoon of caramel pecan syrup (I use Skinny Syrup)
Pinch of dash of sugar-free cinnamon maple seasoning
1,5 cups of ice
Mix the ingredients until a homogeneous consistency is formed.
4. Optavia Sweet Potato Cinnamon Cream Cheese Swirl Cake
Another Optavia sweet potato hack you can do with only five ingredients is swirl cake.
Here's what it looks like.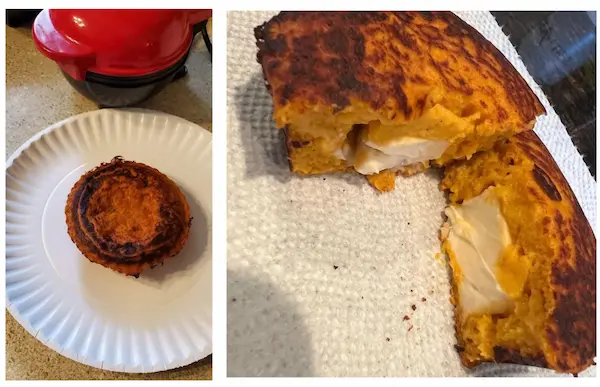 For this cake hack, we used two fuelings.
One packet of Optavia honey sweet potato mix and one packet of cinnamon cream cheese swirl cake mix.
Although cinnamon cream cheese swirl cake goes well in this recipe, you can add any chocolate fueling mix.
On top of that, you will need a dash or two of pumpkin pie seasoning, 1/2 cup of water, and a low-calorie sweetener.
We used Stevia, but you can use any other Optavia-approved sweeteners, as long as they are natural.
How to prepare
In a measuring cup, combine all the ingredients together before pouring half into the mini Dash pie maker without preheating.
Bake for 8 minutes before adding the other half and baking for an additional 7-8 minutes.
To serve, you can either add a 1/2 laughing cow cheese wedge on the top, or you can place the cheese wedge inside (just like I did in the photo above).
Please note that this hack is made of two fuelings. So you can either share it with your spouse, or eat a full serving, but then subtract it from your daily fueling allowance.
5. Optavia Sweet Potato Zucchini Bread
Another Optavia sweet potato hack that you can do from 2 different fuelings is Zucchini bread.
Here's what it looks like.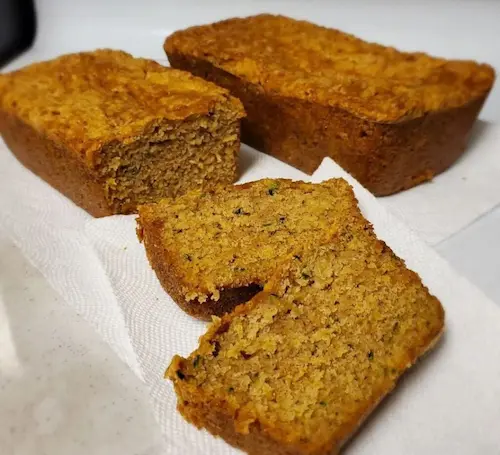 For this bread, we used a combination of six fuelings – 3 packets of Honey Sweet Potato and 3 packets of Cinnamon Cream Cheese Swirl Cake.
(Although we used more ingredients and additional calories, the whole bread is suitable for more than 6 servings.)
What's more, we also added:
1 teaspoon of baking powder
1 teaspoon pumpkin pie spice
6 whisked egg whites
4 tablespoons of Torani sugar-free Pumpkin Spice Syrup (or brown sugar Cinnamon)
1-1/2 cups shredded Zucchini, squeeze out all extra water
1-1/2 tsp yeast
1 tsp vinegar
How to prepare
Activate yeast in 1/2 cup of really warm water for a few minutes.
Whisk egg whites in a medium mixing bowl to break them up then add both fueling packets, spice, sugar-free syrup, vinegar, and yeast mixture.
Mix in zucchini until combined then pour into a loaf pan spritzed with non-stick spray.
Let set in a warm area to rise double it is size.
Bake at 350 F for 40 minutes or until golden brown on top
Note: To ensure that the dough rises to its full potential, it is important to keep it in a warm environment. If the dough is not in a warm area, it may not rise as well.
Preheat your oven to 200°F.
Place a cake pan filled with water on the bottom shelf.
Then, cover the dough with a damp cloth and set it on the top shelf above the hot water.
Close the oven door quickly to retain the heat.
Allow the dough to rise for about 30 minutes, then remove the pan of water and cloth before baking.
If desired, brush one tablespoon of light butter or margarine (1-2 healthy fat) on top. Divide into 6 equal portions, and eat only one piece per serving.
6. Optavia Cappuccino and Sweet Potato Shake Hack
I absolutely adore this shake!
The combination of the cappuccino mix, honey sweet potato mix, and pumpkin pie spice creates a truly unique and delicious flavor that I just can't get enough of.
(Yes, we used 2 fuelings.)
I recommend you divide it into 2 servings.
Here's what the Optavia sweet potato cappuccino shake hack looks like.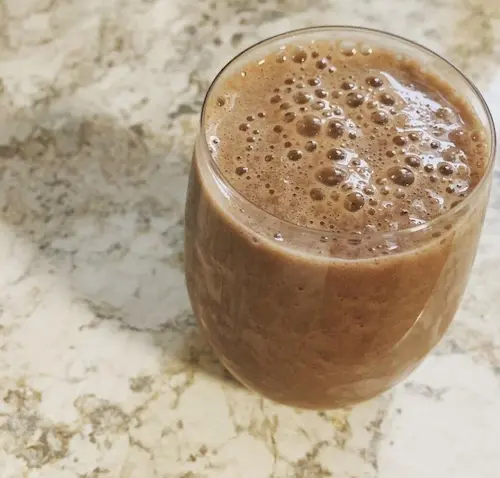 Apart from one frothy cappuccino and one honey sweet potato, here we also used 1/2 cup of water and 1 cup of unsweetened vanilla almond milk.
To add an extra creamy texture, go ahead and include two tablespoons of light cream cheese and ice cubes.
How to prepare
Okay, so first things first, grab your trusty blender and a 24 oz personal cup.
We're going to start by dissolving the Cappuccino mix and pumpkin pie spice in 1/2 cup of water. (This will create a flavorful base for our shake.)
Next, let's add in the unsweetened vanilla almond milk and light cream cheese. These ingredients will give our shake a creamy texture and a hint of sweetness.
Don't be afraid to pulse the blender a few times to make sure everything is well combined.
(Now for the fun part: ice!) Add in as much ice as you'd like to reach your desired consistency.
If you're feeling extra fancy, you can even freeze the mixture in an ice cream machine until it reaches a soft-serve consistency. Yum!
Alrighty, it's time to divide your sweet potato coffee shake hack into 2 servings.
(Trust me, you won't be able to resist finishing both servings in one sitting!)
Each serving provides 1 fueling, 1.5 condiments, and 0.5 fat.
7. Optavia Sweet Potato Custard Pie Hack
Yes, you're reading it right.
My wife managed to make Optavia sweet potato custard pie hack.
Here's what it looks like.

For this Optavia sweet potato hack, we used 4 sachets of honey sweet potato mix together with cottage cheese and unsweetened coconut milk.
Other ingredients you will need include:
1 cup of 1% cottage cheese (a healthier choice that still counts as 2/3 of a lean serving)
1 egg, beaten (a classic pie ingredient that also counts as 1/3 of a lean serving)
2 tablespoons of Walden Farms sugar-free walnut maple syrup (counts as 1 condiment)
1/2 teaspoon of pumpkin spice (1/2 condiment)
4 tablespoons of light cream cheese (counts as 2 fat servings)
1/4 cup of unsweetened coconut milk (to add a touch of tropical flavor and only count as 1/2 condiment)
Although we used sweet potato fuelings, it also goes well with the peanut butter shake mix.
How to prepare
Preheat your oven to 350° F and get ready to whip up some deliciousness.
In a food processor, blend together all of the ingredients until they are smooth and creamy (there's no need for lumpy pie here).
Spray the inside of four 7-ounce ramekins with cooking spray to prevent the pie from sticking (because no one likes a stuck-on cheesecake). Pour the batter into the ramekins.
Place the ramekins in a cake pan and fill the pan with water halfway up the sides of the ramekins. This will help the pie bake evenly and create a creamy custard texture (because a water bath is a pie's best friend).
Bake the pie for 25-30 minutes, or until they are set but still has a creamy texture (not firm like tofu). You don't want a firm tofu texture, trust me.
Again, this custard pie is enough for 4 servings.
If you're feeling extra indulgent, top each pie with 2 Tbsp of Rediwhip just before serving as shown in the third photo.
These custard pie hack will last in the fridge for 3-4 days, or you can freeze any leftovers and label them with the condiment servings used.
Enjoy!
8. Optavia Sweet Potato Muffins Hack
Here is another recipe that I absolutely love, and I think you will too!
These muffins are the perfect combination of tasty and nutritious, making them a great choice for breakfast or mid-day fueling.
Here's the photo.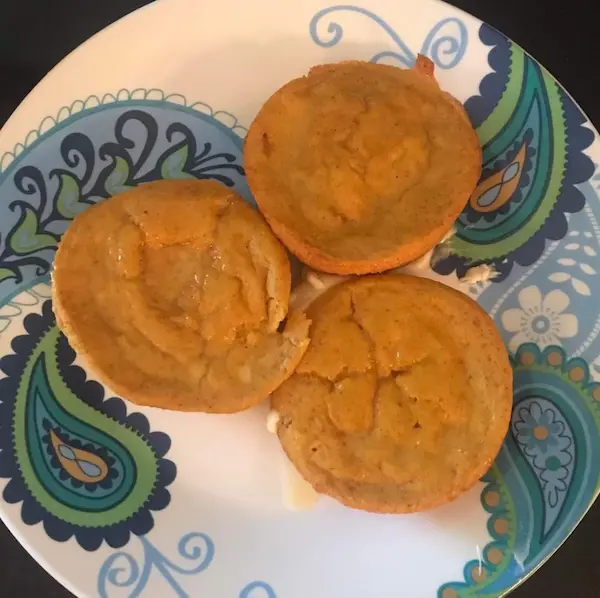 This golden brown muffin came straight out of the oven. Here, we used 4 packets of Optavia Honey Sweet Potato, together with the ingredients below:
1 cup unsweetened almond (or cashew) milk
4 whole eggs
2/3 cup of part-skim ricotta cheese
1 oz of crumbled goat cheese
1/4 cup of diced yellow onion
1 tablespoon of fresh chopped rosemary
1/8 teaspoon of nutmeg
A wee bit of cooking spray
While we used sweet potato mix, you can add a variety of other fuelings to make each batch unique.
How to prepare
To begin, preheat your oven to 375 F
In a large, microwave-safe bowl, you will need to mix together your "fueling" and milk until they are well combined.
Once the fueling and milk are mixed together, microwave the mixture on high for 1-1/2 minutes and then stir.
Allow the mixture to sit until it has thickened and cooled
Add the remaining ingredients to the bowl and mix everything until it is well combined.
Divide the mixture evenly among the 12 slots of a standard-sized muffin tin that has been lightly sprayed with cooking spray.
Bake the muffins for 25 to 30 minutes, until the filling is set and the edges are lightly browned.
9. Optavia Original Sweet Potato Muffin Hack

Here is a more classic and simplified recipe for the aforementioned muffins.
Optavia Original sweet potato muffin hack is made from one fueling. No need for goat cheese or onions.
Here's what it looks like.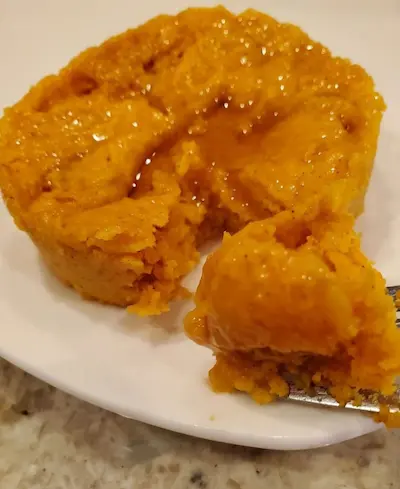 For this Optavia sweet potato hack, you will need the following ingredients:
1 sachet of Optavia honey sweet potato mix
1 tablespoon of egg whites
1/2 teaspoon of baking powder
1/4 teaspoon of almond flavoring
3 tablespoons of almond milk
How to prepare
To start, simply mash the sweet potatoes fueling in a medium-sized bowl.
Mix in the remaining ingredients until smooth, and pour the mixture into a muffin tin lined with muffin cups (separate for 3 parts).
Bake the muffins at 350 degrees Fahrenheit for 13-15 minutes, until they are firm to the touch and a toothpick inserted into the center of a muffin comes out clean.
You can add a tiny bit of sugar-free hazelnut Torani syrup and a little dab of margarine (both optional)
10. Optavia Sweet Potato Pumpkin Pie Shake Hack
If you're looking for a smoothie that combines 2 fuelings and is packed with flavor and nutrients, look no further!
This smoothie is a perfect combination of flavors and nutrients, making it an excellent choice for breakfast, a snack, or a post-workout treat.
Here's the photo.
This recipe makes 2 servings, each serving containing 1 fueling and 2 condiments (you can just use water if you don't have enough condiments, then it would be 1).
Give this delicious and nourishing smoothie a try and let us know what you think in the comments below.
To make this smoothie, you will need the following ingredients:
1 vanilla shake fueling
1 honey sweet potato fueling
2 tablespoons of sugar-free brown sugar cinnamon syrup
2 cups of almond milk (unsweetened)
1/2 teaspoon of pumpkin pie spice
2 cups of ice
How to prepare
To make this smoothie, add all of the ingredients to your blender and blend until smooth and creamy.
As I wrote before, this recipe makes two servings, so you can divide the smoothie into two equal portions.
Enjoy one serving now and save the other for later!
11. Optavia Sweet Potato Mini Pie Hack
These mini pies are a delicious and healthy alternative to traditional pumpkin or apple pies, and they make a great snack or dessert.
Here's the photo.

For these mini pies, you will need two fuelings – one Optavia sweet potato mix and one cinnamon cream cheese swirl cake.
Plus, the following ingredients:
10 tablespoons of water
2 tablespoons of egg whites
1 whole kabocha (don't worry, you won't eat the whole thing at once. You'll have plenty of filling left over for more pies, which you can keep on the fridge).
1 small chayote squash
2 cups of boiling water
1 teaspoon of cinnamon
2 tablespoons of apple cider vinegar
1 teaspoon of stevia sweetener (I use Splenda Naturals)
1/4 teaspoon of xanthan gum
A pinch of salt
1 tablespoon of olive oil
1 tablespoon of pumpkin pie spice
How to prepare
Mix together the sweet potato fueling, cinnamon cream cheese swirl cake fueling, water, and egg whites to create the crust for the mini pies.
Peel and dice the chayote squash and place it in a pot with 2 cups of boiling water.
Cook the squash until it is fork tender, then mix in the cinnamon, apple cider vinegar, stevia, xanthan gum, and a dash of salt.
Let the mixture thicken and set it aside.
Slice the kabocha squash in half and smear each half with olive oil and sprinkle with pumpkin pie spice.
Roast the squash in a 400 F oven for 45 minutes, then allow it to cool.
When you're ready to assemble the mini pies, place 1/4 of the crust batter into a sprayed mini pie maker.
Top the batter with 1 ounce of kabocha squash or 1.4 ounces of chayote filling, then add another 1/4 of the crust batter on top.
Cook the mini pie for 7 minutes, then repeat the process to make a second mini pie.
For the record, one pie equals one fueling, 1/2 veggie, and 1/2 condiment.