Optavia vs Isagenix (Which one is better?)
From my experience, I've tried both Optavia and Isagenix programs for weight loss and I can honestly say that there are pros and cons to both diets.
Optavia is a weight loss program that involves eating six small meals per day in the form of meal replacement shakes and bars.
Isagenix is best known for its 30-day weight loss programs that involve replacing meals with shakes and cleanses to reduce caloric intake.
Let's explore the advantages and disadvantages of each program before deciding which one fits your lifestyle best.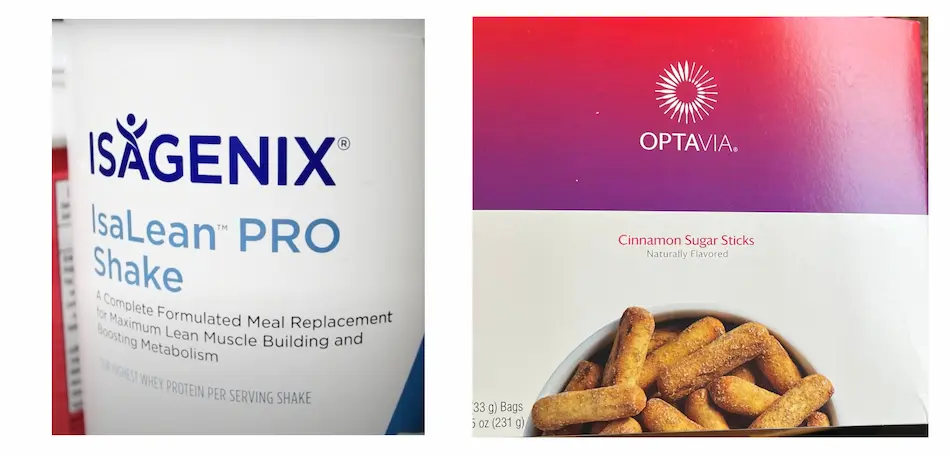 What's Isagenix?
Isagenix is multi-level marketing (MLM) weight loss company that sells dietary supplements, personal care products, and it's one of the Optavia alternatives.
It's a 30-day Reset program that focuses on using Isagenix supplements, high protein meal replacements, and caloric restriction in the form of intermittent fasting.
According to a controlled clinical trial published in the Nutrients Journal, "Isagenix diet for 12 weeks was just as good as any other diet for improving things like body composition, plasma biomarkers, and metabolism in obese men and women."
Also, following a long-term weight maintenance intervention, "the Isagenix diet was better than a traditional heart healthy diet at improving body weight and composition," states the journal.
Isagenix has different weight loss plans:
7-Day Reset
9-Day System
30-Day Reset
Although each of these plans has a different duration, most of them include shake days, where you replace one or two meals with shakes, as well as cleanse days where you consume specially formulated cleansing drinks for 24 hours.
On shake days, you'll consume 1,200-1,500 calories per day through the use of these products.
On cleanse days, you'll practice intermittent fasting by consuming 3 snacks and a variety of supplements throughout the day.
Isagenix diet pros and cons
Pros
Likely to lead to short-term weight loss because of its low-calorie intake.
IsaLean shakes include 24 grams of protein, as well as 23 vitamins and minerals per serving.
Very convenient becasue it requires minimum food preparation.
Cons
The company made several health claims that are not supported by scientific evidence like "cleanse and detoxify the body" or "stimulates fat burning".
The diet places limits on certain types of foods, such as starches and fruits, while encouraging to rely on processed foods that contain sugar and additives.
What's the Optavia diet?
Optavia (formerly Medifast) is a weight loss MLM company that sells diet and health-related products. The Optavia diet combines small ready-to-eat snacks, homemade cooking, and coaching support.
According to the article published in the Nutrition Journal, "the Optavia plan helped people lose weight, keep their muscles, and improve heart health."
The plan was tested with a lot of people who are overweight or obese, and "it worked well for most people," states the journal.
Optavia offers a variety of plans designed to help you reach your weight loss goals. These plans include:
Optimal Weight 4 and 2 and 1 Plan
While most of these plans have different food and calories allowance, each of them requires to use of Optavia Fuelings – which are ready-made meals – and Lean and Green meals – which must be cooked at home.
Plus, the Optavia program includes coaching calls for those who need help with tracking food intake and staying active.
In addition, the program offers a dedicated app OPTAVIA CONNECT that allows users to learn more about diet and exercise.
Optavia diet pros and cons
Pros
Optavia provides a structured meal plan which may help people lose weight.
They encourage including mainly nutrient-dense foods in lean and green meals.
Cons
Optavia's Fuelings and other products can be expensive.
The program does not provide the strategies to implement when you decide to stop taking their products.
Optavia is an MLM company and some may find this unappealing.
Products
Optavia and Isagenix products are not the same.
Optavia offers a full range of shakes, bars, desserts, smoothies, coffees, cereals, and savory meals.
Every day is similar.
You need to eat five fuelings, each with 100-110 calories per serving, as well as 10-15 grams of protein.
Isagenix is different.
Apart from their meal replacement shakes and snacks, Isagenix offers vitamin supplements, metabolism boosters, and workout supplements.
The products you take change from day to day, depending on your eating schedule.
For Shakes days, you can have two IsaLean shakes, liquid supplements, and one main home-cooked meal.
Each of IsaLean shake has 240 caloires per serving, and 24 grams of proteins.
For Cleanse days, you can only have liquid supplements and two servings of snack bites, 100 caloires each.
When it comes to nutrient content, both Optavia and Isagenix have fortified their products with a range of vitamins and minerals.
Both companies prioritize using natural ingredients, and as such, both opt for stevia as a sweetener instead of artificial alternatives.
Price
Isagenix has different prices for their weight loss programs depending on whether you make a one-time purchase or subscribe to their service.
Subscription prices are lower than one-time purchase prices.
In the table below I've compared prices for each of the Isagenix plans.
| Program | Subscription | No subscription |
| --- | --- | --- |
| 7-Day Reset | $175 | $206 |
| 9 Day System | $161 | $187 |
| 30-Day Reset | $299 | $349 |
To get a better price you need to sign up for Subscription Rewards.
This means they will automatically send you your chosen products and you will be charged for these orders through your bank.
According to Isagenix:
"You can change your orders or stop your membership at any time by using your Isagenix online account or contacting the company."
"If you want to make changes or stop your membership, you must tell Isagenix at least one day before your monthly payment date."
In contrast, the Optavia plan can cost between $300 and $450 per month depending on the plan you choose.
In the table below I've compared prices for each of the Optavia plans.
| Program | Price per month |
| --- | --- |
| Optimal Weight 5 & 1 Plan | $395 |
| Optimal Weight 4 & 2 & 1 Plan | $442 |
| Optimal Health 3 & 3 Plan | $283 |
Before you commit to the plan, make sure you learn about the cost of joining the Optavia program.
Meals
For the past year, I have been following the Optavia lifestyle and have noticed several similarities (and differences) between it and the Isagenix diet in terms of meals.
In both programs, a significant portion of my daily caloric intake (400-600 calories) is derived from a single dinner.
Both Optavia and Isagenix programs recommend including lean protein sources, low-carb vegetables, healthy fats, and adding flavor with herbs, spices, or condiments.
In both programs, the lean protein sources should be about 5-7 oz per serving and can include:
Chicken
Fish
Eggs
Greek-style yogurt
Nuts
While Optavia 5 and 1 plan does not allow the consumption of fruits, the Isagenix 30-day Reset plan recommends you fill up your plate with 2 to 3 cups of fruits and vegetables.
What's more, Optavia 5 and 1 plan does not recommend consuming starches, such as rice or pasta.
On the contrary, the Isagenix meal plan for shake day encourages you to include complex carbohydrates like:
Oatmeal
Brown rice
Pasta
Yams
Sweet potatoes
Beans
Lentils
Corn tortillas
Personally, I prefer the inclusion of a wider variety of food items in my meals, such as those recommended in the Isagenix plan.
I also find the restriction of certain food groups in the Optavia plan to be less appealing.
More variety means this diet can be more sustainable in the long term, without causing negative health consequences or leading to feelings of deprivation.
However, everyone's nutritional needs and preferences are different, so it's important to find a program that works best for you.
Weight loss results
For me, the main goal of both the Optavia and Isagenix meal plans is weight loss through the creation of a caloric deficit.
Both companies have a number of scientific studies backing up their results.
According to a randomized controlled trial published in the Nutrition Journal, "the Optavia diet plan helped people lose weight at first and kept the weight off. It also improved health, including reducing inflammation and stress."
The Medifast group also had better body composition than the food-based group at week 16 and week 40.
It's worth noting that the aforementioned study was funded by the Medifast group.
On the contrary, what I really like about Isagenix is that they use Cleanse Days – a kind of intermittent fasting day.
According to the article published in the Obesity Journal:
"People who combined intermittent fasting and Isagenix high protein shakes experienced greater reductions in weight, fat mass, and lower desire to eat, despite similar total energy intake and physical activity energy expenditure."
On the one hand, results suggest that a combination of Intermittent fasting with a high protein diet "protein packing" may be a more effective approach for optimizing weight loss and body composition.
On the other hand, the author of this recently published study – Paul J. Arciero – is a scientific advisory board member and consultant for Isagenix International LLC, the study's sponsor.
Dr. Paul Arciero is the exercise and applied physiology scientist and author of The Protein Pacing Diet.
So it must be noted that both companies have funded most of their scientific studies backing up the efficacy of their weight loss programs.
Currently, there is no scientific evidence that both of these plans are effective and safe for long-term weight maintenance.
The bottom line
When it comes to choosing between the Optavia and Isagenix diets, there are several factors to consider.
As a friend, if someone were to ask me for my recommendation on which meal replacement diet to try, I would suggest comparing the pros and cons of each option.
It is important to consider the potential benefits and drawbacks of each diet before making a decision.
Additionally, I would recommend consulting with a healthcare professional to determine if either of these diets is a good fit for the person's specific needs and health goals.