Optavia vs GOLO Diet: Benefits, Drawbacks, and Price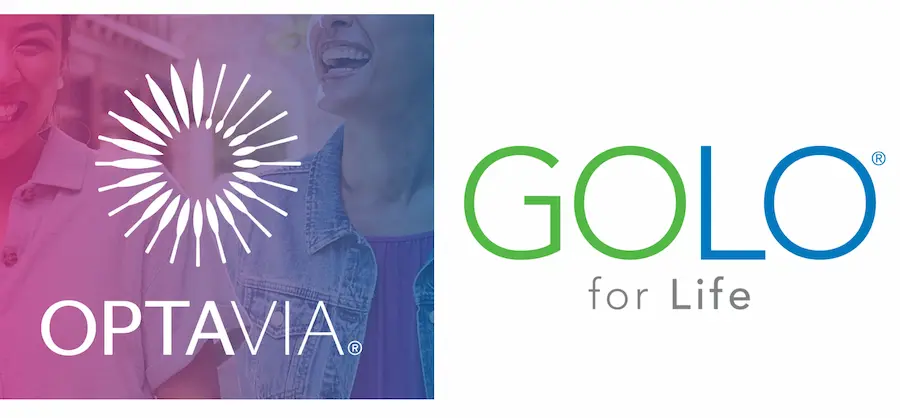 Are you looking to lose weight and improve your health? With so many diets out there, it can be overwhelming to choose the right one. Two popular options are Optavia and Golo.
Optavia is a weight loss company that focuses on portion control and low-calorie meals. Golo, on the other hand, is a supplement-based program that claims to balance hormones and improve insulin resistance.
In this article, we will compare Optavia vs Golo to help you decide which program is right for you. We will examine their similarities, differences, and effectiveness in achieving weight loss and overall health goals.
What is the GOLO diet?
GOLO is a diet plan that focuses on getting your insulin levels under control as the key to weight loss.
The company claims that once your metabolism is working optimally, you can lose weight and keep it off more easily.
The results of a randomized, double-blind placebo-controlled study published in ClinicalTrials.gov showed that:
"Individuals who followed the GOLO program with the Release supplement experienced greater weight loss and improved health measurements, such as waist circumference and triglyceride levels."

ClinicalTrials.gov
They tested this program on 68 people who were very overweight and had trouble with insulin.
However, the author of the study received funding from GOLO, LLC, so the results should be interpreted with caution.
Plus, the study was only conducted for three months, so further research is needed to see if these results can be sustained over a longer period of time.
How does the GOLO diet work?
The GOLO diet is made up of two parts: a meal plan and Release supplements.
The meal plan is designed to help you establish healthy eating habits, by including lean protein sources like fish and poultry, and healthy fats like nuts and avocados.
The diet also emphasizes the importance of eating a variety of vegetables each day, especially dark leafy greens and other nutrient-rich options, as well as whole grains. 
The GOLO diet meal plans are based on your body mass index (BMI) calculations.
According to the GOLO diet website:
"GOLO For Life Plan is not a fad or conventional diet, but a manageable, realistic plan that targets your slow metabolism."
Pros and cons of the GOLO diet
Pros
No calorie counting or restrictive eating.
Emphasis on whole foods.
Exercise is encouraged. 
Cons
Lack of independent research.
You must purchase Release supplements.
You need to cook all your meals from scratch
What Is the Optavia Diet?
Optavia is a sub-brand of the well-known weight loss program, Medifast. This program aims to make it easier for users to lose weight by offering convenience and taking the guesswork out of the process.
It is based on meal replacements such as shakes, bars, pre-packaged foods, and other small, calorie-controlled meals.
The results of a meta-analysis published in Obesity Reviews showed that individuals who utilized Optavia meal replacements experienced more weight loss after one year in comparison to those who did not use them.
This study suggests that the Optavia diet can be a valid option for managing overweight and obesity in community and healthcare settings.
How does the Optavia Diet work?
The Optavia Diet focuses on two parts: eating five Optavia Fuelings every 2-3 hours throughout the day and one homecooked "lean and green" meal.
Optavia Fuelings are portion-controlled pre-packaged foods like soups, bars, shakes, and desserts. Each of them contains 100-110 calories and is designed to provide balanced nutrition.
The "lean and green" meals consist of lean protein, such as fish or chicken, and non-starchy vegetables. This meal should contain no more than 400 calories.
Pros and cons of the Optavia diet
Pros
Pre-packaged food portions are convenient to prepare.
May results in rapid weight loss.
Doesn't require cooking.
Cons
May not be sustainable long term.
Relies on processed foods with a range of ingredients that may cause allergic reactions such as peanuts, milk, or soy.
Can be expensive.
Price comparison
Weight loss programs can be expensive, so let's have a look at the cost of Golo and Optavia. 
GOLO diet price
1 Bottle of Release – $59.95 (30 days)
2 Bottles of Release – $99.90 (60 days)
3 Bottles of Release – $119.85 (90 days)
As you can notice, if you buy 3 bottles, you only pay for 2. So when it comes to price, Golo definitely has the edge over Optavia.
The prices above do not include the cost of home-cooked meals.
According to the GOLO website, one bottle is said to help lose 10-20 lbs, while two bottles may result in a weight loss of 21-40 lbs, and three bottles may lead to a loss of 41-60 lbs.
It's important to note that these are only predictions and individual results may vary based on a variety of factors such as diet, exercise, and overall health.
Optavia diet cost
Cost per month: $511.50 (22 boxes)
Cost per box: $23.25 (7 servings)
Cost per fueling: $3.32
The price for Optavia depends on which plan you choose. Optavia 5 and 1 plan is around $511.50 (not including tax and shipping).
Golo does offer some discounts for longer-term commitments and packages that include additional services such as meal plans and recipes – but overall their pricing is still lower than the competition.
Plus, Golo offers a money-back guarantee if you're not satisfied with your results within 30 days of signing up for the program.
So if budget is a major factor in deciding between Golo and Optavia, Golo is definitely the more affordable option out of the two!
Optavia vs GOLO – Meal plans
The GOLO meal plan consists of a balanced combination of foods from various food groups. It's designed to provide the right amount of proteins, carbohydrates, vegetables, and fats in each meal.
The recommended meal plan includes one to two portions from each food group and one capsule of the Release supplement.
Here's the photo of the GOLO Release supplement.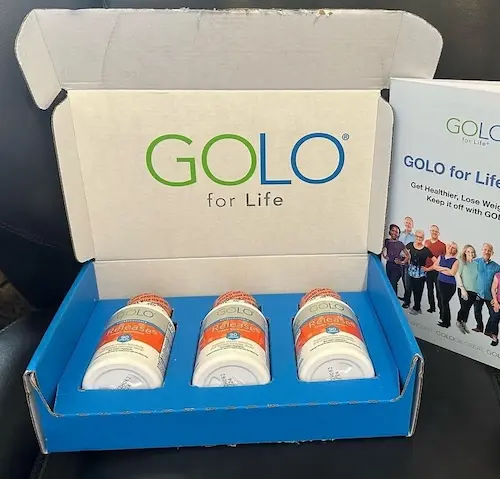 Each of these supplement bottles has 90 capsules, which should last for 30 days. If you buy the 3-pack at once, you have a supply for 3 months.
Since the GOLO diet is intended to be an all-natural approach to weight loss, there are no processed or artificial ingredients permitted in the meals.
Lean proteins like chicken, fish, and eggs are recommended for their health benefits as well as their ability to help keep you feeling full longer.
Similarly to other programs like the Optavia diet, the GOLO diet allows having complex carbs such as oats and quinoa. They also allow you to eat fruits and vegetables in each meal.
The Optavia meal plan is focused on eating "Fuelings" throughout the day. Each Fueling contains a combination of proteins, carbohydrates, and fats, as well as 24 vitamins and minerals.
Here's the photo of Optavia Fueling.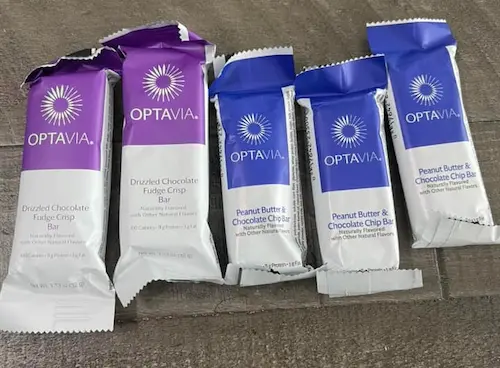 For every order, you can customize and choose the Fuelings you like. If you're not sure which ones are tasty, check out our best Optavia Fuelings Guide.
In addition to Fuelings, Optavia allows adding one optional snack per day to curb your hunger.
Calories
The recommended calorie range for the Optavia 5 and 1 diet plan is between 800 to 1,000 calories per day, no matter what your age, gender, or activity level is.
But if you find this plan too restrictive, Optavia also has other plans that offer more calories.
Their maintenance phase, Optavia 3 and 3 plan, allows you to eat three of their Fuelings and three of your own meals each day. This plan recommends a calorie intake between 1,200 to 2,500 calories per day.
The GOLO diet meal plan recommends consuming between 1,300 to 1,800 calories a day across three meals, but there isn't much information available on their website.
In fact, you only get access to their specific meal plan once you purchase their release supplement.
What you can eat
Optavia Diet and GOLO Diet have some similarities in terms of the types of foods they encourage people to eat.
For example, they both recommend consuming lean proteins like chicken, turkey, fish, eggs, and cottage cheese.
Both diets prioritize non-starchy vegetables like salad greens, cauliflower, summer squash, broccoli, and peppers.
They also both suggest that people should consume healthy fats in moderation, and complex carbohydrates.
However, the Optavia Diet also includes Fuelings as meal replacements, while the GOLO Diet encourages people to consume foods from all major food groups in balanced meals.
What's more, Optavia doesn't allow to eat high-carb starches such as potatoes, rice, beans, and grains while the GOLO diet encourages people to add them to their meals.
Supplements
The GOLO diet supplement includes ten active ingredients that claim to help with weight loss and reducing glucose levels.
The supplement contains a combination of ingredients such as:
As well as a proprietary blend that includes Rhodiola extract, Inositol, and Berberine extract.
While the FDA considers these ingredients safe, their scientific efficacy is uncertain. So claims of safety and effectiveness cannot be verified.
The results from unpublished case studies in South Africa showed that GOLO Release was effective in reducing body weight in both healthy and diabetic people who were overweight or obese.
On the other hand, Optavia doesn't sell supplements in the form of pills.
It instead focuses on its Fuelings, which are meant to provide all the necessary vitamins and minerals while helping you to control your caloric intake.
Weight loss results
While there isn't much scientific evidence to support that the GOLO diet plan works, it does follow a standard weight loss formula and encourages a balanced diet of fruits, vegetables, and lean proteins.
Eating fewer calories and making healthier food choices is an effective way to lose weight.
However, if you have pre-existing health conditions like diabetes or heart disease, it's important to speak with your doctor before beginning any new diet program.
On the other hand, the Optavia diet provides pre-packaged meals, making it simpler and more convenient than counting calories or trying to piece together healthy meals from scratch.
Since you'll be eating smaller portions, you can expect to lower your calorie intake, promoting weight loss.
For those with diabetes or blood sugar issues, Optavia has specialty programs that follow more personalized meal plans with low glycemic foods.
The Optavia 5 and 1 plan has stricter limitations compared to the USDA's suggested daily calorie intake of around 2,000 calories for adults.
Although these 800-calorie days can help with quick weight loss, they should not be done long-term as extreme calorie restriction can cause fatigue, brain fog, and other negative side effects.
Customer reviews
According to customer reviews, Optavia is not accredited by the Better Business Bureau and has received a rating of 1.55 out of 5.
In the past three years, there have been 476 complaints closed, with 59 of them being closed in the past 12 months.
The majority of complaints pertain to delivery, customer service, and refund policy.
One customer reported that their canceled order was still shipped, resulting in a charge of $502.00 that they were unable to pay. Despite being told the cancellation was acknowledged, the order was still fulfilled.
GOLO diet has a better reputation than Optavia, with an A+ score and 3.32 out of 5 customer reviews on BBB.
However, they still have some customer complaints about the GOLO diet, mostly regarding billing and products.
One customer reported an issue with their diet pills interacting with their medication and requested a return.
GOLO's policy requires the customer to pay for return shipping, but the customer found no information about this in the product's paperwork.
Despite this issue, GOLO has generally received fewer complaints compared to Optavia.
The bottom line
In the end, the decision between Optavia and Golo Diet ultimately comes down to personal preference and individual needs.
Both diets have their benefits and drawbacks, but the most important thing is to find a healthy and sustainable way of eating that works for you.
Remember, there's no one-size-fits-all solution when it comes to nutrition and weight loss.
So, do your research, consult with a healthcare professional, and choose the diet that aligns with your goals and lifestyle. Here's to a healthier and happier you!