11 Optavia Alternatives that won't leave you hungry
Hey! Welcome to my Optavia Alternatives Guide for 2023.
I've tried dozens of weight loss programs over the years and most of them failed to deliver sustainable results.
Feel free to spend $400 – $500 on weight loss plans that make you hungry, but if I were you, I'd go with one that's proven to work in the long term.
From the list below, #1 is my favorite becasue it's straightforward and affordable, but #4 and #5 are best if you want to lose weight without preparing your meals.
This post contains affiliate links. If you use these links to buy something we may earn a small commission at no extra cost to you. See our affiliate discretion to learn more.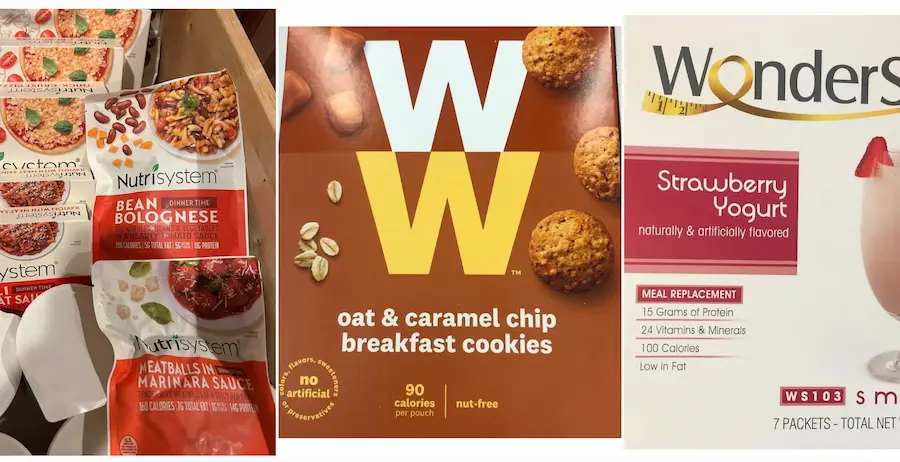 Why should you look for Optavia Alternatives?
Finding the right weight loss program can be a daunting task. You want something that will help you achieve your goals and keep you motivated.
Optavia is a popular weight loss company that focuses on portion control and healthy eating habits.
While this program may work well for some, it may not be the best option for everyone. Unfortunately, NOT all programs are created equal.
Why?
You may find the Optimal Weight 5 and 1 meal plans to be too restrictive (or boring), or you may not like the taste of Optavia Fuelings in the first place. You may also don't like the fact that Optavia's business model is MLM (multi-level marketing).
MLM companies often face criticism and skepticism from the public. It's understandable if you have concerns or negative opinions about this type of business.
Before I show you the top 11 Optavia diet alternatives, I want to share with you the reasons why I started to look around for substitutes.
Optavia is expensive
Optavia 5 and 1 plan is not cheap.
Especially if you're planning to stick to them for 6-12 months. I was spending around $850 per month JUST ON FUELINGS for me and my wife.
The good news is that many cheaper programs may provide similar resources and necessary support to ensure success.
On the other hand, cheaper doesn't always mean better.
While some programs may be cheaper than Optavia, it is important to remember that you get what you pay for.
There are many Optavia competitors
Sure 5 and 1 is a popular weight loss plan, but there are MANY other programs available that offer similar features and services.
If you're looking for similar programs to Optavia, some of the most highly rated competitors include Weight Watchers, Jenny Craig, Nutrisystem, Noom, and Skinny Box.
Each of these programs has pros and cons, but they all offer an effective way to lose weight and make healthier lifestyle choices.
Side effects
I decided to search for Optavia alternatives because I was experiencing some unpleasant side effects.
It wasn't just one thing – I had constant headaches, poor sleep, and low energy levels, among other issues.
Plus, my wife has a lactose intolerance, which made things even more complicated.
We found that Optavia didn't offer many dairy-free fuelings, which was a real bummer.
So, I started looking for other options that could help us both reach our health goals without all the unpleasant side effects.
Long-term effects
Another reason why I started looking into diets similar to Optavia was that I wasn't seeing the long-term results I was hoping for.
My weight kept fluctuating and it was starting to take a toll on my confidence. Plus, I wanted to make sure that the changes I made were sustainable in the long run.
That's when I started researching other meal plans and programs that could help me reach my goals without any unpleasant side effects or yoyo dieting.
How we chose Alternatives to Optavia
To create this list of Optavia alternatives, I took into account four main factors.
Nutritional balance: The programs had to be nutritionally balanced and able to meet all the necessary nutritional needs.
Sustainability: I was looking for weight loss programs that were sustainable and offered long-term results.
Results: Effectiveness for weight loss was another crucial factor, so I evaluated the programs for their weight loss success rates.
Safety: I made sure that the programs were safe and could provide healthy weight loss results over time. 
11 Optavia Alternatives
Optavia is a popular weight loss MLM company, but it's not the only option out there. If you're looking for an alternative to Optavia, you have plenty of options.
Many programs offer similar services as Optavia and can help you reach your weight loss goals.
While some of these programs provide portion-controlled ready-to-eat meal replacements, others focus on meal planning and online support systems.
1. The New Mayo Clinic Diet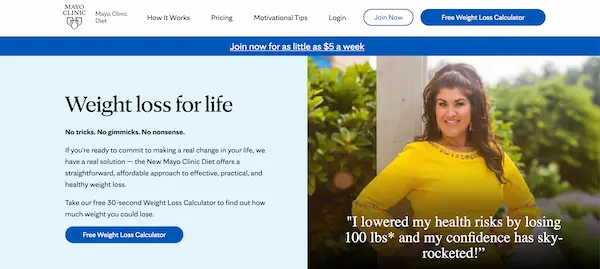 If a close friend was unsure about which diet to choose, I would recommend The New Mayo Clinic diet. It is considered the best of the best due to its unparalleled medical and nutritional expertise.
The Mayo Clinic Diet has been featured in 10 of 11 "Best Diets" categories by U.S. News & World Report 2023. The program offers personalized meal plans that are designed based on your age, gender, and body weight.
Although you don't get any ready-to-eat meals like with Optavia, you can scroll through hundreds of recipes that are approved by Mayo Clinic experts.
Forget about an extensive list of foods to avoid. This program doesn't promise rapid weight loss.
Instead, you work on building healthy eating habits like eating real foods, eating mindfully without watching TV or eating slowly.
The program is divided into two phases:
The Lose It! – You focus on creating calorie deficits through portion control and mindful eating.
The Live It! – Shifts your focus onto creating healthy lifestyle habits like exercising regularly and getting enough sleep.
Unlike Optavia, the Mayo Clinic Diet encourages people to be physically active. Everyday.
I'm not talking about intense HIIT or CrossFit workouts. I'm offering practical at-home workouts with no equipment required, and joining The Mayo Clinic Diet costs as little as $5 per week.
2. WW (Formerly Weight Watchers)
If you're looking for a weight loss program that focuses on healthy food choices without calorie counting, I would recommend the Weight Watchers diet.
This program aims for a safe weight loss rate of 0.5 to 1.0 kg per week by using a points-based system called "SmartPoints" to simplify food selection.
Each food type is assigned a point value calculated based on nutrient and energy density, where a point equals 50 calories.
A study published in the Journal of General Internal Medicine found that individuals lost an average of 2 kilograms, with 20% of participants losing more than 5% of their body weight.
The study suggests that attending more meetings in weight loss programs, such as Weight Watchers, may lead to greater weight loss success.
One of the differences between Optavia and Weight Watchers is that WW doesn't eliminate any groups of foods from your menu.
"Low point value" foods like high fiber carbs, lean proteins, and legumes can be consumed more freely, while "high point value foods" must be eaten in moderation or avoided.
So you can eat what you want but in moderation.
Weight Watchers used to offer only meal plans, but now you also get delicious recipes and even meal delivery.
Here's the photo of my favorite snack – WW Giant Chocolate Fudge ice cream.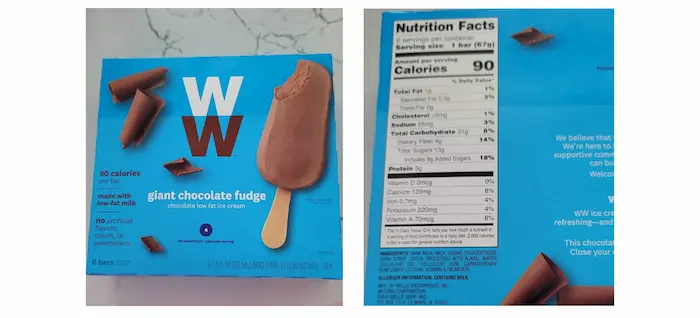 Although it doesn't have many proteins, it has only 90 calories per serving.
The program encourages a more active lifestyle by teaching members how to set achievable goals and track progress through their digital app.
WW also offers support groups for additional motivation and encouragement, making it easier to stay on track.
Overall, Weight Watchers is an excellent Optavia alternative for anyone seeking a comprehensive weight loss plan that will help them sustainably achieve their goals without counting calories.
3. NOOM
The NOOM is a great alternative to Optavia that's much cheaper and doesn't provide meals.
Instead, it's just an app that offers personalized meal plans based on real food, not highly processed food, with thousands of delicious recipes.
NOOM is a holistic weight loss program that focuses on nutrition, exercise, and mental health.
I must confess – the NOOM app helped me ditch some of my unrealistic expectations.
How?
All I had to do was read their daily habits and I made sure to track my progress every day to stay accountable.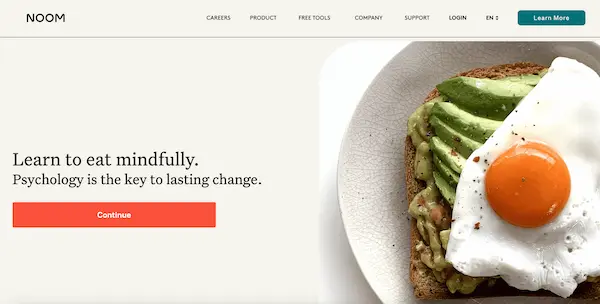 Their slogan says it all – Stop Dieting. Get lifelong results.
Plus, they provide interactive coaching sessions, daily activities, and expert advice to help you reach your goals in a healthy, sustainable way.
The best part?
It's easy to use.
4. Nutrisystem
Nutrisystem is a leading weight loss program that has been helping millions of people around the world lose weight for over 40 years.
With their simple, straightforward approach to healthy eating and lifestyle, Nutrisystem makes it easier than ever to reach your goals.
The difference between Optavia and Nutrisystem is that Optavia gives you chocolate bars and desserts, and Nutrisystem gives you burgers and creamy pasta.
Let me be clear – this program is NOT easy. Although you get your meals delivered to your home, the portion sizes are small.
Here's the photo of one of my favorite frozen Nutrisystem pizzas – Margherita.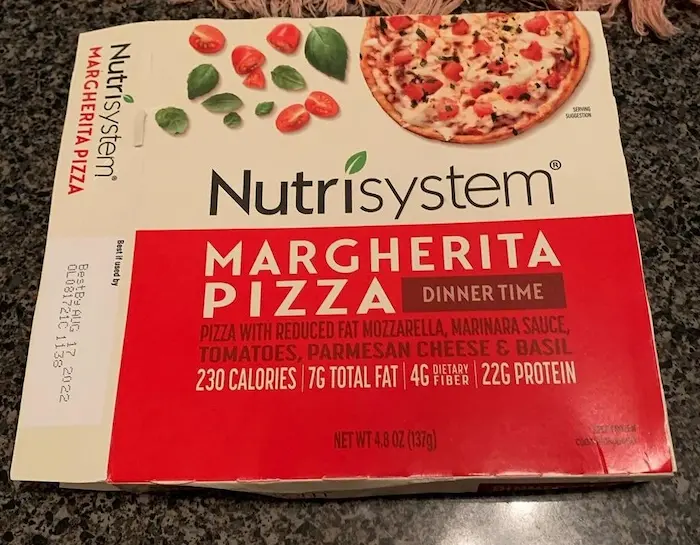 Although this one has 22 grams of protein (and only 230 calories), the serving size doesn't make me full.
When it comes to taste, they offer delicious meal plans designed by certified nutritionists and dietitians to help you stay on track.
All of their meals come pre-prepared and ready to go, so there's no need for you to shop or cook.
Plus, they even offer convenient snacks and shakes that make it easy to get the nourishment your body needs while on the go or when you don't have time to prepare a full meal.
Give it a try –you won't be disappointed!
5. Jenny Craig
Jenny Craig is another really popular weight loss program that's been around for over 30 years.
Just like Optavia Fuelings, you don't have to worry about shopping or cooking because all of their meals come pre-prepared and ready to go!
Here's the photo of one of the "unboxing" moments with Jenny Craig's meals.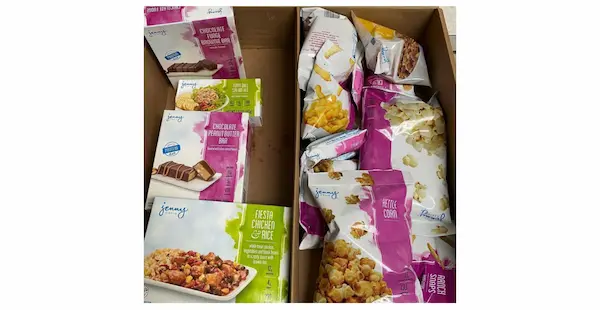 And while Optavia and Jenny Craig are similar, one of the things that set Jenny Craig apart is their one-on-one coaching.
To be clear, I'm not talking about pyramid schemes or MLM.
Jenny Craig has certified nutritionists and dietitians who work with you to create a personalized plan that fits your specific needs.
This is why this weight loss program is not cheap.
Although they are more expensive than Optavia, their meal plans are not only delicious but also balanced in nutrition.
And get this, one study published in the Annals of Internal Medicine showed that people who joined Jenny Craig lost about 4.9% more weight than those in a control or education group.
(That's pretty impressive, right?)
So if you're looking for a convenient and effective way to jumpstart your weight loss journey, Jenny Craig might just be what you need.
6. South Beach Diet
The South Beach Diet is a weight loss program that has been helping people reach their goals for over 15 years.
Just like the 5 and 1 plan, the South Beach diet stresses the importance of following a balanced nutrition plan that emphasizes:
lean proteins
vegetables
healthy fats
What's more, here you can also eat whole grains and fruits but you need to limit processed foods and refined carbohydrates.
The goal is to help you adopt healthier eating habits so that you can maintain your weight loss results in the long term.
With the help of one-on-one coaching and meal plans tailored to your individual needs, South Beach makes it easy to stay on track.
Plus, they offer delicious recipes that are easy to make and convenient for busy lifestyles.
So if you're looking for an effective way to jumpstart your weight loss journey today, give South Beach Diet a try.
7. Skinny Box
Skinny Box is a great option for anyone looking for a cheaper Optavia substitute. If you haven't heard about the Skinny Box, it's a copycat of Optavia.
Here's the photo of one of the top Skinny Box bar flavors – Peanut Butter.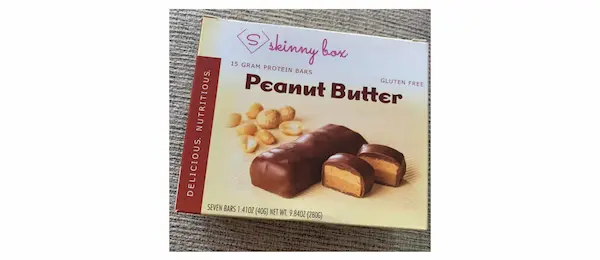 Their weight loss plan works the same way as the 5 and 1 plan, but you don't have to spend $400 per month on Fuelings.
The Skinny Bar that you see in the photo above costs around $1.50, which is more than 50% less than the Optavia bar.
Cool, right?
The program includes lean and green meals that are identical to Optavia. You need lean proteins, low-carb veggies, and healthy fats.
All are under 400 calories per meal.
While there are many similarities between Skinny Box and the Optavia diet, the former doesn't include coaching and an MLM business model.
Skinny Box is a family family-owned small business founded by former Optavia member – Jason Barrett.
8. Wonderslim
If you're looking for a cost-effective alternative to Optavia, Wonderslim might be just what you need!
Unlike Optavia Fuelings and kits which can be only bought through independent Optavia coaches, Wonderslim is available in over 3000 retail stores across the US.
Walmart, Target, Amazon, Costco, etc. So, you can easily grab their products while you're out and about.
Plus, their products are affordable.
On average, one Wonderslim bar costs $2.40, whereas Optavia bars cost $3.40.
(That's $150 saved per month without changing anything if you're on a budget.)
What's more, Wonderslim is very similar to Optavia in terms of its products.
Here's the photo of the box full of WonderSlim Protein Cake Mix – the Double Chocolate flavor.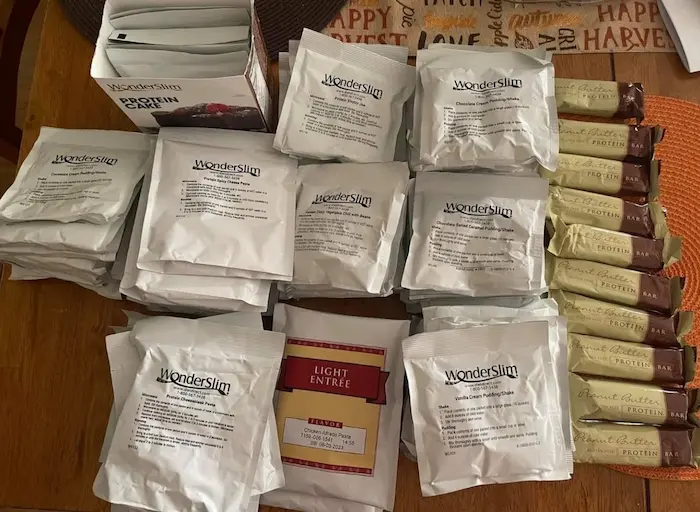 Just like with Optavia desserts, here you need to mix the powder with water and microwave for 1 minute.
Apart from desserts, Wonderslim offers a wide variety of meal options including entrees, soups, breakfasts, protein shakes, and protein bars.
9. GOLO Diet
Honestly, I was hesitant when I first heard about the GOLO diet and its weight loss pills.
I mean, taking a supplement to control your blood sugar sounded too good to be true.
But, get this, a recent study from Tohoku University in Japan showed that the GOLO weight management program with Release supplement works.
They did a study with 68 people who were very overweight and divided them into two groups.
One group received the GOLO program with the Release supplement, while the other group received a fake placebo pill.
After 13 weeks, the scientists compared the results of the two groups to see if the real program and supplement worked better than the fake pill.
The results showed that the people who received the real program and supplement lost more weight and got healthier than the people who received the fake pill.
The idea behind this diet is to balance your hormone levels, kick-start your metabolism, and increase fat loss by following a low glycemic diet.
And while Optavia and GOLO are in the same category, GOLO stands out as it allows for more calories and a wider variety of foods to be consumed. This gives more flexibility and the ability to enjoy their meals without feeling restricted.
10. Whole30 Diet
Whole30 diet is a 30-day elimination program that emphasizes eating whole, nutritious foods while cutting out sugar, alcohol, grains, and dairy.
There's also a more restrictive version that eliminates legumes and soy.
What sold me on Whole30 was the fact that there's no need to obsess over calorie counting or weigh-ins during the program.
It's more about focusing on "nourishing" your body with whole foods and creating healthy habits that last beyond 30 days.
During the program, I ate a lot of meat, nuts, seeds, seafood, eggs, vegetables, and fruits. The founders believe that cutting out these specific foods can affect weight, energy, and stress levels.
After the 30 days, you're encouraged to reintroduce certain foods back into your diet to see how they affect you.
I decided to give it a try, even though I was a bit skeptical at first because it seemed pretty intense.
11. Profile by Sanford
The Profile by Sanford Diet plan is a personalized approach to nutrition, fitness, and lifestyle changes, tailored to fit individual needs.
Among its offerings, the most popular plan is 'Reboot', which resembles the Optavia plan, involving 5 meal replacements and one home-cooked meal per day.
Additionally, they offer 'Profile Coaching Plus', a plan that solely includes grocery store foods, although it comes at a higher cost.
Upon joining the program, members undergo either a virtual or in-person consultation with a certified health coach.
This consultation helps determine the members' goals and formulate a suitable program designed specifically for them. The starting point for most participants is a low-carbohydrate diet that includes packaged meals, snacks, entrees, and shakes enriched with protein.
The bottom line
If you are looking for a more affordable and nutritionally balanced alternative to Optavia that focuses on real foods, go for The Mayo Clinic diet.
However, if you prefer a "hands-off" weight loss plan (without cooking), Nutrisystem or Jenny Craig could be the next best choice.