Optavia vs Nutrisystem: Cost, Meal Plans, and User Reviews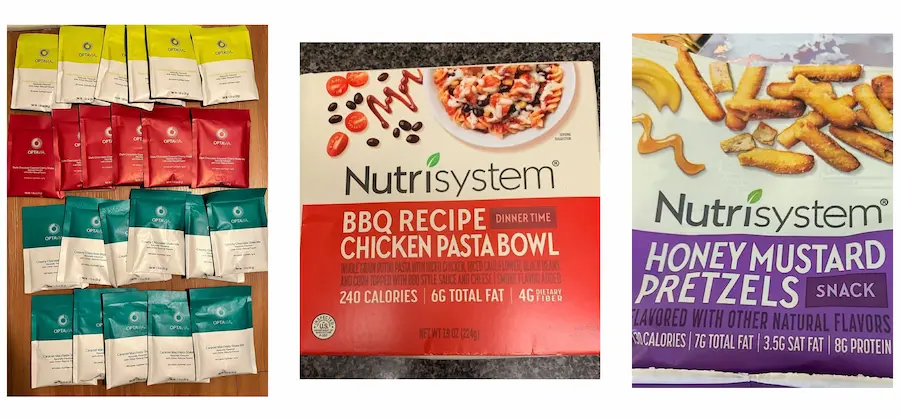 Optavia, a subsidiary of Medifast, Inc., refers to a weight loss company that offers meal replacement products through websites, multi-level marketing, telemarketing, and franchised weight loss clinics, aiming to support individuals in their weight loss journeys. Nutrisystem, on the other hand, refers to a company that provides weight loss programs, products, and meal delivery services.
When choosing Optavia or Nutrisystem, it should be understood that the primary difference between Nutrisystem and Optavia is in their business model, not their efficacy to lose weight. Both programs can help you shed pounds, but the calories will differ based on the plans you choose.
In this article, I give you an honest and firsthand account of what it's like to be on both Nutrisystem and Optavia 5 and 1 plan, and what you can expect in the long term. We will delve into differences in terms of cost, meal plans, product options, taste, potential side effects, and even user reviews (including the funny ones), so get ready for a comprehensive evaluation.
What is the Optavia diet?
The Optavia Diet is defined by Medifast as a health and wellness program that focuses on holistic wellness and offers four components to support individuals on their journey toward a healthier lifestyle.
Optavia 5 and 1 revolves around the consumption of low-calorie pre-packaged meals called Optavia Fuelings to create a calorie deficit that put the body into a mild fat-burning state.
A 2019 study published by Linda M. Arterburn in Obesity Science & Practice found that participants who followed the Optavia plan for 16 weeks experienced significant weight loss (5.7%), reduced body fat, and decreased waist circumference compared to those who did not follow the program.
The research states that "further study is necessary to evaluate the effectiveness of Optavia plan over an extended period."
This photo shows what you receive when you get started and order the Optavia plan.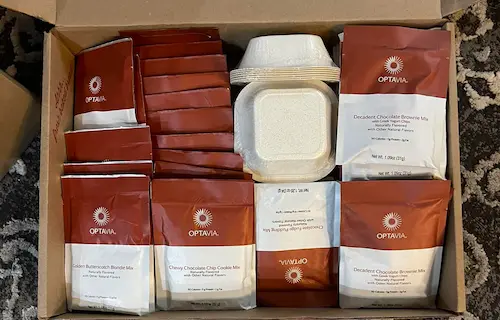 When starting with the Optavia diet, it's important to choose the right plan from their range of options. Although Optavia offers 10 specialized meal plans tailored to different needs, the most popular are the three plans listed below.

Optimal Weight 5 & 1 Plan. The 5 and 1 plan consists of consuming five snacks, which can be ready-to-eat or microwaved, amounting to a total of 550 calories. Additionally, one Lean and Green meal is included in the plan, which you prepare at home using Optavia recipes.
Optimal Weight 4 & 2 Plan. Optavia 4 and 2 plan incorporates four Optavia Fuelings (around 440 calories), one additional snack, and two Lean and Green meals.
Optimal Health 3 & 3 Plan. Optavia 3 and 3 plan also known as the Optavia maintenance plan features three Optavia Fuelings (around 400-500 calories) and three balanced meals, promoting overall health and nutrition.
The key difference between Optavia and Nutrisystem lies in the process of getting started with the program, rather than the variety of weight loss plan options they offer. Both companies provide a range of meal plans suitable for different individuals, including seniors, teens, those with diabetes, nursing mothers, and more.
When it comes to getting started, Optavia involves a more complex process. It requires enrolling with an independent Optavia coach and purchasing products through them. On the other hand, getting started with Nutrisystem is simpler. It only entails creating an online account, selecting your preferred plan option, and placing an online order.
The main benefit of the Optavia diet is access to one-on-one coaching sessions designed to provide individuals with support, guidance, and motivation throughout their weight loss journey.
A 2018 study by Stefanie Lynn Painter published in the Journal of Medical Internet Research found that participant attendance in expert coaching sessions, live weekly Web-based classes, and receiving food log feedback from the expert coach were significant predictors of weight loss.
One of the primary drawbacks of the Optavia plan is its heavy reliance on processed foods as opposed to home-cooked meals. While the convenience and portion control offered by Optavia Fuelings may be appealing to some individuals, these products are typically pre-packaged and contain a range of processed ingredients.
This reliance on processed foods raises concerns about the nutritional quality and overall healthiness of the diet.
What is the Nutrisystem?
Nutrisystem is a commercial provider of pre-packaged meals and snacks to assist in weight loss based in Pennsylvania. Originally, Nutrisystem provided weight loss counseling and products through physical centers. However, it transitioned to a direct-to-consumer model in 1999, selling products online and via telephone.
In a 2017 study published in the Frontiers in Nutrition Journal, conducted by Chad M. Cook, it was observed that participants who followed the Nutrisystem plan for 16 weeks experienced notable benefits, including substantial weight loss, decreased fat mass, and improvements in body circumference.
These outcomes were found to be significantly superior when compared to the group following a self-directed DASH diet.
According to the official website, Nutrisystem plans include a variety of pantry meals (ready-to-eat and frozen) that can help you achieve "steady weight loss".
Here's the photo of one of my top 5 Nutrisystem meals – Chocolate Brownie Sundae Cup.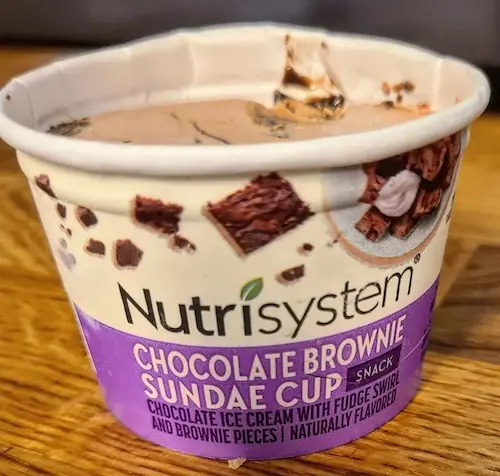 Although it tastes like chocolate ice cream, it has 160 caloires and 5 grams of protein per serving.
Nutrisystem offers a range of meal plan options designed for both men and women. The number of meals you receive will depend on the specific plan you choose.
Women's plan. Women typically eat four meals and two fresh grocery snacks per day.
Men's plan. Men eat five meals daily (and one fresh grocery snack) per day.
Partner plan. Partner program offers multiple meal options for both men and women.
Diabetes plan. The diabetes program helps people with diabetes to manage their sugar levels and offers non-frozen meals and snacks for five days a week.
Complete 55 plan. Plan specifically designed for women 55 and up.
This table shows 3 separate Nutrisystem meal plan tiers and the number of meals you have per week.
| Nutrisystem plans | Number of meals | Menu |
| --- | --- | --- |
| Basic | 5 days of meals (breakfast, lunch, dinner, and snacks) | Basic |
| Uniquely Yours | 5 days of meals (breakfast, lunch, dinner, and snacks) | Fancy |
| Uniquely Yours Max | 7 days of meals (breakfast, lunch, dinner, and snacks) | Fancy |
The key difference between Nutrisystem and Optavia lies in the meal provisions. Nutrisystem offers a complete meal delivery where you receive all meals for the day, eliminating the need for cooking or grocery shopping for 5 or 7 days. In contrast, Optavia provides snacks for the entire week but requires you to prepare your own lean and green meals.
One of the main advantages of the Nutrisystem diet is the extensive variety of meals available for breakfast, lunch, and dinner. Nutrisystem takes a more traditional approach to healthy eating, offering a range of options such as hamburgers, pizzas, sandwiches, burritos, and creamy pasta. Additionally, Nutrisystem provides desserts, protein bars, yogurts, shakes, and other similar options.
A significant drawback of Nutrisystem is the reported instances of misleading information regarding the meals and their nutritional value on the company's website, according to customer reviews on the Better Business Bureau.
What Are The Differences Between Optavia and Nutrisystem?
The differences between Optavia and Nutrisystem include cost, meal plans, products, taste, and availability.
The price differential between Nutrisystem and Optavia is an important consideration. When it comes to the overall cost of these two diet programs, Nutrisystem is generally the more affordable option, but only when you sign up for their monthly, auto-delivery subscription.
Compared to Optavia, Nutrisystem is on average approximately 20% more expensive if you won't enroll in their monthly subscription.
Compared to Optavia, Nutrisystem offers a 50% discount for people who sign up for their membership and choose auto-delivery. This means you need to order their foods each month, and if you want to go month by month (without auto-renewal), the cost of Nutrisystem meals goes back to baseline.
This photo depicts the Nutrisystem website checkout page for the Max+ plan and the yellow arrows show auto-delivery options.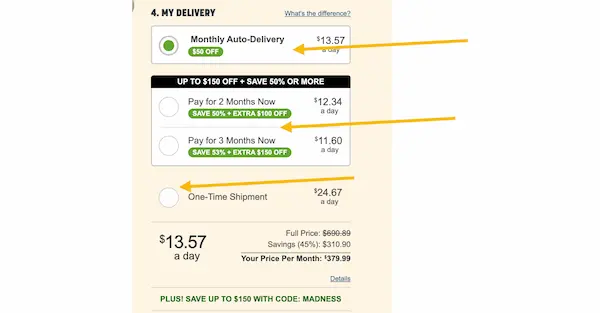 Here you see the most expensive plan for Women is approximately $13.57 per day ($379.99/month) when you choose the auto-renewal option.
If you decide to pay monthly without a subscription, the price goes up to $24.67 per day ($508.71/month). So if you're getting started with Nutrisystem, read carefully all the T&Cs of their plan. Check out the meal plans page and play around with different options.
Nutrisystem gives you the option to buy your meals upfront for a longer period, like 2-3 months, which can lead to more savings. When I decided to sign up for a 3-month plan, I was initially quoted a full price of $1526.13. However, thanks to a promotional offer, I was able to take advantage of a discounted rate, reducing my total cost for three months to just $717.28. That's $239 per month.
Optavia's price range falls on the higher side, typically ranging from $485.10 to $571.45 for their different plans. The cost of Optavia remains consistent, meaning they don't often offer discounts or significant deals, except for a 23% discount for first-time buyers who subscribe to their Premier program. However, enrolling in Optavia Premier does come with additional perks, such as free shipping and a few one-time complimentary Fuelings.
1. Meal Plan Differences Between Optavia and Nutrisystem
When it comes to meal plans, Optavia and Nutrisystem have some notable differences. Optavia's most popular plan is the 5 and 1 plan, providing you with 5 Fuelings per day for a full 30 days. It's a straightforward approach with no questions asked.
On the other hand, Nutrisystem offers multiple meal plans and tiers, adding complexity to the decision-making process. Carefully review all the information on their website, as certain details may be buried.
For example, unless you choose the most expensive package, you'll only receive meals for 5 days. Nutrisystem offers various plans such as Basic, Uniquely Yours, and Uniquely Yours Max, each with its own set of meal options and pricing.
The Uniquely Yours plan unlocks a greater variety of food choices, but it comes at a higher cost compared to the Basic plan.
The top-tier option, Uniquely Yours Max, provides 7 days of meals, extra snacks, and protein shakes to ensure you never go hungry. Additionally, Nutrisystem recently introduced a new program called QUICK 9, designed to help you lose up to 9 pounds in two weeks.
2. Product Differences Between Optavia and Nutrisystem
When it comes to products, Optavia and Nutrisystem offer striking differences. Optavia Fuelings are designed to be indulgent yet guilt-free treats.
They include desserts, muffins, and even creamy coffee drinks, but don't expect substantial frozen meals or lunches. Optavia delivers meals for the entire month, requiring you to cook only one meal per day or use their dining-out guide for takeaway options.
While the Fuelings are easy to prepare, they still require the use of a microwave or oven for shakes, desserts, and hearty choices. Optavia bars are ready to eat, but the limited variety may lead to boredom over time.
In contrast, Nutrisystem offers separate menus for breakfast, lunch, and dinner, totaling 136 different meals.
The breakfast options range from pancakes and cereals to oatmeal and scrambled eggs. For lunch and dinner, Nutrisystem provides TV-dinner-style frozen entrees, allowing you to enjoy dishes like pizza, ravioli, pasta, and burrito bowls. The variety and convenience of Nutrisystem's frozen meals provide a different dining experience compared to Optavia.
3. Calorie Intake Differences Between Optavia and Nutrisystem
The difference in calorie intake between Optavia and Nutrisystem is also quite significant. Optavia Fuelings have a standardized calorie range of 100-110 calories each.
However, when it comes to the main meals, such as the lean and green ones, you need to increase your calorie intake to around 250-400 calories per meal. On the 5 and 1 plan, Optavia provides approximately 800-1,000 calories per day, regardless of gender, age, or physical activity.
In contrast, Nutrisystem offers nearly double the calories. They have different calorie plans for men and women.
The women's meal plan consists of approximately 1,200-1,500 calories per day, while the men's plan is around 1,500 calories per day.
Furthermore, Nutrisystem lunches and dinners are typically around 230-250 calories, while snacks range from 120-130 calories.
4. Taste Differences Between Optavia and Nutrisystem
The difference in taste between Optavia and Nutrisystem is notable. Optavia Fuelings primarily consist of powders, which can become monotonous over time.
Even the bars can lose their flavor after repeated consumption. Without incorporating hacks or creative ways to enhance the taste, sticking to Optavia Fuelings alone may lead to regrets. However, there are various hacks available to make the Optavia experience more enjoyable, such as the blueberry biscuit hack.
On the other hand, Nutrisystem fares slightly better in terms of taste. However, the portion sizes are relatively small. Plus, there has been a decline in the quality of Nutrisystem's food over the past few years, according to online reviews found on Trustpilot.
5. Weight Loss Results Differences Between Optavia and Nutrisystem
In my experience, the weight loss results with Optavia and Nutrisystem varied.
With Optavia, although the Fuelings didn't always keep me feeling full and satisfied, I compensated by incorporating ample proteins and fresh vegetables into my lean and green meals.
Over 12 months, I managed to lose over 40 pounds and significantly reduce my BMI from 37 to 29. While the weight loss wasn't rapid, I was content with the progress. However, I made some mistakes along the way, didn't develop a healthy relationship with food, and eventually regained weight.
On the other hand, my weight loss journey with Nutrisystem yielded results, but I found the food to be less satisfying overall. Despite the higher calorie count, I often felt unsatisfied. Although I don't mind adhering to a strict diet, Nutrisystem's offerings didn't quite meet my expectations.
If you're comfortable with consuming powdered sachets and preparing low-carb dinners, Optavia may be a suitable choice. However, if you prefer a simple meal plan without the need to count calories or cook extensively, Nutrisystem might be worth considering, even if it means occasionally feeling a bit hungry. Ultimately, the right choice depends on your individual preferences and goals.
6. Side Effect Differences Between Optavia and Nutrisystem
Both Nutrisystem and Optavia can lead to various side effects, but the specific impacts vary depending on the individual.
Nutrisystem primarily revolves around low-calorie processed meals, which may result in hunger pangs, reduced energy levels, and potential digestive discomfort, particularly if you're accustomed to consuming whole foods.
In contrast, Optavia's Fuelings are formulated to induce a mild state of ketosis, which can lead to headaches, unpleasant breath, and constipation.
If you are sensitive to these side effects or have a history of disordered eating, Optavia may not be the best choice for you.
It is crucial to consult your doctor before embarking on any program, just as I did before starting mine. I recommend you do the same.
What Are The Overall Pros And Cons When Comparing Optavia And Nutrisystem?
Optavia offers the advantages of convenient pre-packaged meals, personalized one-on-one coaching, and the potential for effective weight loss, but it also comes with drawbacks like reliance on processed foods, potential side effects such as constipation and bad breath, and the requirement to prepare your own "lean and green" meals.
Nutrisystem, on the other hand, provides a broad selection of meal options and the convenience of meal delivery, along with the potential for weight loss. However, Nutrisystem has its downsides too, including potentially small portion sizes, declining food quality according to some user reviews, and possible side effects like hunger pangs and digestive issues.
What are the alternative diets to Nutrisystem and Optavia?
The alternative diets to Optavia and Nutrisystem are shown below.
Weight Watchers
The New Mayo Clinic Diet
Plexus
GOLO diet
Keto diet
Jenny Craig
How do Nutrisystem and Optavia compare to the GOLO diet?
Optavia, Nutrisystem, and the GOLO diet all aim for weight loss, but they differ significantly in their approaches: Optavia offers pre-packaged meals and one-on-one coaching, Nutrisystem focuses on convenient meal delivery, and the GOLO diet emphasizes managing insulin resistance through whole foods and GOLO Release supplements.
While GOLO and Nutrisystem both provide comprehensive meal plans, GOLO diverges by incorporating a proprietary supplement and does not operate under an MLM model.