Optavia vs Plexus (Which one is better?)
Hey! Welcome to our Optavia vs Plexus comparison guide!
Are you tired of fad diets that promise quick results but leave you feeling deprived and unsatisfied? Have you heard of Optavia and Plexus as two new diet programs that claim to be different? But which one is right for you?
In this article, we'll compare Optavia and Plexus to help you determine which program fits your lifestyle and goals. Both programs offer weight loss solutions, but they differ in their approach, products, and support systems.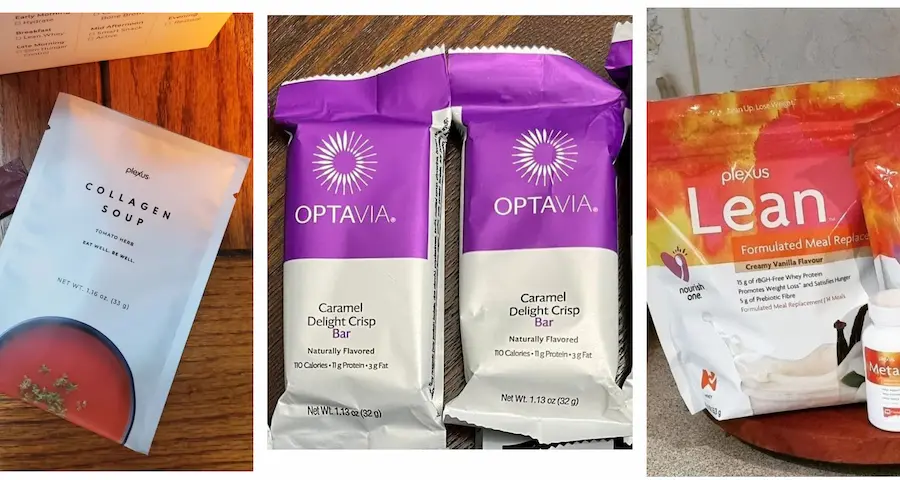 What is the Optavia diet?
Optavia Diet is a weight loss company that operates under the umbrella of Medifast, Inc. This direct selling company has been around since 1980, while Optavia was established in 2017.
The program entails consuming five Essential Fuelings from Optavia daily, in addition to one self-prepared meal.
According to the article published in the Current Developments in Nutrition, "being accountable to an Optavia coach helps people stay self-aware and engaged with the program, leading to successful weight loss maintenance."1
Achieving long-term weight loss goals requires accountability and healthy habits, as proven by this study.
The Habits of Health, which include weight management, healthy eating, hydration, motion, sleep, surroundings, and mind, are emphasized as essential for success. 

How does the Optavia diet work?
The Optavia 5 and 1 plan is a weight loss program that relies on meal replacement. You eat five portion-controlled snacks every 2-3 hours, which have similar nutritional values.
By following this plan, your body gets around 800-1,000 calories, putting it into a gentle but efficient fat-burning state.
You'll also learn how to make an Optavia "Lean and Green" meal, which usually includes lean protein and non-starchy vegetables. One-on-one coaching is a crucial part of the Optimal Weight 5 and 1 plan.
Coaches are sales representatives who offer support and guidance to clients using their products. It's worth noting that these coaches aren't necessarily certified nutrition professionals, but many have been Optavia clients themselves.
Optavia diet pros and cons
Pros
Makes healthy eating more accessible and convenient.
No need to worry about counting carbs, points, or calories.
Grab-and-go options make meal preparation easier.
Coaching and group support are available to provide motivation and assistance.
Cons
Hunger can be an issue since some foods are restricted.
Some ingredients in the Fuelings may not be safe for all individuals due to allergies or medical conditions.
It can be expensive.
What is Plexus?
Plexus Worldwide is a multi-level marketing company that sells health products, primarily focused on weight loss, and has become increasingly popular in recent years.
Founded in 2005, the company offers an array of dietary supplements including Plexus Slim Hunger Control drink mix, the flagship product.
This pink drink contains several active ingredients, such as chlorogenic acids from green coffee bean extract and other natural ingredients.
In 2020, The Cureus Journal of Medical Science published a study about a 30-year-old woman who developed Primary immune thrombocytopenic purpura (ITP) after taking the Plexus supplement.2
"The supplement contains Garcinia Cambogia, fruit extract, and chromium polynicotinate, which could be causing DITP," states the journal.
This disease results in a shortage of platelets in the blood, leading to bleeding and bruising.
Plexus also sells other products for gut health, and skincare, and more recently launched the Plexus Pivotal 90-day program to help customers stay on track with their weight loss goals.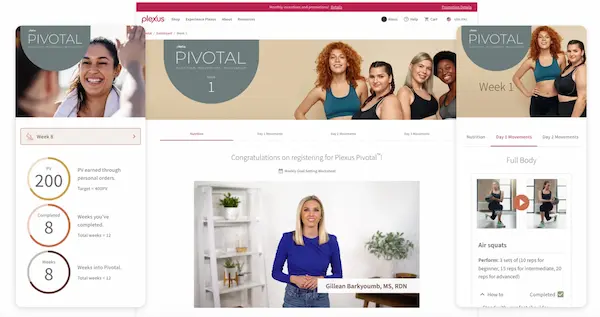 How does Plexus work?
Plexus weight management products are designed to help you reach your goals in a sustainable way.
The program begins with Plexus Slim Hunger Control, which is a drink mix that comes in different flavors and is intended to be consumed 30-60 minutes before meals twice a day.
This product claims to help suppress appetite and support gut health. Additionally, the company offers Lean protein powder as well as other products for skin care and gut health.
All of these products should be used alongside lifestyle changes such as healthy eating habits and exercise to maximize results.
The Plexus Slim Hunger Control supplement claims to aid weight loss, reduce hunger, and support healthy glucose metabolism. It also promotes fullness, cardiovascular health, healthy blood pressure levels, and hydration through water consumption.
It's important to note that the ingredients alone may not produce significant results.
The company recommends combining the supplement with a reduced-calorie weight-loss diet.
Remember, individual outcomes may differ, and the claims made are not approved by the FDA as I've explained in my Plexus review.
Plexus pros and cons
Pros
May help with weight loss
Can be used alongside lifestyle changes
Some people have reported positive reviews
Cons
Lack of scientific evidence to support some of the product's claimed benefits
The exact amounts of all ingredients are unknown.
The product may not work for everyone
MLM business model
Optavia and Plexus are MLM companies that focus on weight loss. This business model depends on distributors or brand ambassadors who sell products directly to consumers through personal relationships and social networks.
It's a form of network marketing that can be highly profitable for those who excel at it. Distributors are compensated not only for their sales but also for recruiting and managing their downline.
This creates a pyramid structure where those at the top have the potential to earn the most money, while those at the bottom may struggle to make a profit.
Optavia operates as an MLM company but conceals this fact on its website. In contrast, Plexus is transparent about its compensation plan and proudly displays it for all to see. 
Both companies hold meetings and conventions for brand ambassadors to learn and connect. Brand ambassadors are encouraged to recruit and maintain a social media presence.
Optavia vs Plexus price comparison
Optavia's cost depends on the plan you choose.
Their most popular plan, Optimal Weight 5 and 1, costs $511.50 without taxes and shipping. This price is higher than Herbalife's $125-$241 per month and Isagenix's $378.50 per month.
When you purchase Optimal Weight 5 and 1, you'll receive the Essential Optimal Kit, which includes a hardcover copy of the Habits of Health book and 154 servings of Essential Fuelings. Additionally, you'll receive optimal weight 5 & 1 plan recipes and 5 free Fuelings as a bonus.
The cost of Plexus products varies depending on the package and your VIP status. Packages include Weight Loss Basics and Weight Loss Advanced, with products like Lean Whey, Slim Hunger Control, and BioCleanse.
Non-VIP customers pay $155.95 to $305.95, while VIP customers get up to 25% off. Unlike Optavia, Plexus allows you to buy directly from the online store at retail prices, but the VIP customer plan offers savings, and exclusive offers, and helps you reach your health goals.
Products
When it comes to weight loss programs, Optavia and Plexus have different approaches to help people achieve their weight loss goals.
Optavia's 5 and 1 Plan Fuelings are designed with convenience and nutrition in mind.
Here's the photo of one of the Optavia fuelings – Smoky BBQ crunchers.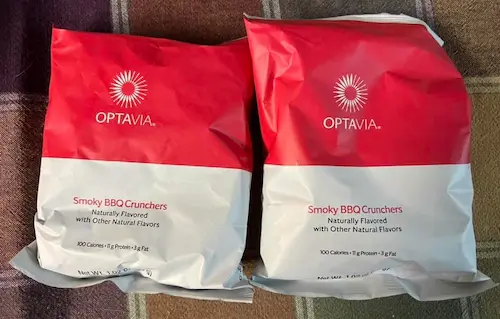 Each of these servings contains 24 vitamins and minerals, 11 grams of protein, 14 carbs, 3 grams of fat, and 6 grams of sugar, providing a perfect balance of micronutrients and macronutrients.
While these Fuelings do not contain any artificial sweeteners, some of their ingredients are "bioengineered", meaning they have been genetically modified in some way.
On the other hand, Plexus MetaBurn is a dietary supplement designed to boost fat burning and reduce abdominal fat.
Here's the photo of Plexus MetaBurn, Plexus Slim, and Plexus VitalBiome.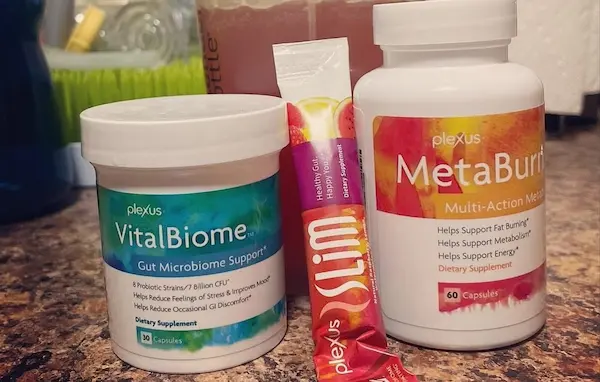 Plexus MetaBurn contains:
Green tea extract
Caffeine
L-Carnitine
Chromium
Bioperine
All of these ingredients work together to increase metabolism, suppress appetite, and support fat loss.
Additionally, Plexus Block is a dietary supplement that helps reduce the glycemic index of food and lower carbohydrate absorption. It contains glucomannan fiber, white kidney bean extract, chromium picolinate, and Bioperine.
Both Plexus MetaBurn and Plexus Block are easy to take in capsule form.
Weight loss results
While Optavia is known for its strict meal replacement plan, it has been backed by several clinical studies that demonstrate its effectiveness in helping individuals achieve weight loss goals.
For instance, a 16-week study revealed that those on the Optimal Weight 5&1 Plan lost an average of 5.7% of their body weight, and 28.1% of participants lost more than 10%. 3
Moreover, participants who followed the 5 and 1 plan experienced reduced fat and waist and hip sizes compared to those who attempted to lose weight without a specific plan.
In contrast, there is limited research available to support the weight loss claims of Plexus.
And while Plexus offers a range of weight loss supplements and products, there is no evidence to suggest that they are more effective than traditional weight loss strategies.
Customer reviews
Plexus has a better customer review score than Optavia.
While Optavia has a poor customer review score of 1.55 out of 5 and has received 475 complaints closed in the last 3 years, Plexus has a customer review score of 3.51 out of 5 and has received only 57 complaints closed in the last 3 years.
It is also worth noting that Plexus is accredited by the Better Business Bureau since December 2019, while Optavia is not accredited.
Additionally, Optavia's customer complaints seem to be more related to customer service, delivery, and refund policies.
For example, a dissatisfied customer canceled their Optavia order on February 3, 2023, but the company still charged their account on the following Monday. Despite never receiving the product and requesting a refund, the customer has yet to receive their money back.4
They have attempted to resolve the issue by calling Optavia's customer service department 10-12 times, but have not received any assistance.
Plexus has fewer online complaints on the BBB website, but those that do exist are focused on their business model. One customer complained after attending a class on gut health and hormone balance hosted by a Plexus representative.5
The presenters made unverified claims about their products, including curing depression, aiding weight loss, and eliminating candida yeast.
The customer was encouraged to sign up for a monthly subscription and host three similar parties to receive free products. No sources or clinical studies were cited for the information given.
The customer expressed concern about the lack of evidence and the potential for others to have unrealistic expectations. This reflects poorly on direct-selling companies like Plexus.
Optavia vs Plexus – which one is better?
Optavia and Plexus are both in the health and wellness industry, but they have different approaches and products.
Optavia is mainly about weight loss programs. Plexus, on the other hand, offers a wider variety of health and wellness products, such as supplements, skincare, and personal care items.
Before making any changes to your health or diet, it's crucial to do your own research and consult with a healthcare professional. You should also take into account factors such as cost, quality, and customer reviews when deciding between the two.
References
1 (National Institutes of Health) Coleman, C., Kiel, J., & LaCalamita, C. (2022). Successful Maintenance after Weight Loss on a Commercial Program: Habits and Benefits Among Coaches. Current Developments in Nutrition, 6(Suppl 1), 1055. https://doi.org/10.1093/cdn/nzac070.014
2 (The Cureus Journal of Medical Science) Graf, C., Elmassry, M., Chu, V. M., Pawar, D., & Tijani, L. (2020). Plexus Slim®-Induced Immune Thrombocytopenic Purpura. Cureus, 12(11), e11413. https://doi.org/10.7759/cureus.11413
3 (Obesity Science & Practice) Arterburn LM, Coleman CD, Kiel J, et al. Randomized controlled trial assessing two commercial weight loss programs in adults with overweight or obesity. Obes Sci Pract. 2018;5(1):3-14. Published 2018 Dec 21. doi:10.1002/osp4.312
4 Better Business Bureau (BBB) https://www.bbb.org/us/md/baltimore/profile/health-and-wellness/optavia-llc-0011-90288636/complaints#1486554663
5 Better Business Bureau (BBB) https://www.bbb.org/us/az/scottsdale/profile/weight-loss/plexus-worldwide-llc-1126-15006936/complaints#1485382371