Best Optavia Fuelings You Haven't Tried (Yet)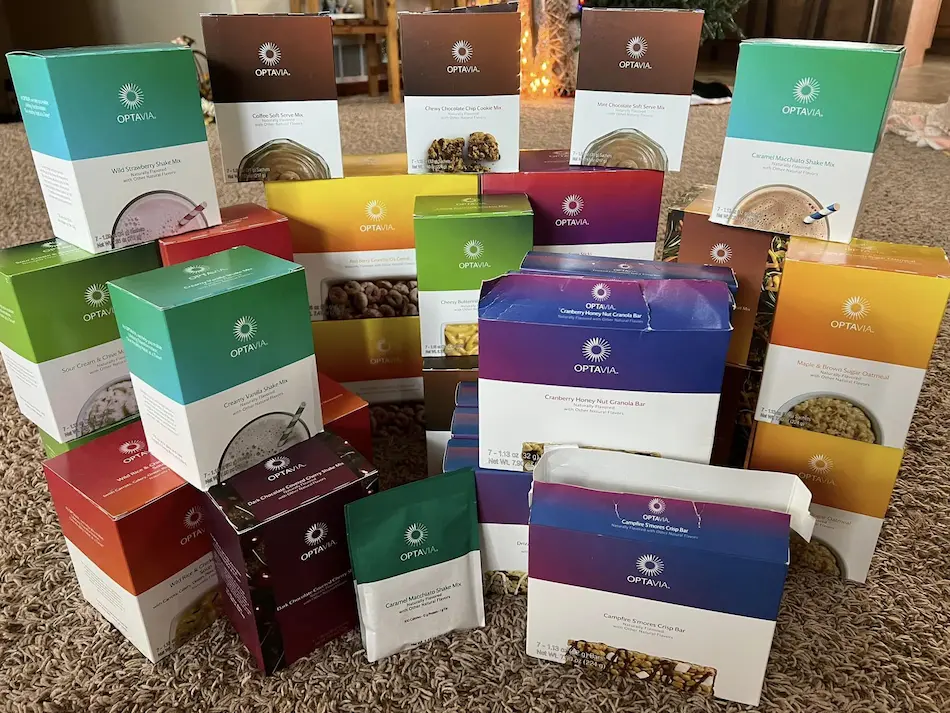 Are you looking for the best and the most delicious Optavia fuelings to help you lose weight? After trying and reviewing over 50 Fuelings, here are the best of the best.
If a close friend asked me which Optavia fuelings taste best from every category, these would be my recommendations:
In our testing, the best-tasting Optavia bars are creamy double peanut butter crisp bar and chocolate mint cookie crisp bar.
From shakes, I recommend you should try dark chocolate covered cherry shake and caramel macchiato.
You have my general answer, but below I'll provide more detail and reasoning for those selections, as well as some Fuelings not to pick.
Best Optavia fuelings
Not all Optavia shakes are created equal.
While there are over 11 shakes and smoothies, not all of them manage to keep me full.
Also, not all of them taste great, which I explained in my recently published article about the worst Optavia Fuelings.
When it comes to taste, the Optavia shakes based on whey protein concentrate are hard to beat.
(Only a handful of Optavia shakes are based on whey or milk protein concentrate. All the rest is based on soy.)
They have a delicate, creamy texture that is simply delicious (almost as good as a five guys milkshake).
And because they're made with whey or milk protein, they taste better than shakes made with soy protein.
So if you're looking for Optavia fuelings that taste great (and is also healthier for you), be sure to try the list below.
1. Optavia Dark Chocolate Covered Cherry Shake
If you want the best of the best, check out the dark chocolate covered cherry shake from Optavia Select Fuelings.
(You won't find this shake in the essential package.)
The Dark Chocolate Covered Cherry Shake is made from a combination of casein protein and whey protein isolate, giving the shake a thick, creamy texture.
Here's a photo of my last dark chocolate covered cherry shake.
It's also packed with antioxidants and serotonin-boosting cacao, making it the perfect choice for a healthy snack or post-workout treat.
Best of all, the shake has a luxurious cherry taste that will leave you feeling satisfied and indulged.
2. Optavia Rich Dark Chocolate Shake
Here's a photo of my second-best Optavia fueling – a chocolate shake.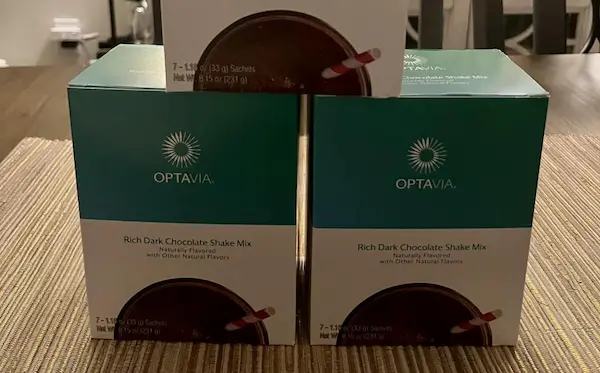 I like Optavia's rich dark chocolate shake because of its thick consistency and rich, chocolatey taste.
(Yes, I'm a huge fan of chocolate shakes.)
Chocolate shakes help to combat my sweet tooth addictions and reduce cravings for unhealthy foods.
Rich dark chocolate is my favorite shake for mixing with chocolate ice cream. (A small treat for my Sunday afternoon.)
Here's a photo of my Sunday Optavia milkshake.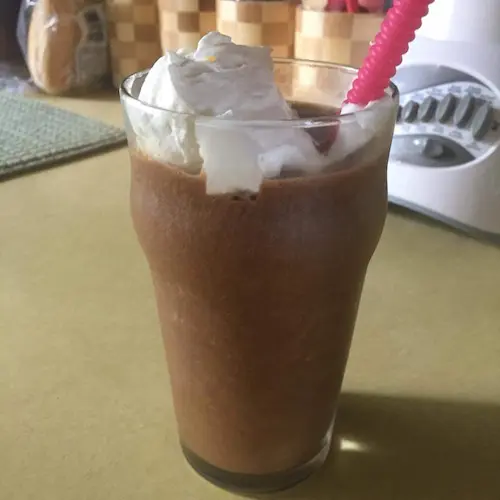 In this picture, you see a rich dark chocolate shake, mixed with 2-3 scoops of Halo Top Chocolate Ice Cream and 1/3 cup of milk.
I blend all ingredients until the texture is thick enough for a spoon to stand vertically but still easy to drink. 
(Sure, this one has way over 300 calories, but I don't drink it every day.)
3. Optavia Caramel Macchiato Shake
The caramel macchiato shake is made from a combination of milk protein concentrate and whey protein concentrate.
Apart from its rich flavor, I like that it doesn't give me bloating of the stomach, as other Optavia shakes do.
From what I read online, this is one of the most popular Fuelings on Optavia.
Here's a photo of my last two boxes of Optavia Caramel Macchiato Shake.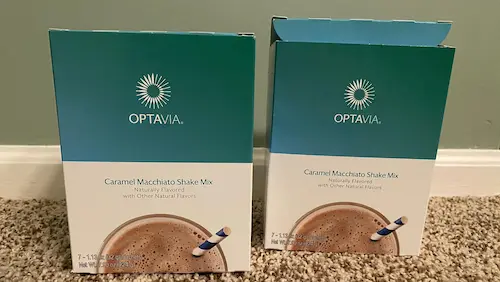 I drink caramel macchiato every morning as a part of my 5-minute coffee ritual. I like to serve it with 1.5 fl oz doppio and a drop of creamer.
Here's what it looks like.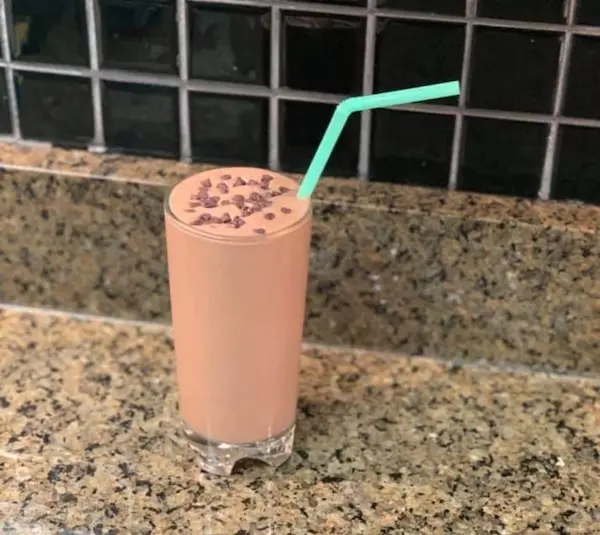 (Nothing fancy, only a few cacao nibs.)
On warmer days, I do the same, but I made frappe by blending everything with ice. Adding ice is one of the things I like to do to make my shakes taste better and more filling.
(More filling means it keeps me fuller for longer.)
4. Roasted Garlic Mashed Potatoes
I think that roasted garlic mashed potatoes are the best-tasting soy free Optavia Fuelings when it comes to savory snacks.
I often combine them with other low-calorie veggies, like peppers, tomatoes, or onions, which adds bulk to the snack and keeps my cravings at bay.
(All without adding extra calories.)
To be honest, until I started doing Optavia on my own, I used to order at least 4-5 boxes just from mashed potato. (Seriously.)
Here's what 4 boxes of Optavia roasted garlic mashed potatoes look like.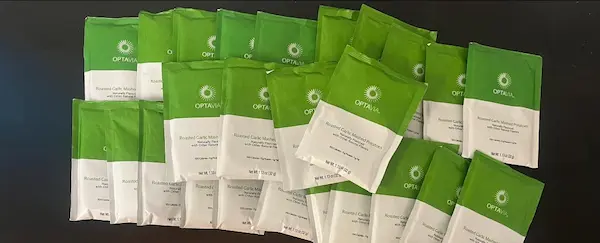 (Yes, I really much prefer savory fuelings, compared to sweet bars.)
I also find this fueling extremely versatile. I like to combine it with one boiled egg and eat it for breakfast.
I also don't mind munching on mashed potatoes as my evening salad with other low-carb veggies.
5. Optavia Coffee Soft Serve
For me, drinking Optavia coffee soft serve is almost like having an Italian ice cream.
Here's a photo of the last few sachets I have left.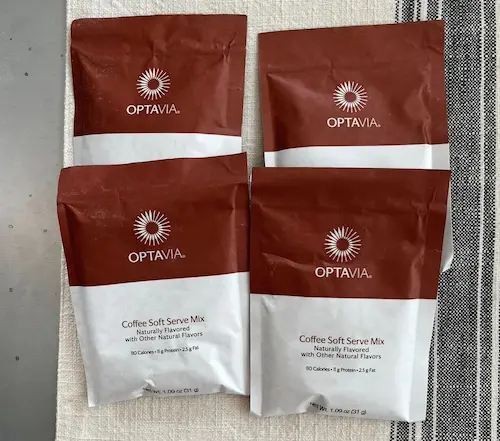 I love everything about this fueling.
It is loaded with 11 grams of proteins (made from whey protein concentrate).
It also has organic coffee, which significantly makes this pudding taste delicious.
To make this fueling taste even better, I simply follow the Optavia recipe and leave it after blending in the fridge for the night.
Here's how Optavia coffee soft serve in the morning.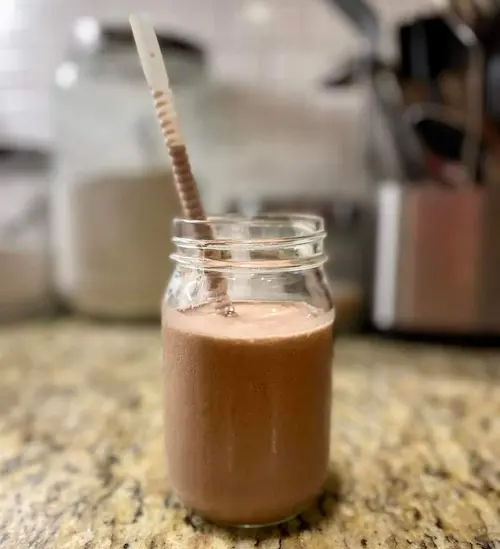 This one in the picture has 2 shots of espresso and it's only blended with ice.
The consistency is thick, yet creamy enough so it smoothly passes via a straw. Perfect morning breakfast.
Of course, on the days when I want extra kicks, I load it up with more coffee.
Best Optavia bars
I don't eat Optavia bars too often for a couple of reasons. (Don't worry, I'm still gonna give you my unbiased taste review.)
In short, Optavia bars don't keep me full. I rather choose shakes or other foods that stop me from feeling hungry.
Plus, it's really hard to review Optavia bars based on their taste as all of them are made of soy protein isolate.
Apart from its controversial phytoestrogenic activity, the soy protein isolate has a chalky texture and a strong nutty flavor.
Of course, you won't be able to tell if these products contain a high dose of soybean-derived protein from tasting them.
All bars have been successfully disguised by a combination of natural sweeteners, which gives them a weird fake sugar flavor.
In the end, there are only two Optavia bars that I personally think you should consider (as long as you don't have an allergy to soy):
6. Creamy Double Peanut Butter Crisp Bar
For me, the peanut butter Optavia bars are a solid snack option, especially easy to eat in the office.
Here's a photo of my best Optavia bars laid out on my desk in my office.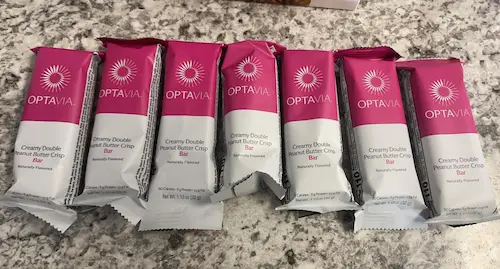 I keep them in a box in my office and they are perfect when I need a quick snack.
I don't have to cook anything and there is no mess. They are also easy to eat without making a shake.
Although I'm not a huge fan of peanut butter, these bars are tolerable. The taste is fairly ok, despite the soy protein isolate being the key ingredient on the list.
7. Optavia Chocolate Mint Cookie Crisp Bar
Another best Optavia fueling is Chocolate Mint Cookie Crisp Bar.
Although it has 14 grams of carbs, it doesn't feel too sweet and it gives me the energy I need without making me feel too full.
Here's a photo of my stash, full of chocolate mint cookie bars.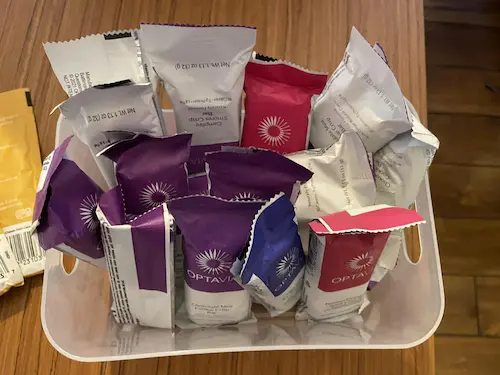 I like to store them at room temperature – this way they hold the perfect texture – not too soft and not too crunchy.
This one is based on the combination of soy protein isolate and milk protein isolate, so you can expect the flavor will be better than with other bars.
I also like this fueling becasue it's high in protein and has only 110 calories, so it's a great snack when I'm trying to watch my weight.
The bottom line
It does matter what Fuelings you eat on Optavia, at least for me.
After testing over 50 different Optavia fuelings, I can tell you the best of the best are shakes that are made from whey and casein isolate.
For me, the worst-tasting Optavia fuelings are bars and shake made from soy protein. If you dislike the taste of some of the Optavia bars, consider looking for cheaper alternatives.