10 Optavia Approved Chips that you haven't tried (yet)
Are you wondering what chips you can safely eat while on the Optavia program? You're in luck!
Although I try (really hard) to stay away from snacks, there are 10 low-calorie and high-protein chips I suggest you should try.
And besides the fact that they are surprisingly tasty, all of them stay in line with Optavia calorie rules.
Without further ado, let me show you the 10 best chips for the Optavia program.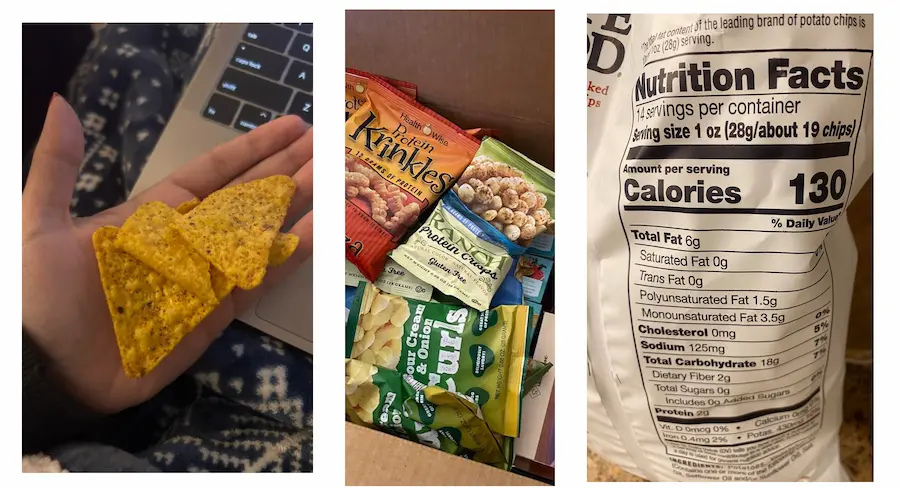 1. Wholesome Provision Chips
Wholesome Provisions potato chips are one of the best Optavia fueling alternatives.
They're designed to satisfy taste buds with excellent flavors like barbecue and sea salt and crunchy texture.
What's even better, they come along with a clean and delicious finish without any weird aftertaste.
But here's the kicker: they're also high performance food!
That means 14g of protein per serving, 3-4g of net carbohydrates, 4-5g of fiber, and no added sugar or gluten – all for only 120 calories per package.
Wholesome Provisions can be a great alternative for those who are following the Optavia 5 and 5 diet.
Nutrition facts
Serving size: 1 bag (37 g)
Calories: 120
Total Fat: 4.5 g
Sodium: 400 mg
Carb: 9 g
Sugars: <1 g
Protein: 14 g
2. Kalahari Crisps
For those who thought that there would be only chips here, let's consider the next delicacy.
(You will be surprised!)
Have you ever tried Air Dried Beef Chips?
Due to their nutritional benefits such as being low in calories, high in protein, and containing no sugar, they make for a deliciously crunchy and flavorful alternative to Optavia fuelings.
I love to add them to salads, dipped in hummus, guacamole, or my favorite veggie dip.
The possibilities are endless and I never get bored of the flavors!
Nutrition facts
Serving size: 1 package (28 g)
Calories: 100
Total Fat: 2 g
Sodium: 700 mg
Carb: <1 g
Sugars: 0 g
Protein: 20 g
3. Gone Rogue High Protein Chips
Another high protein chip made with all-natural quality cuts of chicken, they a different kind of chip, featuring the crunch.
I like Gone Rogue because of the variety in their flavors.
There is something to suit almost everyone's taste from chicken bacon and BBQ flavored chicken to buffalo style and teriyaki chicken.
The combinations of flavors I've tried so far have been delicious, and I'm sure I could never get bored.
They have extremely good macros, with the majority being protein and a few fats (very low carb).
You can eat them just from the bag as a substitute for Optavia fueling, put on lean and green salad to act as croutons, or crumble them up and bread chicken for a double-protein meal.
Nutrition facts
Serving size: 1 package (28 g)
Calories: 120
Total Fat: 5 g
Sodium: 370 mg
Carb: 1 g
Sugars: 0 g
Protein: 17 g
4. NutriWise Protein Crisps
According to the NutriWise website, their products are "affordable, medical grade and high protein diet foods".
They have a full range of protein Krinkles, Ranch Crisps, and even Strawberry Chips.
NutriWise product is gluten free, low in sugar and carbs, but contains 16 grams of protein and only 120 calories per serving, as you can see from the nutrition facts.
My favorite one is cheddar curls, which kind of remind me of Cheetos.
Nutrition facts
Serving size: 1 bag (27 g)
Calories: 120
Total Fat: 3.5 g
Sodium: 490 mg
Carb: 4 g
Sugars: 2 g
Protein: 18 g
These are interesting because they have a different shape, texture, and flavor than the others, but because they are salty, I wouldn't eat them every day.
However, if you want to eat something other than Optavia fueling or shuffling for a new movie, ranch or barbecue crisps are a fantastic idea. 
5. Twin Peaks Ingredients Protein Puffs
How about crispy, full-of-flavor nachos, garlic parmesan, or jalapeno cheddar puffs?
Or my favorite chips from this company are sour cream and onion & nacho cheese.
As you can see from the photo below, I really like the taste and always order a huge pack.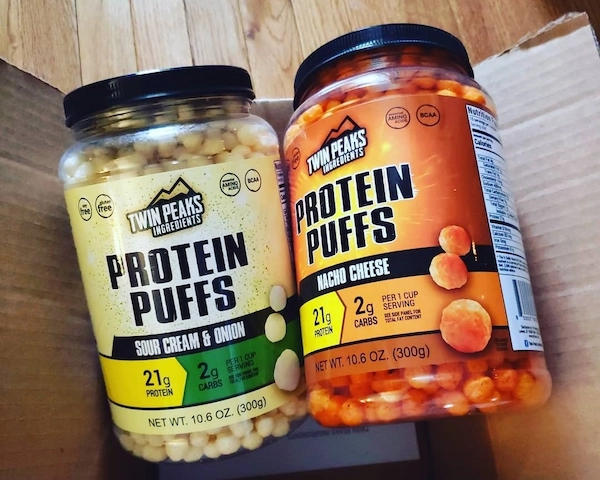 They contain about 130 grams of calories per serving, but the main advantage is 21 grams of protein and a low level of carbs and fat.
Nutrition facts
Serving size: 1 cup (30 g)
Calories: 130
Total Fat: 4 g
Sodium: 410 mg
Carb: 2 g
Sugars: 1 g
Protein: 21 g
This puff is a great alternative for the Optavia diet as a substitute for fueling or an addition to your lean and green.
Use less than 1 cup to cut calories to 100–110, or cut calories from your main dish if you use 1 cup (30 grams).
6. Proti-Thin Protein Chips
I always look for snacks I can grab on the go while I stay in line with my Optavia program.
Fortunately, I've found these Proti Chips! Every serving has 14 grams of protein and only 120 calories.
Plus they're low-carb, zero sugar, and high in fiber, so I don't need to worry about eating them from time to time.
You can enjoy chips with flavors like sea salt and vinegar, dill pickle, or barbecue. I also discovered they have a ranch and spicy nacho cheese chips too!
This chip is slightly thicker than a traditional chip, but it boasts a satisfying crunch. Despite not having the same level of deliciousness as a potato chip, the protein flavor is still enjoyable.
Nutrition facts
Serving size: 1 bag (30 g)
Calories: 120
Total Fat: 5 g
Sodium: 400 mg
Carb: 7 g
Sugars: 0 g
Protein: 14 g
7. WonderSlim Pea Protein Chips
As I explained in my comparison article on WonderSlim vs Optavia, the majority of WonderSlim products do not align with the 5 and 1 plan.
However, WonderSlim Pea Protein Chips are different.
While they come in three tempting flavors (BBQ, ranch, and salt and vinegar) like other similar types of chips, they differ in that they are made with plant-based protein.
So if you're following a vegetarian lifestyle on Optavia, this is a decent option to look for.
Nutrition facts
Serving size: 1 bag (30 g)
Calories: 120
Total Fat: 4 g
Sodium: 330 mg
Carb: 11 g
Sugars: 0 g
Protein: 10 g
8. Kay's Naturals Protein Chips
Kay's snacks are a nutritious option, with each serving providing 12g of plant-based protein and essential ingredients.
Also, as per the company's claims, their products are free of artificial sweeteners and preservatives, making them a perfect choice for individuals with unstable blood sugar levels.
Which one should you pick?
I suggest going for Parmesan and Chili Nacho cheese flavor because it has only 115 calories, is low in carbs and fat, and has as much as 4 g of fiber per serving.
(Without sacrificing any taste or texture.)
Nutrition facts
Serving size: 1.2 oz (34 g)
Calories: 115
Total Fat: 2.5 g
Sodium: 240 mg
Carb: 15 g
Sugars: 1 g
Protein: 12 g
9. GoBeDo Collagen Protein Chips
I was laughing when my wife brought home these. (Seriously.)
GoBeDo Collagen Protein Chips are all about collagen, lactose-free, and gluten-free lifestyle.
These chips have no added sugar or artificial flavoring.
Furthermore, every pack has zero grams of fat and is loaded with 12.7 grams of protein.
Nutrition facts
Serving size: 1 pack (17 g)
Calories: 65
Total Fat: 0 g
Carb: 5.4 g
Sugars: 2.7 g
Protein: 12.7 g
(My wife is in love with the paprika with rosemary and cumin combo.)
To be honest, I think she only likes chips for their collagen content. She could talk about its benefits for hair, nails, and more all day.
But let's be real, it's not because they have low calories, high protein, and no fat, making them a great Optavia fueling alternative.
(It's all about that collagen, baby!)
10. Physically FIT CHXN-SNX Crispy Protein Bites
When it comes to the CHXN-SNX brand, not all flavors are equal and not all are Optavia approved.
The only flavors you can pick as a substitute for the Fuelings are:
Buffalo wing
Blue cheese reigns supreme
With its impressive nutritional value of around 100 calories, 10 grams of protein, and only 4 grams of total fat, it's no surprise that it's comparable to Optavia's fueling options
Nutrition facts
Serving size: 1 serving 25 g
Calories: 108
Total Fat: 4 g
Sodium: 275 mg
Carb: 8 g
Sugars: 0 g
Protein: 10 g
It's a delicately crafted blend of all-natural seasonings such as cayenne pepper, vinegar, salt, and garlic powder, combined with the smooth, subtle flavor of French blue cheese.
The result is perfectly balanced and tasty buffalo wing protein crisps, made from real chicken protein, which are air-baked to create a bite-sized snack.