Optavia vs Wonderslim (Which one is the Real Winner?)
Are you confused about which diet plan to choose between Optavia and Wonderslim?
These two popular weight loss programs promise "quick" results, but what is the difference between them?
In this article, we will compare Optavia and Wonderslim, including pros and cons, cost, products, and more.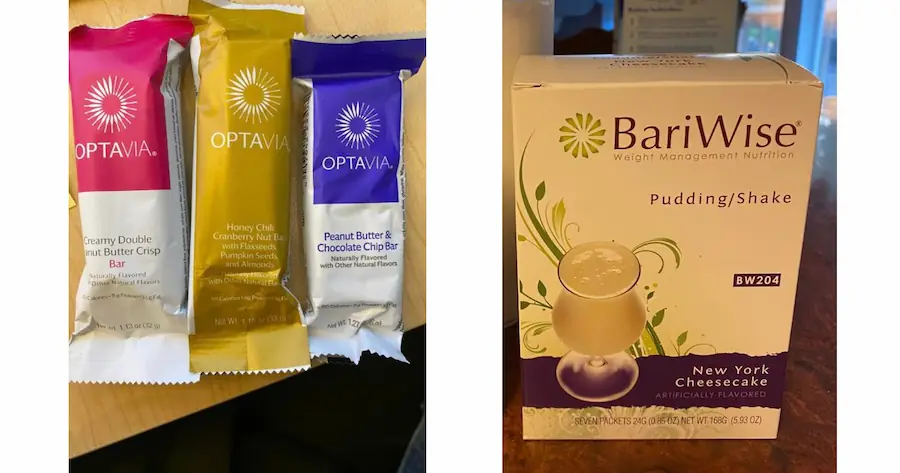 What is the Optavia diet?
Optavia is a diet company that it's part of the Medifast group and it's designed to help people lose weight.
But how exactly does it work?
The Optavia's main focus is to provide you with "Fuelings", which are portion-controlled meal replacements that come in the form of:
Shakes
Bars
Cereals
Desserts
Hearty snacks
According to the meta-analysis published in the Obesity Reviews, "Medifast meal replacement can help people to lose more weight in one year than other programs."
The review looked at 23 studies with almost 8,000 adult participants.
"Using meal replacements can be a good way to help people lose weight and be healthier," states the journal.
What's more, Optavia offers a few different meal plans to choose from, so you can pick one that works best for you.
Optimal Weight 4 and 2 and 1 Plan
The difference between the meal plans is in the calorie intake and the number of Fuelings you have per day.
Optavia diet pros and cons
Pros
Quick and easy ready-to-eat snacks that don't require the hassle of cooking
Useful for people with busy lifestyles.
A low-calorie diet may lead to relatively quick weight loss results.
It provides education courses on nutrition as well as providing support community and coaching.
Cons
Optavia "Fuelings" and snacks can be expensive.
It may become boring after a while due to limited snacks and food choices.
People may find it difficult to maintain weight loss after returning to a more normal calorie intake.
Optavia is a multi-level marketing company, which means that you may be required to purchase additional products.
What is the Wonderslim diet?
Wonderslim Diet is part of Diet Direct, a company that makes weight loss products like meal replacement shakes, protein bars, snacks, and other supplements.
Diet Direct has been around since 2003 and is now one of the top providers of nutrition and weight loss products, according to their website.
In our EatProteins top Optavia alternatives ranking, Wonderslim takes the proud #8 position.
Diet Direct owns 8 weight loss brands:
Wonderslim
WonderFit
Bariwise
Snackergy
FatBoost
WellChips
SnaKETO
BariatricChoice
Wonderslim offers three types of plans.
Basic 4-Week Diet Plan (112 meals per month)
Core 4-Week Diet Plan (140 meals per month)
Premium 4-Week Diet Plan (196 meals per month)
The Wonderslim basic plan, which is their most popular diet program, consists of two homemade meals per day, plus three snacks.
Wonderslim pros and cons
Pros
More affordable than the Optavia diet.
Offers products with different caloric ranges.
Cons
Some people may find the meal portions too small.
Doesn't have one-on-one coaching.
Optavia vs Wonderslim – Products
Products are a key part of any diet plan, and both Optavia and Wonderslim offer a variety of products to choose from.
Optavia doesn't sell frozen meals.
Similarly to the Skinny Box diet, the main Optavia products are small 100-110 calorie snacks.
The most popular plan is the 5 and 1 plan which requires you to eat five fuelings and one main meal called lean and green.
On the other hand, WonderSlim products are different.
Although they also have diet bars and shakes, their meal replacement products range in calories between 90 to 300.
Availability
Before you decide which meal replacement options to choose, keep in mind that Optavia Fuelings can only be purchased from their official website.
You cannot buy their products in third-party stores like Walmart, Amazon, or Costco.
Although you can buy Optavia fuelings from online marketplaces like eBay or Facebook, the company warns that these products may not be authentic and of good quality.
The only way to enroll in their plan is by connecting with one of their wellness coaches.
Wonderslim products are available in more than 3,000 retail stores across the United States.
Calorie intake
Regardless of age, gender, or weight loss goals, the Optavia 5 and 1 plan provides a calorie intake of 800 – 1,000 calories per day.
On the contrary, the WonderSlim plans offer 1,000-1,200 calories per day for women, while men can expect 1500-1700 calories per day.
Is that enough?
Well, according to the article published in the Obesity Journal, "people who consumed 1,000 calories per day lost more weight than those who have prescribed 1,500 calories per day in the first 6 months."
However, according to some of the complaints about Optavia, eating 800-1,000 calories per day is insufficient.
The study also found that participants in the 1,000-calorie group experienced weight regain in the later months.
Macronutrients
Although calories in Optavia and Wonderslim diet foods are completely different, the macronutrients are quite similar.
Optavia meals are high in carbs and protein, with around 10-15g of net carbs and 10-12g of protein per serving.
Wonderslim meals also feature carbs and protein, but the ratio is slightly different. The products contain 7-18g of net carbs and 10-15g of protein.
Ingredients
When it comes to food ingredients, both Optavia and Wonderslim use "bioengineered food ingredients".
This means that the ingredients are created in a laboratory to be nutritionally similar to real food.
Both diets don't contain artificial sweeteners, such as sucralose and acesulfame potassium.
They also don't use Aspartame.
Optavia uses honey, molasses, maple syrup, stevia, and monk fruit extract.
Wonderslim uses glycerin, which includes sugar alcohols like sorbitol and erythritol.
Both products contain soy
Soy is one of the most common sources of plant-based protein and is found in many processed foods.
Both Wonderslim and Optavia offer several shakes and smoothies that contain Soy Protein Isolate as one of their core ingredients.
Which can be problematic.
Why?
Unfortunately, more and more individuals are discovering a sensitivity to soy due to its excessive presence in our diets.
Although there are some soy-free Optavia fuelings, many of their meal replacement shakes and smoothies contain soy protein isolate.
This means that those who are sensitive to soy or have an allergy should avoid these products.
What about Wonderlism?
Many of the Wonderslim products do contain soy, although, overall, they have more soy-free options compared to Optavia.
So if you're avoiding soy entirely due to allergies or sensitivities, Wonderslim could be a better choice.
Taste
When considering the taste of Wonderslim meals, I find them to be relatively bland compared to their caloric content.
I feel that there's a lack of flavor that doesn't make these meals stand out from other diet options.
On the flip side, others are more than satisfied with Wonderslim's offerings.
On the topic of Optavia meals, I really enjoy their sweetness and find them thoroughly palatable.
In fact, my wife and I often do many Optavia fueling hacks that involve adding other ingredients to the meals to make them even yummier.
This is one of the reasons why my wife loves Optavia.
Ultimately, both products have their loyal followers and detractors when it comes to how pleasant or unpleasant their flavor profile is perceived by different individuals.
Optavia vs Wonderslim meals
Apart from the pre-packaged meals, both Optavia and Wonderslim require you to cook homemade meals.
Both diets have a particular type of meal called "lean and green".
This means that you'll be cooking meals with lean protein sources, like chicken, turkey, and fish, alongside nutrient-rich veggies.
Optavia lean and green meal
Optavia 5 and 1 plan requires you to prepare one lean and green meal, which should include:
5 – 7 oz of lean protein sources like chicken, turkey, fish, or meatless options.
3 servings of low-carbohydrate vegetables.
0 – 2 servings of healthy fats.
3 servings of selected condiments.
Wonderslim meals
The Wonderslim basic plan promotes a more balanced diet by requiring you to prepare two home-cooked meals for lunch and dinner.
Each meal should include:
One lean protein serving.
Two servings of vegetables.
What foods are allowed?
Both programs have quite a few options, including lean proteins, low-carb vegetables, and fats (mostly from fish and nuts).
Optavia doesn't allow any high-carbohydrate vegetables, including:
potatoes
chickpeas
beans
carrots
corn
grains
Wonderslim does allow some high-carb vegetables in their meal plans. What's more, both programs restrict or prohibit the consumption of alcohol.
Price comparison
Price comparison is an important factor to consider when comparing Optavia and Wonderslim.
When it comes to cost, both diets have some similarities and differences.
Wonderslim cost
Basic Plan ($217 per month)
Core Plan ($257 per month)
Premium Plan ($339 per month)
Optimal Weight 5 and 1 Plan ($395.25 per month)
Optimal Weight 4 and 2 and 1 Plan ($442 per month)
Optimal Health 3 and 3 Plan ($283.05 per month)
The Optavia diet plan is more expensive than Wonderslim, and some experts have called it an "overpriced diet plan."
What's more, Wonderslim's pricing structure is an attractive option for those looking to commit to a healthier lifestyle.
Its plans are based on the more you pay upfront, the bigger the discount you receive in return.
For example, the 12-week diet plan for men is currently discounted by 45%, bringing its effective cost down to only $1.44 per meal.
This means that instead of paying full price for 336 meals, you'll be saving significantly every time you decide to go with this plan.
Weight loss results
Optavia and Wonderslim all offer structured meal plans that emphasize eating smaller portions spaced throughout your day to lose weight efficiently.
According to the randomized controlled trial published in Obesity Science & Practice, "Medifast 5 and 1 program did better than the self-directed reduced calorie diet for weight loss and other measures."
Wonderslim doesn't provide any scientific evidence or peer-reviewed articles on the efficacy of its products.
However, a small study from the UK has shown that introducing meal replacements into weight loss programs may be a great way to help people manage overweight and obesity.
In fact, research has found that programs with meal replacements have resulted in bigger weight loss at the one-year mark compared to other techniques.
All in all, both popular diet plans focus on associated lifestyle changes that may help people lose weight.
According to Optavia's disclaimer, the 5 and 1 plan promises to help you lose up to 12 pounds in 12 weeks.
On the other hand, Wonderslim provides a more gradual approach to weight loss, with an average of 1-2 pounds per week.
Coaching
One of the biggest differences between Optavia and Diet Direct weight loss programs is the coaching part. 
Wonderslim doesn't give you access to health coaches. They only sell products and don't require you to "promote" them to your friends and family. 
Diet Direct is not multi-level marketing.
On the other hand, Optavia offers the assistance of Independent Optavia Coaches, a network of health coaches who can support you throughout the program.
If you've done your research, you can find your coach using the company's website by entering their name.
Depending on your location, it's possible to meet your coach in person or online.
And while many studies confirmed that having a coach can provide a wide range of health benefits, most of the Optavia health coaches don't have official certifications or licenses.
These are not qualified nutritionists or dieticians. These are the people who completed the diet themselves and decided to become "wellness coaches".
Customer reviews
Optavia is not BBB accredited and doesn't have many reviews by doctors, apart from one article from MedPage Today that questions the ethics behind healthcare professionals who are involved in MLM.
According to Better Business Bureau, Optavia scores 1.52/5, which is considered poor.
They've received 475 complaints closed in the last 3 years, most regarding their over-priced diet plan and unrealizable returns/refunds.
What's more, another common complaint about Optavia products is the undesirable side effects from users, including stomach pains, dizziness, and headaches.
Other reports mention that the meals are over-priced and lack variety.
In contrast, while Diet Direct, Inc., the parent company of Wonderslim, has been accredited by BBB since 2005, there are no reviews available, positive or negative.
Optavia vs Wonderslim – which one is better?
So which one is better?
It really depends on your individual needs and preferences.
Both Optavia and Wonderslim offer structured meal plans that focus on healthy eating habits, portion control, and lifestyle changes.
Optavia offers the extra support of a coach, while Wonderslim provides more affordable options.
Optavia has hundreds of valuable resources
One thing that really stands out between Optavia and Wonderslim is the comprehensive list of value lists, guides, and cheat sheets Optavia has to offer.
Dining out guide
Eating out can be tricky for someone trying to stay on track with health goals, and this often leads many to feel restricted.
Optavia dining out guide offers people a chance to confidently dine out without compromising those hard-earned results.
It covers not only the approved restaurants but also provides macro-nutrients of popular restaurant foods.
On the contrary, Wonderslim doesn't have an official restaurant guide.
Shopping guide
When comparing the shopping guides of Wonderslim vs Optavia, it becomes evident that there are some differences in the information provided.
The Wonderslim shopping guide simply presents a list of their products, providing information such as the name, price, and nutritional value of each item.
In contrast, the Optavia shopping guide goes beyond just listing products by including a list of retail stores that carry approved products for their 5 and 1 plan.
Ultimately, it is up to you to decide which diet plan you choose.
You will also need to consider how much time each plan requires for shopping, preparing meals, and maintaining consistent habits.
Can you eat Wonderslim on Optavia?
You can substitute Wonderslim shakes for Optavia shakes. Wonderslim shakes have 100 calories each, 7 grams of carbs, and 15 grams of proteins, which is almost identical to Optavia shakes. However, Wonderslim bars have around 160 calories per serving, which is almost 50% more than Optavia bars.
The bottom line
If a close friend asked me which one I prefer, I would go with Wonderslim.
Why?
Optavia has a specific program that requires pre-ordering meals from the company directly which is can be, well, cost-prohibitive.
In that case, Wonderslim is definitively a cheaper alternative.
What's more, Optavia certainly has a sales-oriented approach to its products, and those who become Optavia customers are encouraged to become coaches.
These coaches are only required to pass a test and do the program.
They aren't qualified, industry professionals like nutritionists or dieticians that can truly help someone lose weight.
This means that Optavia doesn't offer true professional guidance for each person's individual needs.