7 Optavia Approved Cereal Substitutes
Tired of the same old Optavia Fuelings every morning? I was too, so I started looking for more exciting breakfast options that would still fit into my 5 and 1 eating plan.
Thankfully, there are Optavia cereal substitutes available that have almost identical nutritional value for the fraction of the cost.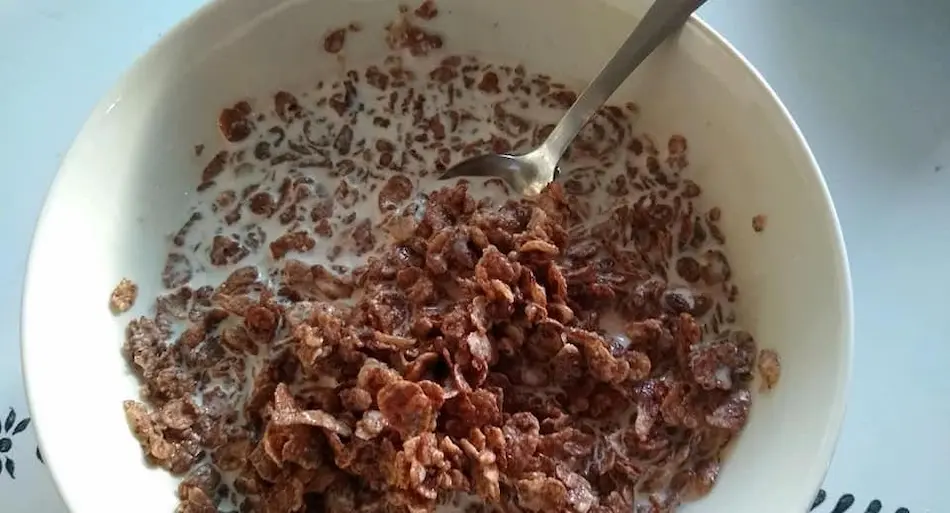 What cereal is comparable to Optavia?
To be frank, not too many.
One quick look at the shopping aisles in your local grocery store and you can realize there are many cereals that contain added sugar, unhealthy fats, and processed carbohydrates.
Here's the photo of one serving of Kellogg's Frosted Flakes made by my wife.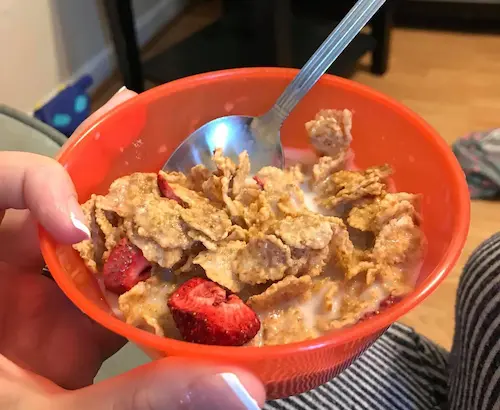 This little bowl has 37 grams, 130 calories, and 33 grams of carbohydrates.
It also has 12 grams of added sugars and only 2g of protein.
Needless to say, breakfast like that can leave you feeling unsatisfied.
Optavia cereals are better
Here's the photo of my favorite Optavia Red Berry Crunchy O's Cereal.
Although the serving size is almost identical to Kellogg's Frosted cereals, the nutritional value is completely different.
One serving of Optavia breakfast cereals and oatmeals has 100 calories, 11g of protein, 15g of carbs, and only 1g of fat.
Once you add 125 ml of milk (1% fat), that's an additional 55 calories, 4g of protein, and 6g of carbs.
However, despite the fact that Optavia cereals have a better nutritional profile than most of the brands, they are too expensive.
And as someone who is always looking for cheaper alternatives to Optavia fuelings, I started to search for new breakfast ideas.
So finding the right cereals similar to Optavia that can be included in our lean and green shopping list wasn't easy (but it was worth it).
Optavia approved cereals
Ready to step up your breakfast game?
Whenever you're looking for a temporary alternative or complete revolution in your 5 and 1 plan, below you can find delicious cereals that meet the requirements for an Optavia-friendly meal.
1. Wholesome Provisions Protein Cereal
Wholesome Provisions has many breakfast cereals similar to Optavia.
Although they have five different flavors to choose from, the Cocoa Protein Cereal has the least carbs (4g of net carbs) and the most proteins (15g per serving).
According to the Wholesome Provisions website, all of their high-protein cereals are gluten-free, aspartame-free, and cholesterol-free.
They also are zero saturated fat (or trans fat) and are plant-based.
(This means the proteins are derived from soy protein isolate.)
Nutrition facts
Serving size: 1 packet (30 g)
Calories: 114
Total Fat: 3 g
Sodium: 141 mg
Carb: 8 g
Sugar: <1 g
Protein: 15 g
Price
Don't buy these from Walmart! They charge the ridiculous price of $29.95 per 2 boxes. This equals $2.90 per serving.
Instead, you can buy Wholesome Provisions cereals from their official site for $9.99 per box (5 servings). This equals $1.99 per serving.
(Much cheaper than Optavia.)
2. BariWise Protein Diet Cereal
BariWise is owned by the company called Diet Direct, one of Optavia's competitors.
Just like Optavia, they offer low-calorie bars, drinks, and portion-controlled, ready-to-eat cereals.
BariWise breakfast cereals range in terms of calories and mac
The only difference is that you cannot do Optavia cereals without a coach, whereas you can buy BariWise products from almost all stores.
When it comes to macros, BariWise cereals have similar serving sizes, but with more proteins and fewer sugars.
Nutrition facts
Serving size: 1 packet (30 g)
Calories: 120
Total Fat: 3.5 g
Sodium: 150 mg
Carb: 8 g
Sugar: 1 g
Protein: 15 g
Price
Regardless if you buying BariWise cereals from Walmart, Amazon, or directly from their website, the price for 1 box (5 servings) is $16.99.
Although the price is similar to Optavia Fueling prices, their subscription plan offers a 20% discount.
3. ProtiDiet High Portein Cereal
ProtiDiet cereal is another Optavia breakfast alternative that is worth mentioning.
They are manufactured by Proti Food, an up-and-coming high-protein meal replacement brand.
Although their cereals only have two flavors (chocolate and honey nut), each of them is packed with 15 g of protein derived from soy isolate protein.
The company also offers a wide variety of high-protein meals for breakfast, including:
Pancakes
Oatmeals
Egg scrambles
Omelets
Nutrition facts
Serving size: 1 pouch (25 g)
Calories: 100
Total Fat: 2.5 g
Sodium: 90 mg
Carb: 7 g
Sugar: 1 g
Protein: 15 g
Price
And, while their nutrition makeup may be similar to Optavia, one box of breakfast cereals (7 servings) costs $14.89.
That's around $2.12 per serving.
What's more, if you choose to sign up for their membership, you receive an additional 15% off ($12.66 per 7 servings).
That's $1.80 per serving.
4. Three Wishes Cereal
The Three Wishes is one of the brands that are "redefining the future," according to a Yahoo Finance article.
The slogan says it all – more proteins, less sugar, zero grains. This brand is all about plant-based breakfast cereals made from all-natural ingredients, such as:
Chickpeas
Tapioca
Pea protein
Organic cane sugar
Cinnamon
Monk fruit
These cereals do not contain soy, oats, peanut, wheat, corn, and rice. What's more, they're gluten-free and kosher-certified.
On the Optavia 5 and 1 plan, you can choose from a variety of flavors:
Vanilla frosted
Cinnamon
Cocoa
Honey
Fruity
Unsweetened
Strawberry
(My favorite is Cinnamon, but it's often sold out.)
Nutrition facts
Serving size: 1 cup (35 g)
Calories: 130
Total Fat: 2 g
Sodium: 50 mg
Total Carb: 20 g
Sugar: 3 g
Protein: 8 g
Price
The Three Wishes cereal is one of these direct-to-consumer brands (D2C) that you are much better off buying directly from their website.
However, you cannot buy just one box. You can only purchase a 6-pack for $39.99. The single serving comes down to $0.94.
This makes it the cheapest Optavia cereal alternative.
5. Catalina Crunch Cereal
I've been seeing Catalina Crunch Cereal ads for a while and decided to give it a try.
They kind of remind me of Kellogg's Frosted Mini-Wheats but have less sugar and more earthy flavor.
Like Optavia cereals, Catalina Crunch also boasts 11 g of protein, however, it comes from peas instead of soy.
What's more, the product is sugar-free, non-GMO, and gluten-free, according to their website.
They have eight flavors:
Honey Grahams
Cinnamon toast
Dark chocolate
Mint chocolate
Chocolate banana
Chocolate peanut butter
Fruity
Maple waffles
Nutrition facts
Serving size: 2/3 cup (30 g)
Calories: 125
Total Fat: 6 g
Sodium: 40 mg
Total Carb: 8 g
Sugar: 0 g
Protein: 15 g
Price
Unlike with other cereals, here you are better off buying from other stores, not from their official website.
Last time I've seen Walmart had good deals for 4-pack of mixed flavor (7 servings per pack) for $40.29.
This is around $1.43 per serving.
On the contrary, the official site of Catalina Crunch sells the same 4 packs for $49 ($1.75 per serving), unless you sign up for their subscription to get 20% off.
6. Snack House Keto Cereal
Snack House offers Keto-friendly cereals with Milk Protein Isolate in 6 flavors.
Banana Maple French Toast
Fruity
Cinnamon Swirl 
Chocolate
Peanut Butter Cup
Wild Berry
Although Snackhouse food's website states that all their cereals are keto, each serving has 9 grams of carbs.
Despite this, Snackhouse cereal puffs make for good alternatives to Optavia as they have similar calorie content and more protein per serving.
Plus, they're fortified with vitamin C, calcium, iron, and potassium.
Nutrition facts
Serving size: 1/2 cup (36 g)
Calories: 125
Total Fat: 6 g
Sodium: 40 mg
Total Carb: 8 g
Sugar: 1 g
Protein: 15 g
Price
Snack House's official website has the same price as Amazon so you can choose which is better for you.
For one box you need to pay $14.99, which is around $2.14 per serving.
If you order directly from their website, you are eligible for 15% off your first order.
7. Magic Spoon Cereal
According to the Magic Spoon website, their cereals "taste too good to be true".
Per serving, they have the same amount of carbs as Optavia cereals but more proteins, which makes them the perfect alternative to Optavia breakfast Fuelings.
They come in eight delicious flavors:
Frosted
Cinnamon Roll
Fruity
Cocoa
Birthday Cake
Peanut Butter
Blueberry Muffin
Maple Waffle
Speaking about the flavors, the frosted and cocoa have more proteins than others.
Nutrition facts
Serving size: 1 cup (37 g)
Calories: 130
Total Fat: 7 g
Sodium: 210 mg
Total Carb: 15 g
Dietary Fiber: 1 g
Sugar: 0 g
Protein: 13 g
Price
Amazon offers a 4-pack of cocoa flavor (5 servings per pack) for $39.96. This equals $2.00 per serving.
Note that prices for different flavors may vary, so check before you decide to buy.
On the contrary, Magic Spoon's official website offers a 4-pack of all flavors for $39.00, which equates to $1.95 per serving.
If you opt for a subscription, a 4-pack costs $29.25.
How to choose Optavia cereal alternative
Below is a simple checklist for selecting low-calorie Optavia cereal replacements on your next grocery run.
I will update this post after further testing and experimentation with different brands.
Check the nutrition label
Look for breakfast cereals with a low-calorie count per serving. I try to limit myself to no more than 100 to 120 calories. 
Watch for sugar
Avoid cereals with high sugar content as they can be high in calories. Choose cereals with 5g or less of sugar per serving.
Look for proteins
I personally recommend avoiding cereals with less than 5g per serving. The ideal choice would be 10-15g of protein per serving (or more).
Consider fiber content
High-fiber cereals can help you feel full and satisfied, making it easier to stick to your calorie goals. Look for cereals with at least 3g of fiber per serving.