My Honest Plexus Review (Is it effective for weight loss?)
Hey! Welcome to our Plexus review!
I've tried many weight loss companies in the past, I understand the frustration of not knowing which ones are trustworthy. But what about Plexus Worldwide?
Although Plexus is a health and wellness company that sells skincare and lifestyle products, they also offer a range of weight loss supplements.
In this Plexus review, we'll take a closer look at Plexus Worldwide and give you an honest review of their weight loss inventory, and their business model, and help you decide whether or not they're worth your time and money.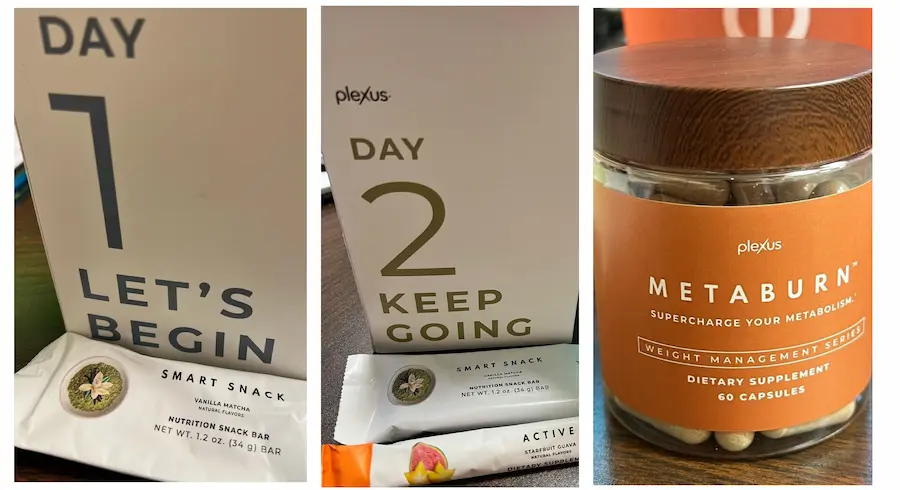 What is Plexus?
Plexus is a multi-level marketing company focused on health and wellness. Founded by Alec Clark, it is based in Scottsdale, Arizona, and has been operating since 1979.
All products are made in the USA. Plexus is not a weight loss company, but rather a supplement company that offers a range of meal replacements to enhance overall health.
Plexus Slim Hunger Control, its flagship supplement, has contributed to its growing popularity. The company claims it can offer a variety of benefits that can help with weight loss and overeating.1
According to Plexus Worldwide:
"Plexus Slim Hunger Control is clinically proven to reduce hunger and aid weight loss. It also supports healthy glucose metabolism and increases feelings of fullness, keeping you satisfied for longer."

Plexus Worldwide
So it does sound promising.
One of the key ingredients in Slim Hunger Control is polydextrose, which is supposed to play a role in helping users feel fuller for longer periods of time. Plus, it can be mixed with water to help with hydration as well.2
Is Plexus safe?
The safety of Plexus products is a controversial topic due to a lack of research and third-party testing. Many customers complain of experiencing side effects such as bloating, gas, nausea, stomach ache, and constipation after taking Plexus products.
There have also been reports of more serious negative outcomes in some cases.
One study published in The Cureus Journal of Medical Science documented a case where a 30-year-old woman developed Primary immune thrombocytopenic purpura (ITP) after taking Plexus Slim.3
However, there's no scientific evidence that proves or disproves the link between these adverse reactions and the use of Plexus supplements.
It's advisable to avoid them if you're currently pregnant or breastfeeding or are under 18 years old.
Similarly, if you have any underlying health issues such as kidney problems or diabetes, it would be better to err on the side of caution by avoiding these supplements altogether.
Plexus is not FDA approved
It's important to note that Plexus is not FDA approved. This is because it is marketed as a supplement, rather than a drug or medical device, and the FDA can only approve drugs or medical devices.4
While supplements do have to be regulated by the FDA, they cannot be approved as effective for weight loss or any other specific medical condition. This means that companies like Plexus are responsible for ensuring the safety and effectiveness of their own products.
It's also worth noting that in June 2020, Plexus received a warning from the Federal Trade Commission regarding health claims related to coronavirus.
The FTC reviewed social media posts made by Plexus business opportunity participants or representatives that unlawfully advertised that certain products treat or prevent COVID-19.5
Overall, it's important to be cautious when it comes to any supplements or products and to do your own research and consult with a healthcare professional before trying anything new.
Plexus donated over 35 million meals
Despite facing criticism, Plexus has made a significant positive impact on the community. They have donated over 35 million meals to families experiencing food insecurity in the USA.6
"Seeing the people affected by food insecurity is incredibly humbling," says Alec Clark, President and Founder of Plexus Worldwide.
What's more, Plexus employees also got involved. Over 160 employees volunteered at local food banks in the Phoenix Metro area in 2022.
How does Plexus work?
Plexus weight loss supplements work by utilizing a variety of natural ingredients to help you reach your desired weight.
The supplements contain active ingredients such as:
Green coffee bean extract
Citric acid
Chlorogenic acids
Chromium polynicotinate
L-theanine
Caffeine
Rhodiola Rosea
According to Plexus, these ingredients can boost metabolism, curb hunger, and regulate blood sugar levels.
Apart from individual products, Plexus also offers three weight loss packages called "combos" such as:
Weight Loss Basics
Weight Loss Plus
Weight Loss Advanced
When you purchase a combo, you'll receive a variety of products included.
Lean is a protein powder available in chocolate or vanilla flavors and either whey or vegan protein. Plexus suggests replacing two meals per day with Lean for weight loss.
Slim Hunger Control and Microbiome Activating powders claim to suppress appetite and support gut health, respectively. Mix with water and consume before meals twice a day.
MetaBurn capsules claim to support fat burning and boost energy levels. Take one capsule twice daily.
Active and Hydrate drink mixes are included in the Plus and Advanced combos. They're designed to boost hydration or energy levels and can be consumed at any time.
Although there's no extra discount for buying combos, the company does provide a 60-day money-back guarantee.
Keep in mind, this guarantee can only be used once per product, and some promotional items may be excluded.7
While there are instructions for use, there are no guidelines for how long to continue taking these products, even after reaching weight goals.
Plexus pros and cons
Pros
Potentially can help with weight loss
Convenient to take by mixing with water
Programs include exercise workouts, recipes, daily tips, and motivation to maintain a healthy lifestyle. 
Wide selection of products (Plexus offers more than 25 products)
You get discounts when signing up for a VIP customer subscription.
Cons
You don't know exactly what and how many of the ingredients are included in their proprietary blend.
No scientific research confirms the efficacy of the products.
Can be expensive.
Plexus uses a multi-level marketing (MLM) business model, which can be problematic for some people.
How much does Plexus cost?
The cost of Plexus varies from $49 to $347 per month, depending on the products purchased.
Plexus Weight Loss Basic is priced at $155.95, while Weight Loss Advanced can cost up to $322.00 for a 30-day supply.
The table below shows you the current prices for the Plexus Worldwide weight loss supplements and combos.
Combo
Products included
Price
VIP price
Weight Loss Basics – Lean Whey
1 bag Lean Whey
30 packets Slim Hunger Control or Microbiome Activating
60 capsules MetaBurn
$172.00
$135.00
Weight Loss Basics – Lean Vegan
1 bag Lean Vegan
30 packets Slim Hunger Control or Microbiome Activating
60 capsules MetaBurn
$181.00
$142.00
Weight Loss Plus – Lean Whey
2 bags Lean Whey
30 packets Slim Hunger Control or Microbiome Activating
60 capsules MetaBurn
2 bags Active (15 packets) or Hydrate (20 packets)
$265.00
$205.00
Weight Loss Plus – Lean Vegan
2 bags of Lean Vegan
30 packets Slim Hunger Control or Microbiome Activating
60 capsules MetaBurn
2 bags Active (15 packets) or Hydrate (20 packets)
$286.00
$221.00
Weight Loss Advanced – Lean Whey
2 bags of Lean Whey
30 packets Slim Hunger Control or Microbiome Activating
60 capsules MetaBurn
30 packets Active or 40 packets Hydrate
60 capsules BioCleanse
60 capsules ProBio 5
Weight Management and Beyond Booklet
$289.95
$219.95
Weight Loss Advanced – Lean Vegan
2 bags of Lean Vegan
30 packets Slim Hunger Control or Microbiome Activating
60 capsules MetaBurn
30 packets Active or 40 packets Hydrate
60 capsules BioCleanse
60 capsules ProBio 5
Weight Management and Beyond Booklet
$322.00
$247.00
Plexus Slim and Plexus MetaBurn
30 packets Slim Hunger Control or Microbiome Activating
60 capsules MetaBurn
$138.00
$110.00
Source: https://shop.plexusworldwide.com/products/weight-management
Note that VIP customers receive a discount of up to 25% off these prices, and all customers can sign up for a monthly subscription with a 10% discount after the first two consecutive subscription orders.
Where Can I Buy Plexus?
The place to purchase Plexus products is directly from their official website. In fact, Plexus was banned from Amazon due to concerns about the company's questionable marketing practices, safety issues, lack of scientific evidence, and reports of adverse effects associated with their products. These factors led to the decision to remove Plexus from the platform to protect consumers.
Plexus products review
Although Plexus offers over 25 products, this review only focuses on weight loss supplements. We didn't include their lifestyle or skincare products.
Plexus Lean
Plexus Lean is a meal replacement shake that boasts an impressive list of ingredients including whey protein concentrate, prebiotic fiber, and digestive enzyme blend.
Here's the photo of the Plexus Lean powder.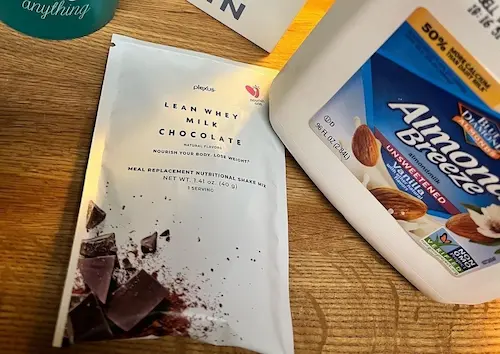 While I appreciate the convenience of Plexus lean whey sachets being portion-controlled at 40 grams per serving, the limited flavor options of only chocolate and vanilla leave something to be desired.
According to the Plexus website, the Plexus Lean is designed to keep people feeling full throughout the day, reducing daily caloric intake which can lead to effective weight loss or maintenance.
Nutritionally speaking, one serving size of Plexus Lean contains 170 calories, with 6 grams of fat (2 of those being saturated fat).
It also has 21 grams of rBGH-free protein per serving, including branched-chain amino acids like leucine, isoleucine, and valine.
This makes it fairly low in calories and fat when compared to other products within the same category on the market. Additionally, it offers bioavailable forms of 21 vitamins and minerals, including highly bioavailable folate.
Plexus Slim Hunger Control
Plexus Slim Hunger Control is a popular weight loss supplement that is part of the Plexus Slim line of products.
Here's the photo of the Plexus Slim Hunger Control supplement.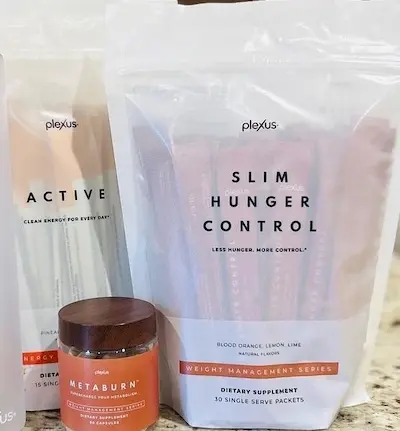 This powder contains 200 mcg of Chromium to reduce cravings and 6,250 mg of polydextrose.
Polydextrose is a type of soluble fiber that helps with digestion and weight loss by regulating blood sugar levels and suppressing hunger.8
The Plexus website claims that their Slim Hunger Control supplement is clinically proven to aid in weight loss.
They also assert that it can reduce hunger, promote healthy glucose metabolism, enhance satiation and satiety, and support hydration when mixed with water.
However, no evidence or studies are provided to support these claims.
Plexus Slim Microbiome Activating
Plexus Slim Microbiome Activating contains prebiotics called xylooligosaccharides (XOS) instead of polydextrose.
Here's the photo of Plexus's slim microbiome activating dietary supplement.

Plexus claims that its product aids in the efficient absorption of essential vitamins and minerals from food.
They also state that it "supports the overall health of your gut and digestion by combating harmful bacteria that can disrupt the digestive process and produce toxins."
Plexus MetaBurn
Plexus MetaBurn is a capsule that claims to burn fat and reduce abdominal fat.
Here's the photo of my Plexus MetaBurn supplement.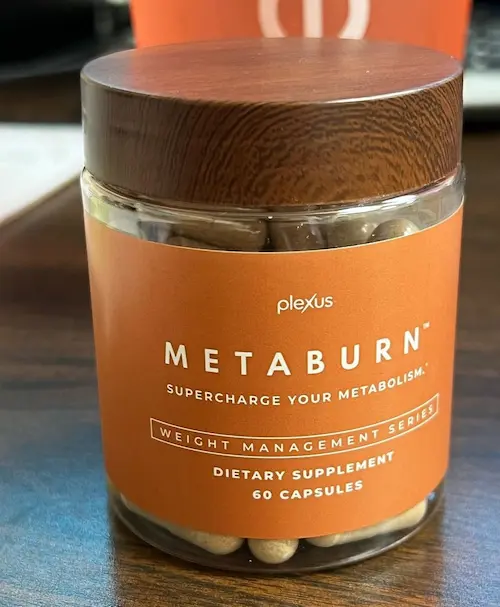 The company touts MetaBurn as a revolutionary blend that boosts metabolism and reduces stubborn fat from hips, thighs, and waist. MetaBurn uses exotic botanicals and extracts to deliver a fat-burning metabolism boost.
Plexus Block
Plexus Block is another supplement marketed to lower the glycemic index of food and reduce carbohydrate absorption.
Here's the photo.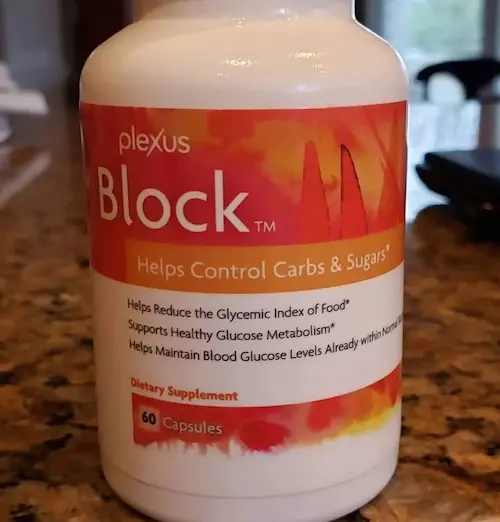 The company claims that Block can immediately reduce sugar and carbohydrate absorption.
Its clinically-tested ingredients reduce glucose production and support normal blood glucose levels while allowing the absorption of essential nutrients.
Plexus for weight loss
On the one hand, social media is filled with Plexus weight loss reviews, success stories, and body transformations attributed to Plexus weight loss supplements.
On the other hand, there is a shortage of human studies and scientific evidence to support their claim.
Even after scouring all the general databases for published medical research, including PubMed and Google Scholar, I wasn't able to find any citations for studies on Plexus Slim or any product containing its proprietary blend of ingredients could be found.
So, is Plexus effective for weight loss?
Does Plexus make you lose weight?
Plexus's weight loss plan includes replacing two meals a day with one of their shakes, and each serving clocks in at around 140 calories when mixed with water and 230 calories when mixed with nonfat milk.
In this regard, Plexus does make you lose weight if you use it as a meal replacement. Studies have shown that meal replacement programs lead to greater weight loss after 1 year compared to other weight loss programs.9
The Journal of the Academy of Nutrition and Dietetics conducted a meta-analysis. The study included 22 different studies with almost 2,000 overweight or obese people.
The results showed that using meal replacements led to more weight loss than simply eating less food.10
Participants who got at least 60% of their daily energy from meal replacements lost even more weight. This finding can be used as a strategic advantage for those seeking to lose weight.
So, using Plexus as a meal replacement could be effective for weight loss, but there is no specific evidence to support the effectiveness of the Plexus supplements themselves.
What happens when you stop taking Plexus?
The effects of Plexus on weight loss really depend on you and the effort you put into maintaining your weight loss.
Taking Plexus Slim and Lean does create a calorie deficit so the longer you maintain this routine, the more weight you may lose.
However, when you stop taking Plexus and go back to your old eating habits, you'll likely gain the weight back.
So, it's really important to be mindful of what you're eating and to maintain an active lifestyle to keep the weight off.
But if you continue to make healthy choices and add physical activity to your routine, you can definitely keep the weight off.
Lawsuits
The Environmental Research Center recently filed a lawsuit in California against Plexus for levels of lead that exceed Proposition 65 limits.11
Prop 65 sets contaminant limits on food and supplement products sold within the state, which are often lower than standards set by other countries or organizations.
It is unclear if the lawsuit contains any evidence of how much lead was present in Plexus's products.
However, it is definitely not a good sign when a supplement company is being sued over contaminated products.
Plexus customer reviews
Plexus Worldwide has been in business for 16 years and is accredited by the Better Business Bureau since December 2019. Their 3.55 out of 5 average ratings are based on 94 customer reviews.
Some customers have had great experiences, like one wholesale consumer who's been using their products for 8 years and is very happy with everything they've tried.12
But, there are also some complaints.
In the last 3 years, they've had 57 customer complaints, and in the last 12 months, they've had 18 complaints.
One customer had an ongoing issue with the company.13
They've been trying to cancel their membership for a while now, and even though they've asked multiple times, the company won't cancel it.
They've even been charged extra money to cancel, which doesn't seem fair. It's definitely something to keep in mind if you're considering using Plexus.
Plexus compared to other products
When it comes to health and wellness products, there are a lot of companies out there that claim to offer the best supplements for weight loss, improved nutrition, and overall wellness.
If you're curious about other brands that are similar to Plexus, there are a few that come to mind.
Optavia
Optavia and Plexus may have different products and services, but they have one thing in common – they are both multi-level marketing companies that focus on weight loss.
They offer a range of supplements, meal replacements, and coaching services to help people reach their weight loss goals.
Isagenix
Isagenix is another company that offers a range of health and wellness products, including supplements, meal replacements, and snacks.
They also offer coaching services and support to help people achieve their goals.
Herbalife
Herbalife offers a variety of supplements, shakes, and snacks that are specifically designed to help people lose weight and improve their overall health.
Herbalife was founded in 1980 and has since grown into a global company with distributors in over 90 countries.
They offer a wide range of products, including weight loss supplements, protein shakes, teas, vitamins, and even skincare products.
Of course, there are countless more health and wellness companies with comparable offerings to Plexus. The crucial thing is to conduct thorough research and select a brand that aligns with your health objectives and principles.
The bottom line
Before you start the Plexus weight loss program, keep in mind that no supplement company has been scientifically proven to work as advertised.
Plexus contains ingredients that lack scientific evidence or have concentrations that are too low for effective results.
Carb blockers and stimulants may provide temporary benefits, but they ultimately fail to produce long-term weight loss.
While some of Plexus' ingredients may be beneficial, there isn't enough information available to determine their effectiveness.
References
1 (Plexus Worldwide) https://shop.plexusworldwide.com/product/plexus-slim-hunger-control
2 (Nutrients Journal) do Carmo MM, Walker JC, Novello D, et al. Polydextrose: Physiological Function, and Effects on Health. Nutrients. 2016;8(9):553. Published 2016 Sep 8. doi:10.3390/nu8090553
3 (The Cureus Journal of Medical Science) Graf, C., Elmassry, M., Chu, V. M., Pawar, D., & Tijani, L. (2020). Plexus Slim®-Induced Immune Thrombocytopenic Purpura. Cureus, 12(11), e11413. https://doi.org/10.7759/cureus.11413
4 (Food And Drug Administration) https://www.fda.gov/drugs/development-approval-process-drugs#:~:text=Developed%20and%20Approved.-,FDA%20Approval%3A%20What%20it%20means,risks%20for%20the%20intended%20population.
5 (Federal Trade Commission) https://www.ftc.gov/system/files/warning-letters/covid-19-letter_to_plexus_worldwide.pdf
6 (PRNewswire) https://www.prnewswire.com/news-releases/plexus-worldwide-surpasses-donation-of-35-million-meals-301752073.html
7 (Plexus Worldwide) https://shop.plexusworldwide.com/guarantee?_ga=2.92979540.8985945.1682036319-925000958.1682036319&_gl=1386e7k_gaOTI1MDAwOTU4LjE2ODIwMzYzMTk._ga_DKYGGM0Y9Y*MTY4MjE0OTkxMC42LjEuMTY4MjE1MDIzNS42MC4wLjA.
8 (The BMJ) Macfarlane GT, Cummings JH. Probiotics and prebiotics: can regulating the activities of intestinal bacteria benefit health?. BMJ. 1999;318(7189):999-1003. doi:10.1136/bmj.318.7189.999
9 (Obesity Reviews) Astbury, N. M., Piernas, C., Hartmann-Boyce, J., Lapworth, S., Aveyard, P., & Jebb, S. A. (2019). A systematic review and meta-analysis of the effectiveness of meal replacements for weight loss. Obesity reviews : an official journal of the International Association for the Study of Obesity, 20(4), 569–587. https://doi.org/10.1111/obr.12816
10 (Journal of the Academy of Nutrition and Dietetics) Min J, Kim SY, Shin IS, Park YB, Lim YW. The Effect of Meal Replacement on Weight Loss According to Calorie-Restriction Type and Proportion of Energy Intake: A Systematic Review and Meta-Analysis of Randomized Controlled Trials. J Acad Nutr Diet. 2021;121(8):1551-1564.e3. doi:10.1016/j.jand.2021.05.001
11 (State of California Department of Justice) https://oag.ca.gov/prop65/60-day-notice-2015-00285
12 (Better Business Bureau Customer Reviews) https://www.bbb.org/us/az/scottsdale/profile/weight-loss/plexus-worldwide-llc-1126-15006936/customer-reviews
13 (Better Business Bureau Customer Complaints) https://www.bbb.org/us/az/scottsdale/profile/weight-loss/plexus-worldwide-llc-1126-15006936/complaints#1490825698