Optavia Popcorn vs Skinny Pop: Calories, Price, and Availability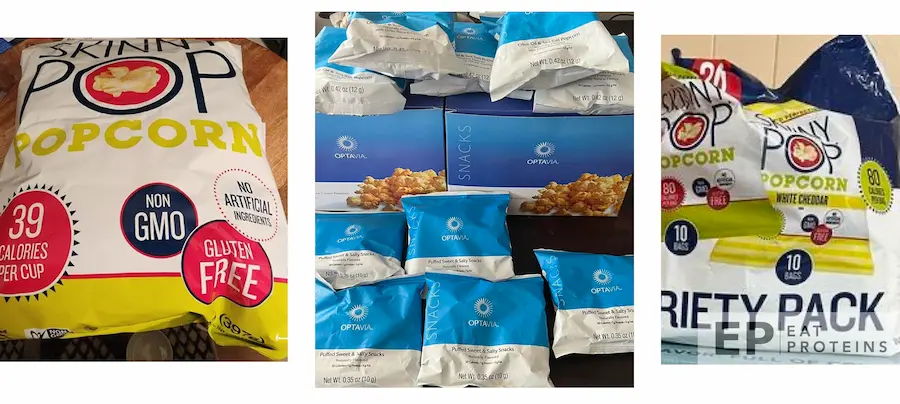 Optavia Popcorn refers to a portion-controlled optional snack offered by Optavia that is available in two flavors and permitted on the majority of Optavia weight loss plans. Skinny Pop, on the other hand, refers to a popular brand of dairy-free popcorn that is made only from 3 ingredients; popcorn kernels, sunflower oil, and salt.
When choosing Optavia Popcorn or Skinny Pop, it should be understood that the primary difference between Skinny Pop and Optavia Popcorn is their price and quality, not their calorie content. Neither one is inherently better, though Skinny Pop is virtually three times cheaper, and has no artificial ingredients.
While both types of popcorn are pre-popped and ready to eat, Optavia popcorn is exclusively obtainable through Independent Optavia coaches. On the contrary, SkinnyPop can be found in various retail stores such as Walmart, Amazon, and Target.
The difference between Optavia Popcorn and SkinnyPop is the cause of much confusion when deciding which one to choose. Despite having the same number of calories, making a decision between the two is not as straightforward as it seems.
What is Optavia Popcorn?
Optavia popcorn is a snack option available in two flavors that can be consumed as an optional snack within the Optavia weight loss program. It is not considered an Optavia Fueling but can be included in the Optavia 5 and 1 plan, Optavia 4 and 2 plan, and Optavia 3 and 3 plans.
Here's the photo of my favorite Optavia popcorn flavor – Olive oil and sea salt.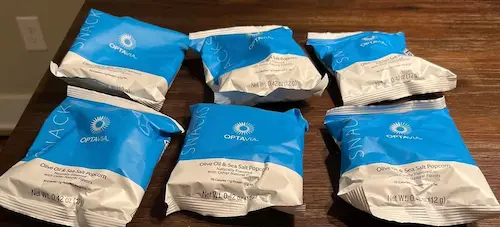 Although I'm not a snack person, popcorn is one of my favorite late-night weight-loss snacks especially when watching a movie.
According to a 2012 study published in the Nutrition Journal by Von Nguyen from the Rippe Lifestyle Institute, popcorn has been found to have positive effects on weight loss.
The study showed that participants reported feeling less hungry, more satisfied, and had lower estimates of prospective food consumption after consuming six cups of popcorn compared to the other snack options.
The ingredients highlight the fundamental difference between Optavia Popcorn and Skinny Pop.
Optavia Popcorn contains vegetable oil (sunflower, canola, and/or corn oil), maltodextrin, whey, salt, nonfat milk, sour cream (cultured cream), cheddar cheese (milk, cultures, salt, enzymes), onion powder, natural flavors, citric acid, lactic acid, paprika extract (color), disodium phosphate, and yeast extract.
In contrast, Skinny Pop stands out with its absence of vegetable oils, GMOs, gluten, or preservatives.
One of the key advantages of Optavia popcorn is its small portion size, weighing only 12 grams per bag. This means you don't get caught up eating more than necessary. Although the bag is small, I find that it's enough to curb my cravings for salty foods.
For me, the primary drawback of Optavia popcorn is its relatively high price. Priced at $11.75 for 7 bags, which is approximately $1.67 per serving, it may be considered expensive compared to other popcorn alternatives.
What is Skinny Pop?
Skinny Pop Popcorn is an American brand of dairy-free popcorn that is made without refined vegetable oils but with olive oil. offers pre-popped and microwave popcorn options. It comes in 8 flavors, including white cheddar, real butter, and salted caramel. Skinny Pop also offers other products such as popcorn puffs and rice cakes.
Here's the photo of one of my favorite Skinny Pop flavors – Cheddar Jalapeno.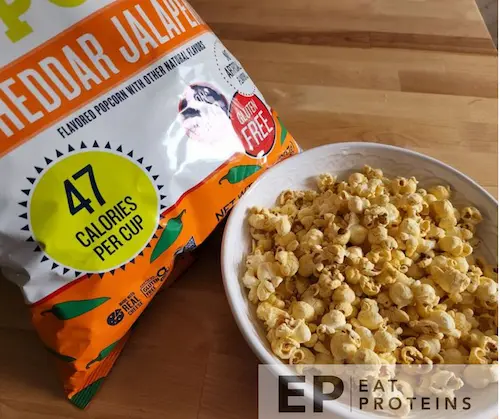 According to American Heart Association, popcorn is considered a healthy snack for weight loss when it is air-popped and lightly seasoned. It is classified as a whole grain and is rich in fiber, which has been associated with a lower risk of heart disease, diabetes, certain cancers, and other health issues.
The dietary guidelines recommend that half of all grains consumed should be whole grains, and popcorn provides more fiber per serving compared to whole-wheat bread.
Maya Vadiveloo, an assistant professor in the Department of Nutrition and Food Sciences at the University of Rhode Island, explains that properly prepared popcorn can be a good snack.
It is stable, affordable, and relatively tasty. For people who struggle to consume enough fruits, vegetables, and other whole grains, popcorn serves as a low-risk snack option.
The Skinny Pop gained attention when Anthony Bass and his wife posted a photo of their daughter holding Skinny Pop amidst a United Airlines controversy.
The main advantage of Skinny Pop Popcorn is its affordability, which makes it a favorable Optavia popcorn substitute. The small bags, which are 0.65 ounces in size, cost only $0.50 each.
Additionally, the larger 6.7-ounce "Party Sized Bag" is priced at $4.67. This translates to a price per ounce of $0.70 for Skinny Pop popcorn. In comparison, Optavia popcorn has a higher price per ounce, approximately $3.95.
That's five times more.
On the contrary, the disadvantage of Skinny Pop is its larger package size, which can lead to overeating.
(No joke.)
A study conducted in 2004 by Barbara J Rolls titled "Increasing the portion size of a packaged snack increases energy intake in men and women" found that people consumed an additional 596 kJ (143 kcal) when they were served the largest snack package compared to the smallest size.
What Are The Differences Between Optavia and Skinny Pop?
The two main differences between Optavia and Skinny Pop Popcorn are macronutrient composition and availability, apart from the aforementioned price.
1. Macronutrient Composition
Here's a table comparing the nutritional values of Optavia Popcorn and Skinny Pop popcorn per serving).
| Nutrient | Optavia Popcorn | Skinny Pop Popcorn |
| --- | --- | --- |
| Calories | 70 | 150 |
| Fat | 4.5g | 10g |
| Saturated Fat | 1.5g | 1g |
| Cholesterol | 0g | 0g |
| Sodium | 100mg | 75mg |
| Carbohydrates | 6g | 15g |
| Protein | 1g | 2g |
| Calcium | 8mg | 2mg |
| Potassium | 27mg | 0mg |
| Other | May contain milk | Dairy-free |
2. Availability
Both Optavia and Skinny Pop popcorn are available only in the United States. They are not widely accessible outside of the USA.
Optavia popcorn is exclusively available to individuals who enroll in one of the Optavia weight loss programs. It can be obtained through an assigned Optavia coach, and there is no option to purchase directly from the website without a coach. It may be possible to find Optavia popcorn for sale through online marketplaces if individuals who are enrolled in Optavia sell them.
Skinny Pop Popcorn is available for purchase online through the Skinny Pop website. They offer discounts for subscription orders. It can also be found in stores such as Costco and Kroger.