Skinny Box vs Optavia (What's the difference?)
If you're looking to maximize your time and minimize what goes into meal planning, the Optavia diet and Skinny Box can help.
The two of them provide convenient meal replacement snacks that require no cooking, plus one cooked meal per day. So what's the difference between them?
This article reviews the differences between the Skinny Box and Optavia diet, the pros and cons of each, as well as which one may be a better option for you.
If you have a health condition, talk to a doctor or dietitian before starting a new diet.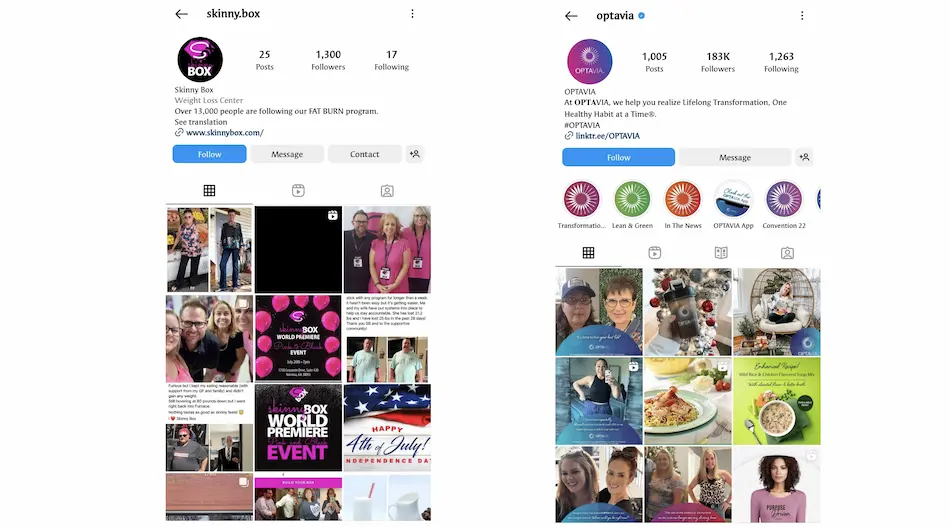 What's a Skinny Box?
The Skinny Box diet is an up-and-coming meal replacement weight loss system that provides you with low-calorie packaged products and requires you to cook one homemade meal.
Skinny Box is among the top Optavia diet alternatives and is ranked at #7, competing with other popular options like NOOM and Nutrisystem.
According to a meta-analysis published in the Obesity Reviews Journal, "programs that include meal replacements help people lose weight better than other programs and should be used to help people who are overweight or obese."
The program offers three levels, all of which involve a mixture of packaged shakes and other snacks known as Skinny Packs.
Level 1 – Fat burn
Level 2 – Furnace
Level 3 – Furious
Skinny Box states that each of their Skinny Packs contains the right amount of calories and nutrients to get your body into a mild ketogenic state.
According to the article published in The Journal of Nutrition, "a diet that helps you reach a ketogenic state is safe for most people. It is a good first step for people who are obese or have diabetes."
Skinny Box pros and cons
Pros
Likely to result in short-term weight loss due to very low-calorie intake.
Easy and convenient to sustain becasue the diet requires minimal food prep.
Cons
The number of calories may be too low to be healthy in the long term, which might cause people to gain back the weight they lost when they stop the diet.
Limits specific types of foods like starchy vegetables and fruits and requires eating mostly processed food with artificial ingredients.
What's the Optavia diet?
The Optavia diet, which is a part of the Medifast group, is a program that helps people lose weight.
It combines packaged foods, homemade meals, and coaching to help people make healthy choices and reach their goals.
According to the randomized controlled trial published in the International Journal of Obesity, "the Medifast diet caused people to lose more weight, have a lower BMI, and have less fat mass compared to the conventional weight loss diet at the end of 26 weeks."
"Furthermore, the Medifast group kept losing weight, having a lower BMI, and having less fat mass after 52 weeks," states the journal.
The program offers a few different plans to choose from.
Optimal Weight 4 and 2 and 1 Plan
Optimal Health 3 and 3 Plan
All the plans include a combination of Optavia Fuelings (which are packaged) and Lean and Green meals (which are homemade).
The Optavia program provides extra help to lose weight or keep weight off.
This includes getting tips and ideas by text message, being part of online forums, having weekly coaching calls, and using an app to track what you eat and how active you are.
Optavia pros and cons
Pros
May promote weight loss by creating a calorie deficit.
This diet is easy to stick to because it requires minimal food preparation.
Cons
The number of calories in this diet might not be enough to maintain healthy weight loss.
Makes people rely on processed foods.
Products
After living an Optavia lifestyle for over 12 months, I cannot help but notice multiple similarities between these two programs.
Optavia offers 70 fuelings, which include shakes, bars, oatmeal, cereals, and other snacks. Most of their fuelings are unified in terms of macronutrients and calories.
Each of the Optavia fuelings has 100-110 calories per serving and includes at least 10 grams of proteins.
Skinny Box has currently 63 Skinny Packs, which are branded products that are high in protein and low in carbs.
Although the menu is very similar to Optavia, Skinny Packs' calorie count can range between 80 to 160 per serving.
To me, it almost feels like Skinny Box products are the copycat of Optavia products.
Price
Although both plans offer similar products, the price for Skinny Box is almost three times less expensive than Optavia.
The price for the Skinny Box diet is $231 per month, plus the initial one-time fee.
The company requires Lifetime Membership and an upfront payment of $100 to enroll in the program.
If you buy a Lifetime Membership for $100, they give you a coupon code for $25 off your first four monthly orders.
On the contrary, the price for the Optavia plan can range between $400–$500 per month, depending on the plan you choose.
The lean and green meal
Apart from eating five small packs/fuelings every 2-3 hours per day, both Optavia and Skinn Box require you to cook one main meal.
According to their program, you should include 5-7 oz of lean protein foods in your one meal a day, as well as include two healthy fats and three servings of low-carb vegetables.
Leans: Fish, chicken, turkey, or beef (98% lean ground).
Vegetables: Broccoli, cauliflower, spinach, asparagus, cabbage, zucchini, squash, spaghetti squash, etc.
Healthy fats: Olive oil, ranch dressing, butter, and cream cheese.
Weight loss results
Optavia, which used to be known as Medifast, is been in the health and wellness industry for over 20 years.
Their weight loss plans appeared in several breaking news, TV shows, and even scientific journals like Nutrition Journal, Obesity Science and Practice Journal, and Behavioral Sciences Journal.
Optavia has also been announced as the fastest-growing health and wellness communities, according to the PR Newswire.
Still, keep in mind that some of the authors from the aforementioned studies that claimed the efficacy of Medifast products have received consulting fees or salaries from the Medifast company.
No independent studies have yet examined the long-term results of the Optavia diet.
On the contrary, Skinny Box doesn't provide any scientific evidence or peer-reviewed articles on the efficacy of its products.
The only "proof" of their effects can be seen on their social media pages like Facebook or Instagram.
Coaching
Optavia offers ongoing coaching support for all of its members.
After you sign up, you will meet with your coach every day for the first 4 days.
Then, you and your coach will decide together how often to meet and how to stay in touch.
Optavia's Coaches are available to help you throughout the weight loss and maintenance programs.
Keep in mind that your coach will get paid when people buy things from Optavia using a link that your coach will give to you.
Plus, Optavia Coaches are not experts on nutrition.
I don't think they should take the place of someone who is credentialed, such as a registered dietitian.
Unlike Optavia, Skinny Box does not offer personal one-on-one coaching and ongoing support. However, they do provide a contact page and online Facebook group for additional help.
The bottom line
When it comes to choosing between the Optavia and Skinny Box diets, there are several factors to consider.
If one of my friends would ask me to recommend her a meal replacement diet, I would suggest comparing the good and bad parts of each diet.
I would also advise her to ask a healthcare provider if either of them is a good fit for her.