What To Do If You Run Out Of Optavia Fuelings
We've all been there. You open up your pantry just to realize that you run out of Optavia Fuelings. Now what?
Let me share my best practical tips and ideas you can do to keep your stock full and never run out again.
We gonna dive (really deep) into online ordering options, checking for your local availability, and finding cheaper alternatives.
Help! I run out of Optavia Fuelings
Relax. Running out of Fuelings doesn't mean you mess up and it won't ruin your results.
Although I always try to stay in control of how many Optavia Fuelings I order (and eat), sometimes they seem to disappear faster than a bag of chips at a party.
According to Optavia guidelines, we should be eating 5 fuelings per day.
And that's what I (normally) do.
However, sometimes life happens and when my cravings kick in, I start to go through my Optavia shakes and bars like they're going out of style.
Instead of getting discouraged, use these tips below to refocus and get back on track with your healthy eating habits.
What to do if I run out of Optavia products
Bulk order
Subscription plan
Order online
Find alternatives
Bulk purchase in advance
One of the advantages of Optavia meal replacement products is their long shelf life.
This means you can order them in bulk in advance for 2-3 months.
Although ordering in advance takes away the stress and worries about having to restock your inventory, it also means you need to spend 2-3 times more money upfront.
Plus, more stock means you need to find some Fueling storage ideas if your kitchen is not big enough to keep everything handy.
Keep in mind that it takes 5-7 days to receive an order of Optavia Fuelings.
To ensure you're on the safe side, make a bulk order at least 1-2 weeks before you're out of stock.
Talk with your coach
If you're running out of Fuelings more often than expected, you may want to speak with your independent Optavia coach about adjusting your fueling plan to better suit your needs.
Adjusting things like the frequency and quantity of orders can help ensure that you always have enough Fuelings on hand when you need them.
Additionally, speaking with your coach can help identify underlying issues related to nutrition and diet that could potentially be causing the shortage.
Although Gwen gives her opinion about why you should not substitute Fuelings, she also gives some decent alternatives available in your local grocery store.
She also discusses different storage options, such as using a mini fridge or an insulated bag, and offers tips on how to pack Fuelings for travel.
Register in Optavia premier subscription
Another way to ensure your Fuelings are always available is to sign up for an Optavia recurring order plan called Premier.
This is Optavia's monthly subscription option that puts you on automatic delivery every month.
According to Optavia Premier:
"As a Premier member, your orders will be automatically shipped monthly to ensure continuous progress. Additionally, making changes to your order is simple and hassle-free."
Although the Optavia Premier membership gives you some perks and freebies, you will be charged the same amount of money every month.
The pros of a monthly subscription are obvious – you will never have to worry about running out of stock.
And unless you have a bad delivery experience, you can rest easy knowing that your supply will be replenished automatically and on a regular basis.
(Think saving time and money.)
On the flip side, a monthly subscription means, well, that you have to pay for it every month.
Additionally, if you find that you no longer need (or want) the product, canceling the subscription may not be as simple as stopping a one-time purchase.
According to BBB reviews, some Optavia customers were being charged despite canceling their monthly orders.
This is a big reason why Optavia is being investigated and sued.
Buying fuelings online
Another way to restock your Optavia inventory is by buying Optavia products online via third-party websites and marketplaces, such as eBay.
This approach can definitively save you some money, as prices from other sellers may be lower than buying directly from Optavia.
I and my wife had to spend almost $800 per month. (Way too much for our little budget.)
So going to Facebook or eBay could save us half of this price.
Here's the photo of the Optavia box that we ordered from eBay.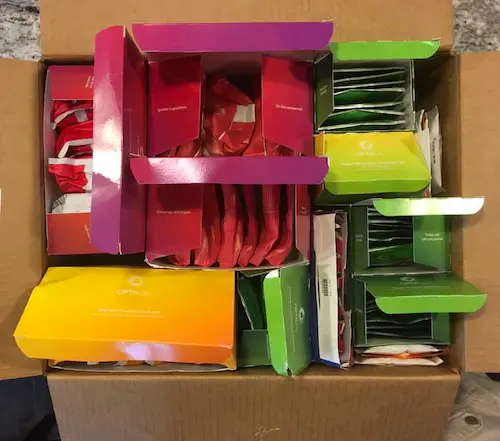 This big paper postage box has over 10 boxes of Optavia fuelings. The total of 80 servings. We bought this box for a total of 160-something dollars – $2 per serving.
However, it's important to note that buying from third-party sellers may not offer the same level of protection as buying directly from the company.
When buying things on online groups and forums, just be careful because of the potential for fraud or scams.
Unlike eBay, people who join online groups don't have any "feedback", "rating", or "customer reviews".
Some may not be legitimate and may not actually have the products that they are listing (seriously).
Or if they have, these products may not always match what is described in the listing.
Use Fueling alternatives
Another way to never run out of Optavia stock is to use products that are similar to their Fuelings, such as shakes, bars, cereals, and hearty options.
One option is to use store-bought fueling alternatives that are cheaper than Optavia but provide identical nutritional value.
For example, one heaped scoop of Premier Protein powder gives roughly 100 calories, 1 carb, and 15g of protein per serving.
Try different brands of protein bars, shakes, and crisps to find one that you like.
Look for promotions and discounts at Amazon or your local grocery stores.
Here's the photo of my Quest protein chips that I often grab if I run out of stock.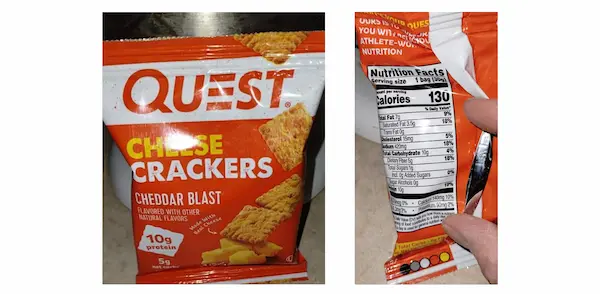 I often keep these chips in my pantry as an emergency inventory.
Once you find the alternatives that you like, keep a list of them and learn where you can purchase them.
This not only can save you money but also prevents you from feeling bored of eating the same food all the time.
Another way is to start making your own homemade meal replacement alternatives from whole foods that you enjoy.
Cooking your own homemade protein bars means you can customize your ingredients based on your needs and preferences.
(I highly recommend this one.)
Alternatively, you can find diets that are similar to Optavia (and much cheaper).
How to never run out of Optavia fuelings again
Despite our best intentions, life can sometimes get in the way and make it hard to keep our Optavia Fuelings stock up to date.
However, there are steps you can take to help ensure you always have enough Fuelings on hand.
Here's a list of things you can do to stay on top of your fueling supply.
Track your Fuelings
Let's face it, Optavia bars and shakes are a lifesaver when those pesky cravings strike or when you need a quick refuel after a workout.
Keeping a stock of them in your pantry or kitchen is crucial.
Use a food journal to write down how many Fuelings you currently have.
With a well-stocked pantry and a well-tracked inventory, you'll never have to worry about being caught without a healthy option again.
Create an emergency list
Make sure to always have a backup.
I like to store some emergency fuelings in the pantry in a separate box or container, for the times I'm running out of stock.
You can also keep there your favorite protein bars and shakes so that you always have something on hand.
I also have to make sure I pay attention to the expiration date, as if I don't, I might end up with a bunch of Fuelings that are past their prime and won't taste as good as they should.
Have Fuelings everywhere
By having a Fueling in my office drawer, gym bag, and car at all times, I'm always prepared for any situation.
Whether I'm running errands, hiking on the weekends, or stuck in traffic during rush hour, I know that I have quick access to something nutritious and convenient.
This way, I don't have to worry about missing meals due to scheduling changes or being unprepared when I'm away from home.
Set a reminders
For those who don't want to sign up for an Optavia Premier Membership, setting up a calendar reminder is a great way to make sure you never miss an order.
You can also write a note and keep it in your fridge with fridge magnets, so you are reminded each time you open it.
This is especially useful if you like to stay prepared and have easy access to nutritious food throughout the day.