List of Dairy Free Optavia Fuelings
Welcome to our dairy free Optavia Fuelings list!
Living with lactose intolerance and trying to stick to an Optavia diet it's brutally hard. Most Fuelings are packed with animal milk, leaving you with unpleasant symptoms, inflammation, or allergic reactions.
Luckily for you, I've done the hard work and put together a list of all Optavia Fuelings with no dairy, ensuring you're well-prepared to weather any storm.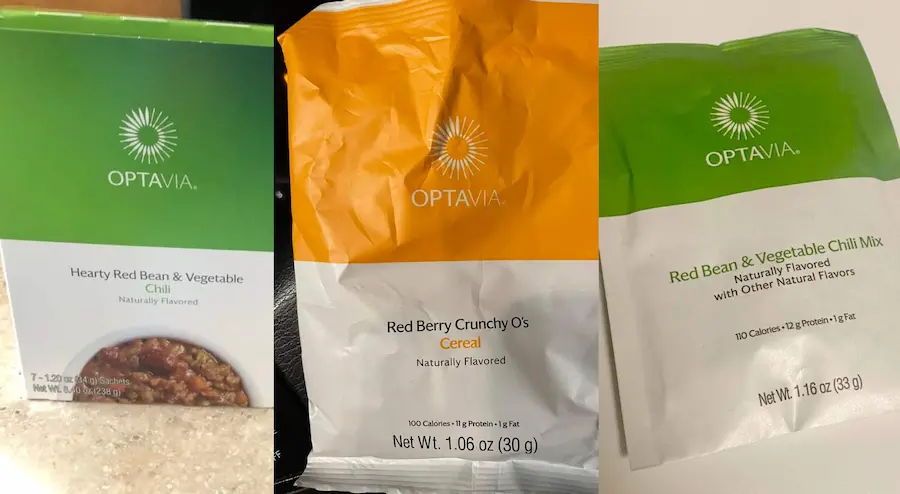 Does Optavia have a dairy-free option?
Yes! Optavia provides dairy-free fueling products BUT you won't get spoiled for choice.
Unfortunately, only eight are dairy free, out of over 70 different Optavia fuelings. Most of the Fuelings contain milk or dairy.
Are Optavia bars dairy-free? No.
What about shakes? Nope.
Only a handful of oatmeal-style, cereal-style, and soup Fuelings are dairy-free.
Fortunately, there are many dairy-free alternatives available on the market today, some of which I've listed in our Optavia fueling substitute list.
These include plant-based milk made from soy, almond, rice, oats, or coconut and other dairy-free products that can be included as ingredients for fueling.
How to check which Optavia fueling is dairy-free?
Listen.
Optavia refines its Fuelings and changes ingredients AT LEAST twice per year.
Feel free to use the list below, but if I were you, I would also learn how to check which Optavia fuelings are dairy free.
Look up the Optavia Claim Sheet. It contains the most up-to-date information on all of the Fuelings, including dairy and other allergens.
Check the box. Each container MUST have a mark that clearly states if this product is dairy-free or not.
Check the fueling sachet. Look at the ingredient list for each Fueling. On the bottom, there should be a list of "Contains". If there is no mention of milk, it is most likely dairy-free.
Look up the kosher symbols. A plain "OU" symbol or "OU-Pareve" symbol indicates a kosher pareve product.
Here's a photo of what dairy-free symbols look like.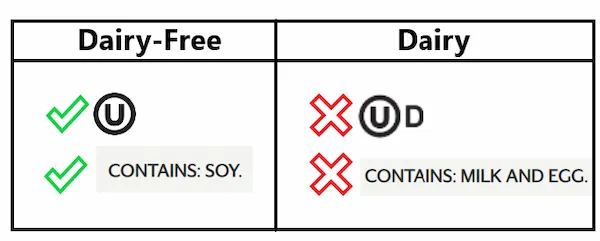 I recommend checking both ways, such as the "Contains" and "OU" symbols, which are usually found together. 
Anyway, below you can see the list of Optavia dairy-free options.
List of Dairy Free Optavia Fuelings
1. Homestyle Chicken Noodle Soup Mix
Guess what?
Optavia Homestyle Chicken Noodle Soup Mix is BACK in stock!
We buy this Fueling for a couple of reasons.
The obvious one is dairy-free (my wife has lactose intolerance, so if she even sniffs anything with dairy, it gives her nasty side effects.)
The least obvious is taste, which is actually enjoyable. Although not on par with homemade chicken soups, it comes quite close.
2. Cinnamon Crunchy O's Cereal
The Cinnamon Crunchy O's Cereal is the next dairy-free fueling on the list.
According to Optavia information, this fueling is high in protein, low in fat, and full of antioxidant vitamins A C, and E.
It does not contain colors, flavors, or sweeteners from artificial sources.
What it does have is a taste that motivates and energizes you to get going and make the most of your day ahead.
To enjoy this cereal just add some dairy-free Optavia approved milk and enjoy your breakfast!
2. Maple & Brown Sugar Oatmeal
Another hearty fueling option from Optavia's dairy-free range is their Maple & Brown Sugar Oatmeal.
The ingredients?
Brown sugar, canola oil, and cane sugar balance out the flavors for a sweet finish, while oat fiber and soy lecithin add texture and mouth-feel.
Actually, for me, it felt a bit TOO SWEET.
At the same time, this Fueling doesn't contain colors, flavors, or sweeteners from artificial sources.
3. Apple & Cinnamon Spiced Oatmeal
You will love this one!
The combination of apples and cinnamon provides a sweet and spicy flavor.
Easy to prepare AND to hack with other low-calorie foods.
Pour 1/2 cup of water into a microwave-safe bowl.
Add a sachet of Apple & Cinnamon Spiced Oatmeal.
Chop the coriander or other low-carb veggies into tiny pieces.
Add 1 oz of cooked chicken (optional).
Add some spices like jalapeno, chili, or peppers.
It almost feels like eating sweet and spicy congee.
This little trick makes this fueling not only SUPER tasty but also leaves me satisfied for hours.
4. Red Berry Crunchy O's Cereal
Another dairy-free cereal fueling that you might want to consider is Red Berry Crunchy O's Cereal.
I must admit – this one is NOT my favorite.
(I'm more of an oatmeal guy.)
Do you know Kellogg's Fruit Loops? That's what I feel when I eat Optavia Red Berry Crunchy O's Cereal.
Although it's made with natural sweeteners, for me these cereals are excessively sweet and leave a terrible metallic aftertaste.
But if sweet is what you're looking for, go ahead!
It will give you that extra burst of energy to power through your mornings and make every single day count.
5. Smoky BBQ Crunchers
(Finally something not too sweet!)
Pound for pound, this is BY FAR the best-tasting dairy-free Optavia snack! It's like eating high-protein Flamin Hot Cheetos, but without getting your fingers red from cheeto dust.
Not only taste good but it's also packed with nutrients. The only problem I have is they leave me quite hungry. And it's kind of hard to make a Fueling hack…
Anyway, if you fancy something spicy, add Smoky BBQ Crunchers to your dairy-free Optavia 5 and 1 plan.
6. Red Bean & Vegetable Chili Mix
Red Bean & Vegetable Chili is ideal for those days when comfort food is on the agenda.
It has textured soy protein concentrate, tomato powder, soy protein isolate, and modified food starch.
I know it sounds synthetic, BUT it's actually super tasty.
It has those crunchy flavorful carrots and peppers.
There is one problem.
According to Optavia Product Update from February 24, this fueling is out of stock… What's even worse, the company doesn't say if they put it back on sale.
My advice?
Look up other places to buy Optavia fuelings, or check out the list of alternative snacks.
8. Wild Rice & Chicken Flavored Soup Mix
What can I say…
Another soup.
Although no dairy, this one does have soy protein. It also has carrots, celery, onion, peas, and mushrooms, which actually taste not bad.