Optavia vs Ideal Protein (What's the difference?)
I've been doing the 5 and 1 Optavia plan for over a year now, and I have to say that I'm really happy with the results.
I was curious to see how this would compare to the Ideal Protein diet, which I had also been interested in.
So, I decided to try out both diets for a while and see which one worked better for me.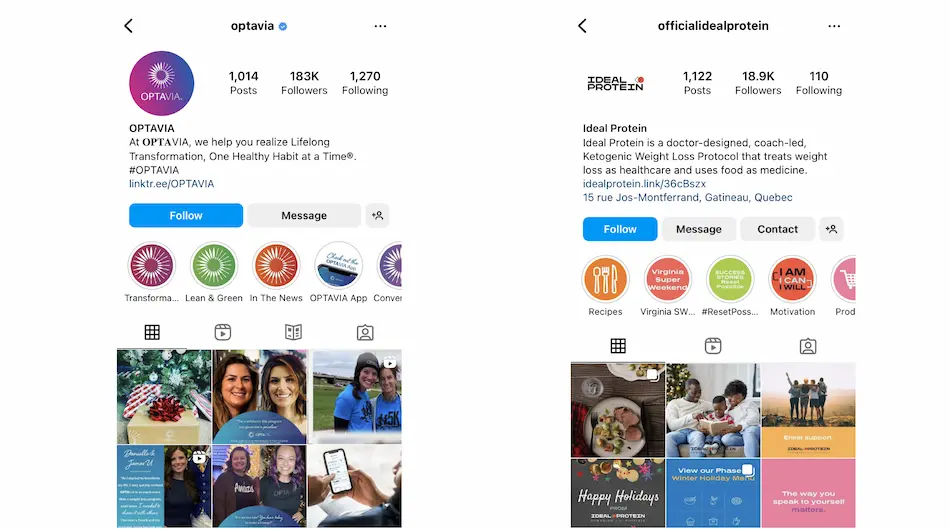 What is the Ideal Protein diet?
The Ideal Protein Diet is a diet plan that is low in calories and carbs and high in protein. Like in most of the Optavia alternatives, you are only allowed to eat certain foods on this diet.
The Ideal Protein Weight Loss Method has been developed to help achieve desired weight safely and healthily, very similar to the ketogenic diet.
"Ketogenic diets help people lose weight and lower their blood sugar levels. Some studies have also shown that these diets can improve insulin sensitivity," according to the data from the Frontiers in Nutrition Journal.
However, the Ideal Protein Diet is different from other ketogenic diets because it also restricts fat intake. People who support the diet say that this helps the body burn fat more effectively.
The program offers three-step processes – losing weight, then keeping it off.
Weight loss plan (phase 1)
Stabilization part (phase 2)
Maintenance part (phase 3)
Dr. Tran Tien Chanh, which is a co-founder of the Ideal Protein Protocol, says "phase 1 is about getting the body used to fat burn via the safe form of ketosis where the body burns fat for energy, rather than carbohydrates".
Dr. Tran Tien Chanh explains that "Ideal Protein Weight Loss is a medically designed protocol that results in fat loss while sparing muscle mass".
Ideal Protein pros and cons
Pros
Can potentially provide a solution for those looking to lose weight quickly.
Maintaining this diet requires minimal food preparation.
May help to maintain healthy levels of both blood sugar and lipids.
Cons
This diet contains a lot of processed and packaged foods.
It can be very expensive. The cost of Ideal Protein diet averages $16 per day.
The company uses coaches who may not have any formal education in nutrition.
What's the Optavia diet?
Optavia, a subsidiary of Medifast, is a weight-loss program that provides meal replacement and helps to guide people towards better health.
It includes nutritionally-balanced pre-packaged meals called fuelings, homemade Lean&Green meals, and personal coaching.
According to the article published in the Eating and Weight Disorders Journal, "the weight loss program that uses Medifast meal-replacement supplements helped people lose a lot of weight, and they kept the weight off for at least one year."
"The results were better than what is usually seen with other programs that help people lose weight, both in the short term and the long term," states the journal.
The program offers a few different plans to choose from.
Optimal Weight 5-and-1 plan
Optimal Weight 4-and-2-and-1 plan
Optimal Health 3-and-3-plan
In addition to the products, Optavia offers coaching calls available for anyone needing help in areas like food tracking and remaining active.
Through the use of their dedicated app, you can engage in self-directed learning while also accessing resources related to diet and exercise.
Optavia pros and cons
Pros
May be beneficial for achieving a healthy weight.
This diet offers a solution for people looking to keep their meal prep time low, without sacrificing nutrition.
Cons
This diet may not provide sufficient caloric intake to sustain a healthy rate of weight loss.
It requires consuming five processed meals a day, which may be an unsustainable lifestyle for long-term health.
Price
Although Optavia provides more snacks per day, the price for the Ideal Protein diet is almost 25 percent higher.
The price for the Ideal Protein diet (phase 1 weight loss) is around $135 per week ($540 per month) and includes the cost of products, supplements, and coaching visits.
Plus, there is an initial startup cost of almost $400, which includes:
Your initial consultation in one of the authorized ideal protein centers (mine was done in the ChiroFit Miami).
Health assessment.
Weekly body scans using the InBody body composition analyzer.
All in all, you need to be prepared to spend $800-$900 in your first month on the Ideal Protein diet.
On the contrary, Optavia's weight loss program costs are in the range of $400–500 each month, depending on the plan you choose.
Meals
Having embraced an Optavia lifestyle for over a year, I have come to identify various parallels between these two programs.
In both Optavia and Ideal Protein diets, a big chunk of my calories comes just from one dinner.
For the Ideal Protein diet, I had to include 8 oz (225 grams) of lean proteins like seafood, beef, fish, poultry, pork, or veal.
Although this program allows you to eat an unlimited amount of raw vegetables (like cucumbers or lettuce), other veggies like tomatoes or beans should be limited to 2 cups per meal.
Unlike the Optavia plan, with the Ideal Protein diet I had to take 4 different supplements each day:
Multi-Vitamin
Cal-Mag Supplement
Omega-3 Plus Supplement
Potassium Supplement
According to the Optavia diet plan, I can have 5-7 oz of lean protein foods, 3 servings of veggies, and 2 healthy fats.
Protein: Fish, seafood, poultry, pork, veal, beef
Low-carb veggies: Alfalfa, asparagus, bamboo shoots, bean sprouts, bell peppers, broccoli, cabbage, cauliflower, celeriac, celery, etc.
Healthy fats: Olive oil, ranch dressing, butter, and cream cheese.
Although my lean and green meal times are random, I like to eat my five fuelings according to the schedule, ideally every 2-3 hours.
With the Ideal Protein diet, I only had to eat 4 times per day.
Products
Apart from one main dinner per day, both the Optavia diet and the Ideal Protein diet are based on the principle of fueling your body with small snacks.
Optavia offers a variety of fuelings to keep you fueled and nourished throughout the day. They include shakes, bars, desserts, oatmeal, and cereals.
Each of their fuelings has 100-110 calories and 10-15 grams of proteins.
The Ideal Protein meals include breakfast oatmeal, pancakes, cereals, bars, shakes, and salty snacks.
The calories range between 80-270 per meal, depending on the type of meal.
Although most of the Optavia and Ideal Protein meals are high in protein, both of these companies use soy protein isolate.
Most evidence suggests that soy products are safe, but some experts say that soy can cause side effects like constipation, bloating, and nausea.
It can also cause allergic reactions like rash, itching, and breathing problems in some people.
Weight loss results
You can read several success stories of Optavia independent coaches that appear left and right in numerous TV shows and online magazines.
Monica Rose Villarreal used to weigh 310 pounds and steadily lost 167 pounds. Now she weighs 143 pounds, which is the same weight she was when she was 8 years old, according to People Magazine.
Sussy and Wes Hunter lost more than 300 pounds and appeared in the TODAY television show.
According to the article published in the Nutrition Journal, "the Optavia 4 & 2 & 1 Plan was good for losing weight, keeping muscle, and improving heart health in a lot of different people who are overweight or obese."
Most people could do this plan without any problems.
In a study that lasted for 3 months, researchers compared the Ideal Protein system to a low-calorie low-fat diet.
They found that the Ideal Protein system resulted in significantly more weight loss for men and women who were obese and had additional risk factors for heart disease.
Even though some studies say that Optavia and Ideal Protein products work, it is important to remember that the authors of those studies were paid by either Medifast or Laboratoires C.O.P. Inc.
No independent studies have looked at the long-term results of both diets yet.
Coaching and support
Whenever you choose Optavia or Ideal Protein, both programs include ongoing coaching support.
In fact, you cannot start any of their plans without first signing up with a coach.
Also, your Optavia coach will earn money when people buy things using a special link that your coach will give to you.
On the contrary, the Ideal Protein diet gives you support from a professional healthcare worker or a trained consultant.
They offer weekly body scans and body composition checks.
But be aware that the people helping you might not have been properly trained in nutrition and weight loss counseling.
Unlike Optavia, which is a multi-level marketing scheme, Ideal Protein doesn't recruit you to continue promoting its products.
The final word
If you are trying to decide between the Optavia and Ideal Protein diets, there are a few things to think about.
If somebody asked me which diet they should choose, I would tell them to look at the pros and cons of each one.
I would also tell them to ask their doctor if either of these diets is a good option for them.