Optavia Approved Frozen Meals List
Are you looking for an easy way to eat a well-balanced meal with minimal effort? If so, look no further.
I've tried out some of the commonly available frozen meals to see if they meet the requirements of Optavia's calorie-controlled diet.
After sampling and testing several items from different brands, I can safely say that there is a wide range of options with high protein and low-calorie counts.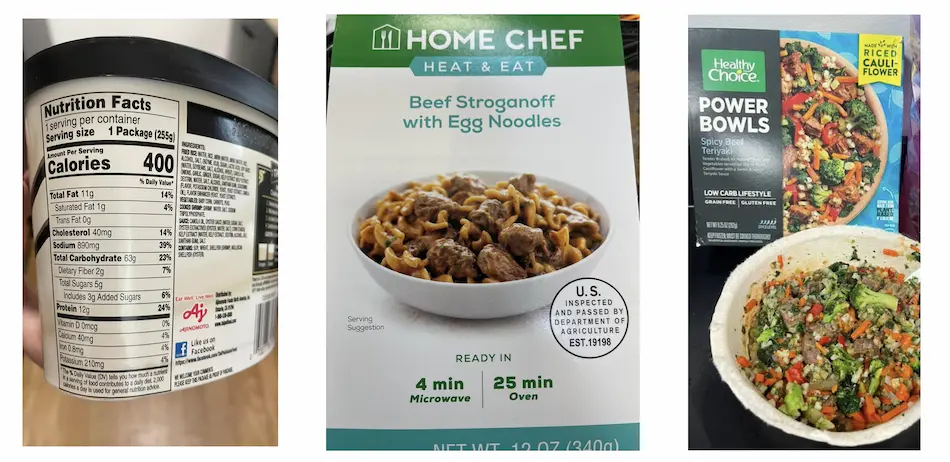 A few words about frozen meals
With my hectic lifestyle, it is not always easy to adhere to the Optavia friendly food list, making time for grocery shopping, meal prep, and home cooking.
For me, frozen portion-controlled meals offer a decent alternative.
Being able to control how much I eat is important for losing weight successfully.
And one way to do this is by eating packaged frozen meals.
According to the article published in the Obesity Research & Clinical Practice Journal, "eating portion-controlled meals led to greater weight and fat loss, compared to people who followed a conventional diet."
So frozen meals may be a viable option, especially for time-crunched individuals who follow the Optavia diet and may not have time to prepare meals.
Some food options are packed with good stuff like vitamins, minerals, and proteins.
Here's the photo of Quest Thin Crust Pizza, one of the few frozen pizzas allowed on the Optavia program.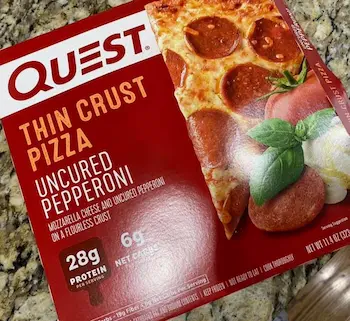 This one has 330 calories and 28 grams of proteins per serving. And it only has 6 grams of net carbs.
Other options have more calories, saturated fat, or added sugars than I don't want.
Here's the photo of Tai Pei frozen Asian-style shrimp fried rice.
This one has 63 grams of carbohydrates and 400 calories per serving, with only 12 grams of proteins.
To ensure that you are getting the most out of your frozen meals, it's essential to read the nutrition labels and ingredient lists.
Although I often use frozen meals as my occasional Optavia fueling substitute, I mix them up with different fresh whole foods to ensure I'm getting an adequate variety of nutrients.
Does Optavia have prepared meals?
While Optavia doesn't have frozen meals, they offer Flavors of Home packaged meals.
Although I'm not a huge fan of their prepared meals, they provide a convenient and healthy option for those looking to easily control their calorie intake.
With only 290 calories per meal and 26 grams of protein, these ready-to-eat packaged dishes make eating on the go enjoyable without sacrificing nutrition.
Your wallets may feel it at $5.25 each!
What frozen meals can you have on Optavia?
Luckily with the right frozen meal options, you can enjoy your convenience without sacrificing quality.
There are plenty of cheaper and more nutritious options on the market.
The following store-bought Optavia approved frozen foods are packed with essential vitamins, minerals, and fiber that won't break the bank or leave you feeling hungry.
1. Healthy Choice Grilled Chicken & Broccoli Alfredo
Grilled Chicken & Broccoli Alfredo from Healthy Choice is easily my favorite convenience meal.
Not only does it taste great, but it also packs 4 grams of fiber and 28 grams of protein for just $3.42 per meal.
Compared to many other convenience meals on the market, this one has 8 grams of carbohydrates (or less) and 190 calories (1).
If I eat it as my Lean & Green meal, I like to pair this with some extra protein sources such as nuts, chicken, or yogurt.
If it's my fueling alternative, I ensure to either skip one fueling later (or before) in the day or subtract 100 calories from my lean and green meal.
2. Lean Cuisine Steak Portabella
I like Steak Portabella from Lean Cuisine for many reasons.
For me, it's the perfect quick meal since the pre-seasoned beef broth gives it great flavor and I don't need to use additional condiments, apart from salt and pepper.
I don't use it as my Lean&Green meal. Instead, I only have it as an Optavia bar replacement.
I appreciate it only has 160 calories, 13 grams of carbs, and (if that matters) 3 points on Weight Watchers (2).
Although it costs $3.58 per meal, I often use it because of the 18 grams of protein and the convenience it provides me.
3. Veggies Made Great Spinach Egg White Frittata
Unlike some of the Optavia fuelings, Spinach Egg White Frittata from Veggies Made Great doesn't make me feel bloated or constipated.
I love that it has only 70 calories and 2 points on WW (3) so it's the perfect way to stick to my daily calorie goal.
I often buy Veggies made great Spinach Egg White Frittata in bulk from Walmart at $5.98 per 6 pieces.
That's $0.99 per meal!
I'm a huge fan of protein-rich breakfasts, so I often cook it with 2 extra egg whites on the side.
On top of all these great aspects, I like knowing that this product is allergy-friendly, gluten-free, soy-free, peanut- and tree nut-free with many dairy-free options.
4. Quest Thin Crust Frozen Pizza
Another great choice for Optavia-compliant frozen meals is Quest Thin Crust Frozen Pizza, especially the 4 cheese flavor.
Although I haven't included Quest Nutrition bars in my best Optavia bars alternatives, I honestly fall in love with their Thin Crust 4 Cheese Pizza.
Sure, for the price of $7.48, you only get one meal that has 760 calories (4).
However, it's packed with 54 grams of proteins and 74 grams of fiber, so I often share half of this frozen pizza with my wife as our Optavia lean and green meal alternative.
To make it even cheesier, we sprinkle parmesan and add a few slices of gorgonzola, both of which are Optavia-friendly cheeses. 
While this frozen pizza has been fortified with 480 mg of calcium and 600 mg of potassium per serving, be careful becasue it also has 770 mg of sodium.
So keep that in mind.
5. Real Good Foods Low Carb Chicken Nuggets
Real Good Foods has several Optavia (and Medifast) approved low-calorie frozen meals that include breakfast bites, sandwiches, chicken breast strips, and more.
My favorite one is low-carb chicken nuggets.
Although each serving has 170 calories and 23 grams of proteins, they are easy to share.
I like that Real Good Foods Chicken Nuggets are made of 100% chicken breast coated with chickpea flour, which is unlike most of the Optavia bars.
(I try to stay away from soy protein isolate.)
It was not expensive either.
Coming in at only $7.98 per bag, at $1.6 per serving, it's a great Optavia fueling (or snack) alternative, free from unhealthy fillers and preservatives.
6. Life Cuisine Chicken Enchilada Bowl
Although most Life Cuisine frozen meals have over 400 calories per serving, the Chicken Enchilada Bowl has 350 calories and 22 grams of proteins.
I must confess – it's also extremely tasty and quite filling. And becasue it's frozen, I like to have 1-2 packs in my freezer – just in case.
At $4.18 per serving, I can certainly share this meal with my wife, without breaking the bank.
That said, I would not build my entire meal plan around these meals. No way.
The fact that this meal has 41 grams of carbs and 700 mg of sodium makes it more of a treat than a staple.
7. Scott & Jon's Garlic Butter Shrimp Rice Meal
Although I like to keep a couple of boxes of Scott & Jon's rice meals in the freezer, I don't use this one as a fueling replacement.
It has too many carbs (39 grams) and not enough proteins (16 grams).
Instead, I prefer to use it as my Lean and Green meal and add more seafood or shrimp (as long as we have some leftovers).
This adds more proteins to the meal.
Coming in at 250 calories per serving, I don't have to worry about over-indulging, even if I add any leftovers from our Optavia fish recipes.
To make it taste better, we like to add spices like ginger, garlic, or other zero-calorie condiments.
Plus, I may use low-calorie salad dressings just to add some authentic Asian-style flavor without feeling weighed down by an overly hearty sauce.
How to choose Optavia approved frozen meals?
Okay, so you went through the list above and you haven't found any items that you like?
No worries.
Here are some general tips on how to choose Optavia-friendly frozen meals on your next grocery shopping trip.
Watch out for calories: Choose frozen meals that have the right amount of calories for you. If you want fueling substitute, choose one with 200 calories or less. If you want a Lean and Green ready meal, choose one with 500 calories or less.
Look for nutrient-dense foods: Look for frozen meals that have a lot of nutrients, like fiber, protein, vitamins, and minerals. These types of meals can help keep you feeling full and satisfied and may be more satisfying than meals that are high in empty calories.
Check the ingredient list: Read the ingredient list to make sure the meal is made with whole, real foods rather than processed or artificial ingredients.
Check sodium content: Ideally, you want to choose frozen meals that have less than 600 mg of sodium per serving.