Optavia vs. Jenny Craig: Differences, Pros and Cons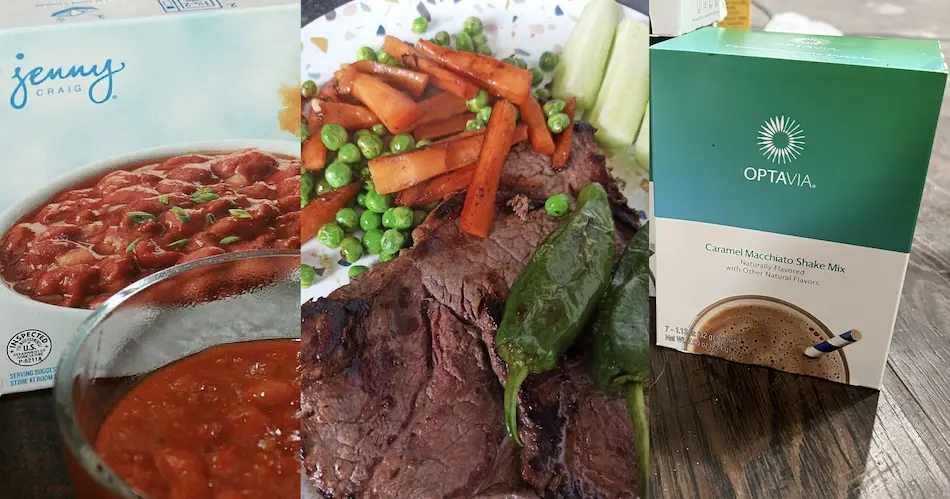 For individuals seeking a structured weight loss program that also provides support in reaching their goals, two popular options are Jenny Craig and Optavia's Optimal Weight 5 & 1 Plan.
Jenny Craig is a diet plan in which you get food (meals and snacks) conveniently delivered to your door, in addition, to help from a coach.
Optavia's most popular plan is the Optimal Weight 5 & 1 Plan. It includes six daily meals, five of which are specially formulated "Optavia Fuelings" meals.
Although both programs have advantages and disadvantages, in this article I will compare them head-to-head in terms of the pros and cons to determine which one can offer better results.
What's the Jenny Craig diet?
Established in 1983, the Jenny Craig diet is a weight loss program designed to help individuals reach their desired goals under the guidance of professional consultants.
Developed by Sid and Jenny Craig, this system offers an easy solution that combines pre-packaged meals with personal support from certified coaches for successful long-term outcomes.
According to the article review published in the Annals of Internal Medicine Journal, "the Jenny Craig diet plan is an effective way to lose weight."
In a study, people who followed the Jenny Craig plan "lost 7.1 to 10.9% of their body weight after 12 months," states the journal.
This was more than people who did not follow any diet plan or received counseling about dieting.
When you sign up for Jenny Craig's diet plan, you can choose one from three of their plans:
Simple Meal Plan (includes 2 pre-packaged meals per day)
Essential Meal Plan (includes 3 pre-packaged meals per day)
Max Up Weight Loss Meal Plan (includes 5 pre-packaged meals per day and 1:1 personal coaching)
According to their website, Jenny Craig's meals are designed by dietitians, have ingredients that help boost your immune system, and give you nutrients that your body needs.
According to our top Optavia alternatives ranking, Jenny Craig is #5 among other weight loss companies like WW (formerly Weight Watchers and NOOM).
Jenny Craig's diet pros and cons
Pros
The plan provides 1,200–2,300 calories per day, which is realistic to maintain for the long term.
One main home-delivery plan that includes one-on-one coaching.
It doesn't require meal planning as all of the meals and snacks are delivered.
Offers educational resources to help you make the transition from dining out back to creating meals at home.
Cons
The Jenny Craig cost ranges from $21.25 to $25.00 per day.
Coaches don't have formal nutrition qualifications or professions.
What's the Optavia diet?
Optavia, previously known as Medifast, is a weight loss company that sells diet programs with food replacements (Fuelings).
It provides over 70 different Fuelings, which are pre-packaged and have 100-110 calories per serving.
Optavia's website claims that "each meal has been designed by professionals with 24 essential vitamins and minerals as well as high-quality protein for optimal health benefits."
According to the randomized controlled trial published in The Journals of Gerontology, "Intentional weight loss using an Optavia diet helped people lose fat and keep muscle."
"This is especially true for older adults who are obese but still relatively active," states the article.
Optavia currently offers three different plans based on your individual needs and preferences.
Optimal Weight 5 & 1 plan
Optimal Weight 4 & 2 & 1 plan
Optimal Health 3 & 3 plan
Optavia says that it is best to avoid alcohol, sugary drinks, solid shortening, and high-calorie desserts while on the diet.
Plus, they offer a lot of support from coaches. Most coaches used to be people in the diet program who know what it is like to transform.
Optavia diet pros and cons
Pros
Potential weight loss by minimizing caloric intake and creating a calorie deficit.
Optavia provides support to help people reach their optimal weight.
Cons
Products
When I looked into meal replacement plans, I noticed that both Jenny Craig and Optavia have very different approaches to the same goal.
Jenny Craig has more than 100 meal options available (both frozen and ready-to-eat). These mainly include breakfast, lunch, and dinner entrées.
Optavia offers around 70 different Fuelings that include shakes, bars, cereals, and oatmeals.
When it comes to calories, the Jenny Craig foods are in the 200-300 calorie range, whereas most of the Optavia fuelings are only 100 calories per serving.
I also observed that while Jenny Craig's meals are split between 2 or 5 per day, Optavia provides a consistent 5 small dishes every day.
The lean and green meals
Optavia requires you to cook for yourself at least once a day in the form of a Lean and Green meal.
Although this adds extra hassle for me, I appreciate that they have hundreds of recipes with clear instructions.
Each lean and green meal should include 5-7 oz of lean protein, 3 servings of selected vegetables, and 2 servings of healthy fats.
While Jenny Craig does offer plans that provide all meals for you, only once you reach the transition phase do they provide recipes and guidance for portion sizes
Unlike Optavia, Jenny Craig teaches you how to reduce your reliance on their products by creating your own meals.
Price
When I compare the cost, Optavia costs $395.25 for 119 fuelings (plus shipping fees) whereas Jenny Craig ranges from $148.75 per week to $175.00 per week.
Although the prices are different, Jenny Craig does have the advantage of offering a money-back guarantee and free shipping on your first week if you are a first-time customer.
While free shipping is particularly attractive for initial customers, note that a flat standard shipping rate of $29 per shipment applies for all subsequent shipments to the continental U.S.
Coaching
Regarding coaching support and guidance, I find there is not much of a difference between Optavia Coach and Jenny Craig.
Both do not actually hire certified coaches with diplomas in nutrition, but people who have been customers at one point.
The NEW Jenny Craig diet provides online coaching to all of the customers, regardless if they sign up for auto-delivery or not.
For me, however, the deciding factor would be the transition phase.
With Jenny Craig, your coach does help you completely withdraw from the meal replacement program.
They teach you to plan your own meals, understand food labels, and navigate restaurant menus.
On the contrary, Optavia dining out guide does help to choose your meals when you are eating out, but it has limited options.
What's more, with Optavia's transition phase and Optimal Health 3 and 3 Plan, you are expected to continue relying on their products.
Weight loss results
When it comes to weight loss, Jenny Craig and Optavia are two of the most popular programs.
Annals of Internal Medicine, Obesity Science & Practice Journal, and many other online publications have featured them.
Although Medifast funded most of Optavia's studies, the Jenny Craig studies weren't given any financial compensation.
There is no denying that celebrities like Casey Donovan and Rebel Wilson had some success with the Jenny Craig diet.
Plus, there have been multiple high-profile celebrity endorsements for Jenny Craig from people like Brittany Cartwright and Hannah Ferrier.
On the contrary, I haven't seen many celebrities support Optavia. Only independent coaches or clients are their success stories.
The bottom line
When it comes to making a decision for myself or for a friend, I like to weigh out the good and the bad of each option.
Although the Optavia and Jenny Craig Diet may appear to be similar, for me some factors make them distinct.
I personally like that Jenny Craig has no funding for research studies (whereas Optavia does) which means its research base may be biased.
I would suggest for someone looking for meal replacement diets assess for themselves what is most important for them in terms of convenience, cost, and nutrition advice.
To make sure you're picking a diet plan that fits you correctly, ask your doctor or healthcare provider if either of these two diets is appropriate for your individual needs.